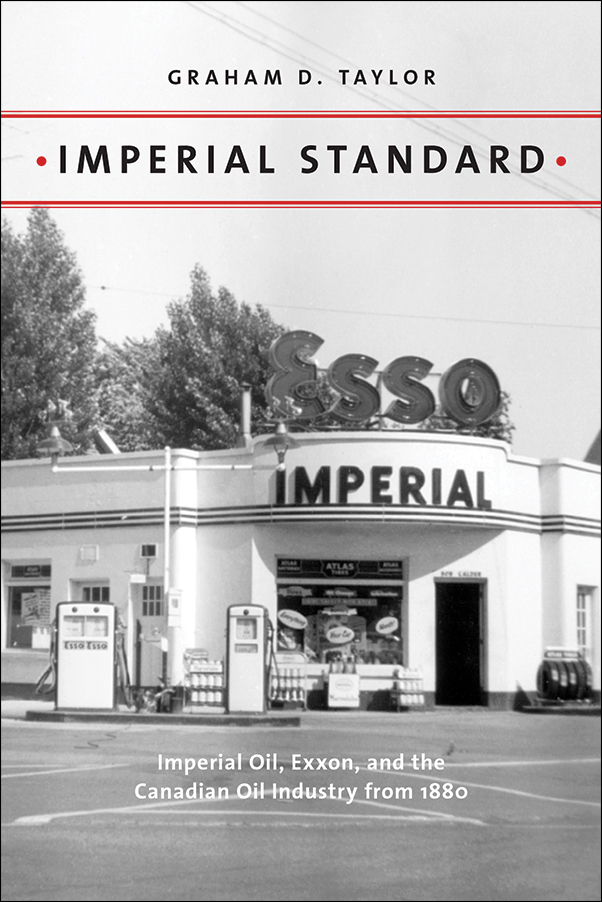 Imperial Standard: Imperial Oil, Exxon, and the Canadian Oil Industry from 1880
---
Graham D. Taylor
$39.99 CAD / $39.99 USD (S)
380 pages, 43 illustrations
6 x 9 inches
978-1-77385-035-1 (Paperback)
978-1-77385-037-5 (Institutional PDF)
978-1-77385-038-2 (ePub)
978-1-77385-039-9 (mobi)
April 2019
About the Book
Petrolium History Society Book of the Year. The authoritative, full-scale history of Imperial Oil and their longstanding business relationship with Standard Oil of New Jersey, also known as Exxon-Mobil.
For over 130 years, Imperial Oil dominated Canada's oil industry. From Petrolia to Turner Valley, Imperial was always nearby and ready to take charge. Their 1947 discovery of crude oil in Leduc, Alberta transformed the industry and the country. But from 1899 onwards, two-thirds of the company was owned by an American giant, making Imperial Oil one of the largest foreign-controlled multinationals in Canada.
Imperial Standard is the first full-scale history of Imperial Oil. It illuminates Imperial's longstanding connections to Standard Oil of New Jersey, also known as Exxon Mobil. Although this relationship was often beneficial to Imperial, allowing them access to technology and capital, it also came at a cost. During the energy crises of the 1970s and 80s, Imperial was assailed as the embodiment of foreign control of Canada's natural resources, and in the 1990s it followed Exxon's lead in resisting charges that the oil industry contributes to climate change.
Graham D. Taylor draws on an extensive collection of primary sources, including both the Imperial Oil and Exxon Mobil archives, to explore the complex relationship between the two companies. This groundbreaking history provides unprecedented insight into one of Canada's most influential oil companies as well as the industry itself.
Graham D. Taylor is professor emeritus in the Department of History at Trent University. He is the author of Du Pont and the International Chemical Industry, and The Rise of Canadian Business and winner of the 2015 Petroleum History Society Best Article Prize.
Praise for Imperial Standard:
Taylor's comprehensive history offers a rare look inside the growth and evolution of Canada's oil-and-gas industry and the 130-year-old company that led it.
—Deborah Morrison, Canada's History Magazine
Taylor's first-rate analysis illustrates that the relationship between parent and affiliate does not remain static and continuously evolves according to time and circumstance. Stated simply, Imperial Standard is an outstanding and accessible account of the Canadian oil industry's most important companies by one of Canada's foremost business historians.
—Paul Chastko, Canadian Journal of History
Graham D. Taylor draws on the rich archives of Imperial Oil and Exxon-Mobil to provide a detailed comprehensive of the relationship between the Canadian oil company and its main shareholder and investor, Jersey Standard/Exxon.
—Andrew Watson, Canadian Business History
This is not a simple case study that narrowly analyzes how yet another Canadian firm was swallowed by a U.S. colossus. Imperial Standard reveals a legacy of complicated dynamics—between subsidiary and parent, between corporation and state—and helps us understand the inception of fossil-­fuelled industrial capitalism in this country.
—Dimitry Anastakis, Literary Review of Canada
Graham Taylor's history of Imperial Oil is a triumph.
—Mira Wilkins, Emeritus Professor of Economics, Florida International University
This authoritative historical study of one of Canada's largest companies provides a compelling contribution to the sparse literature on the relationships between affiliates and parents within large multinationals. Taylor expertly brings out the nuance and evolving nature of Imperial's relationship with its parent Exxon, and delivers a study of significance for all students of the global enterprise.
—Geoffrey Jones, Isidor Straus Professor of Business History, Harvard Business School
Graham Taylor's broad-ranging history of the most important corporate player in the development of the petroleum industry in Canada makes a ground-breaking contribution, not only to the existing literature on the vital oil and gas sector, but also to the broader fields of Canadian business and economic history
—David Breen, Emeritus Professor, Department of History, University of British Columbia
Imperial Standard in the Media
Drip By Drip: The Iconic Canadian Company That Changed the World, The Literary Review of Canada
Big Oil, Big Auto: History's Lessons for Big Tech, The Canadian Business History Association
Table of Contents

 

Illustrations
Acknowledgements
Introduction
Prologue

Part One: Foundations, 1860–1917

1. Origins
2. When Empires Collide
3. Resurrection

Part Two: Before Leduc 1917–1947

4. Adventures in the Tropics
5. Cogs in the Wheel
6. The Winning of the West

Part Three: After Leduc, 1947–1980

7. Golden Age
8. Diversification
9. A More Complex World
10. Northern Vision

Epilogue: Since 1980

11. The Roller Coaster
12. Exxon and Imperial: Ties That Bind
13. A Change in the Climate

Conclusion

Appendicies

Appendix 1: Imperial Oil Company Financial Statements, 1892–89
Appendix 2A: Imperial Oil Production, Sales, and Net Earnings, 1912–20
Appendix 2B: Imperial Oil Ltd., Income Received and Dividends Paid, 1921&ndashl47
Appendix 2C: Imperial Oil Sales, Production Earnings, and Dividends, 1947–80
Appendix 3A: Canadian Oil Companies, Comparison, 1947
Appendix 3B: Canadian Oil Companies, Comparison, 1994

Notes
Bibliography
Index

 
Awards
WINNER, Petroleum History Society Book of the Year | 2020
SHORTLISTED, Alberta Publishing Award for Best Scholarly & Academic Book | 2020