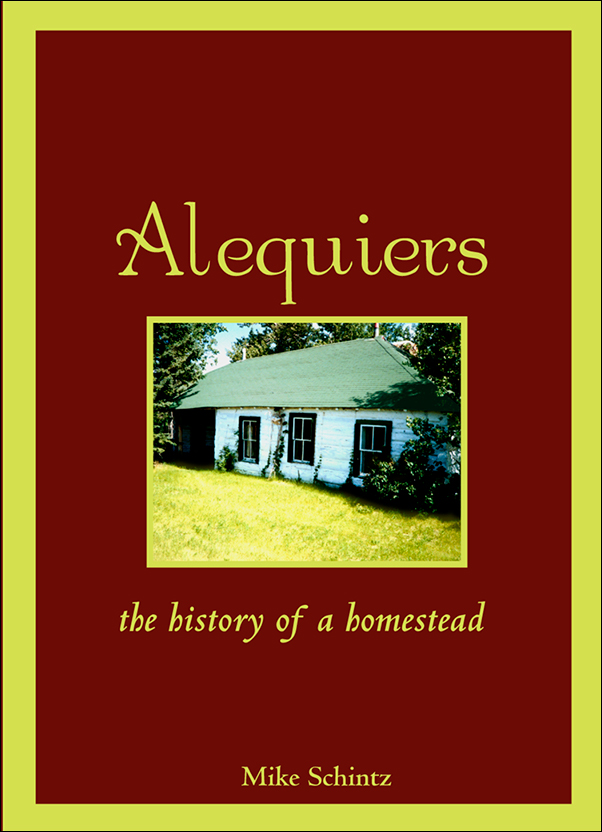 Alequiers: The History of a Homestead
---
Mike Schintz
$24.95 CAD / $28.95 USD (S)
207 pages, 23 illustrations
5 x 7 Inches
978-1-55238-092-5 (Paperback)
978-1-55238-279-0 (Institutional PDF)
April 2003
About the Book
A homestead history simultaneously exploring the fascinating story of Alequiers and its original settler Alexander McQueen Weir and the childhood of author Mike Shintz.
The sky had become overcast again, and the tops of the hills showed vaguely in the dusk: grey snow against grey sky, adding to the sense of desolation. To the southeast, where the trail winds its way toward Longview and the prairie, I could just make out the corner of the hill from which the lights of home were first visible on a winter night. What a home this was then! How wonderful, after the cold, dark miles, to come in to the warm, bright kitchen, redolent with the smell of fresh baked bread and little boy's bath water! And dear Mother, welcoming me in with my saddlebags, eagerly going through the mail for a letter from England, or perhaps a much-needed cheque from the publisher of her latest children's book . . .
Alequiers is the story of a one-hundred-year-old log house on the banks of the Highwood River in Southern Alberta, with particular emphasis on the time that author Mike Schintz and his family spent there. The book details what little is known about Alexander McQueen Weir, the original settler on the site and goes on to describe the changes in structure that took place under succeeding occupants, the Royle and Schintz families. The book is also a tribute to the author's talented parents, both of whom produced outstanding works of art while living and raising a family under conditions reminiscent of earlier, pioneer times.
Schintz imparts the flavour of the foothills with vivid and often humorous notes about neighbours, Bar U Riders, and the Stoney people, as well as describing the wildlife that has always contributed to the magic of Alequiers. A welcome addition to homesteading literature and social history, Alequiers will draw readers into the orbit of the daily life of a pioneering family who resided in one of Alberta's most prominent ranching districts with its whimsical and nostalgic journey into a recent, yet distant, past.
About the Author:
Mike Schintz, co-author (with Robert J. Burns) of Guardians of the Wild: A History of the Warden Service of Canada's National Parksand, was a National Park Warden for thirty-nine years.
Alequiers was published as a part of Legacies Shared
Praise for Alequiers: 
This book provides an opportunity to reflect on the values that accompany development and the dualistic, yet dependent, character of community and self-reliance . . . vivid and compelling.
—Brian Rusted, University of Calgary
Table of Contents

List of Illustrations
List of Characters

Prologue

History of Alequiers
1. The Royal Era
2. Picking up the Trail
3. We arrive at Alequiers

Homestead Life
4. Runaways and Getaways
5. The War Years
6. Friends and Neighbours
7. The Stoneys

The Artists
8. A Dutchman Paints the West
9. Fine Artist, Brave Mother

Beyond Alequiers, and Back
10. Pathway to the Parks
11. The Bullet–Proof Rat and Other Animal Tails
12. 'Bye 'Bye Old Place

Alequiers History Milestones