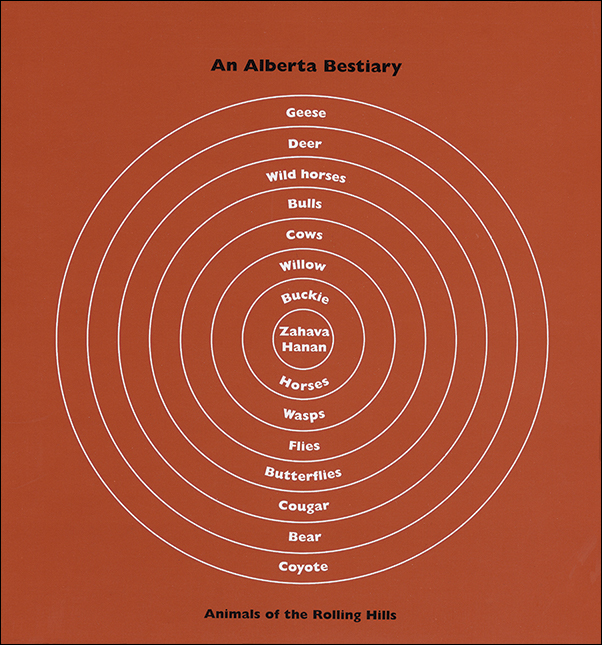 An Alberta Bestiary: Animals of the Rolling Hills
---
Zahava Hanan
$24.95 CAD / $24.95 USD (S)
92 pages, 70 illustrations
8.5 x 8.5 inches
978-1-55238-151-9 (Paperback)
978-1-55238-278-3 (Institutional PDF)
September 2004
About the Book
Musings on nature, spirituality, myth, humanity, and every-day life in illuminated in a stirring mix of poetry and prose.
Bestiary: A compendium of animals or birds, real or mythical, with a description of their habits and appearance. Most important to a bestiary is the lessons that each animal can teach.
An Alberta Bestiary is a collection of the beasts of the rolling hills. Rancher Zahava Hanan draws on her intimate knowledge of the landscape to describe the animals of Southern Alberta, weaving together poetry and prose in an stirring, intimate glimpse into the worlds of bears and butterflies, cows and coyotes. These animals in turn teach lessons about land and landscape, self and selfhood, spirituality and humanity. .
Animals of the Rolling Hills illuminates in prose the rhythms of the land and the aspects of a life close to nature that are at once stirring and ephemeral. The practical needs of every day, the spiritual sweep of the human experience, and the grand wisdom of the natural world are woven together as Haan blends poetry, quotations, observations, and more .
About the Author:
Zahava Hanen ranches near Longview, Alberta and is an active environmentalist who has published numerous books on nature and her experiences as a female rancher.

An Alberta Bestiary was published as a part of Legacies Shared
Praise for An Alberta Bestiary:
Prose and poetry are light in touch, tinged with humour and a gentle rhythm . . . There is both a worldly wisdom and a radical innocence at work in these pages that I found distinct and appealing.
—Roberta Rees, author of Beneath the Faceless Mountain
An Alberta Bestiary transports the reader to a ranch in the foothills of the eastern Rockies, givers her the feel of the place, the texture of ranch life and offers a wise meditative sensibility attending to the landscape, the environs, creeks, trees and animals. It is alert to the rhythms of creatures, of the day, the Heavens.
—Charles Noble, author of Doubts Boots, Even Doubt's Shadow
Table of Contents

Foreward
Introduction
Prologue
Interlude
Bears
Interlude
Weight of a Bear on Water
Deer
Interlude
Wolf
Crossover—Unity, Affinity, Wild, Tamed
Fear Interlude
Wasps and Flies
Interlude
Butterfly
Geese
Bulls
Interlude
The Cow and the Cat
Interlude
Willow
Interlude
Horns and Antlers
Farmer
Izaak
The Natural Circle
The Sound of the Wind
Cat Shooting
Interlude
Temple Grundun
Noath's Ark
Domestic: Wild Animals—dogs who have to be polite
Buckle—Secret Spots
Tribute to Buckle
Interlude
Birds
Harmony
The Garden of Eden