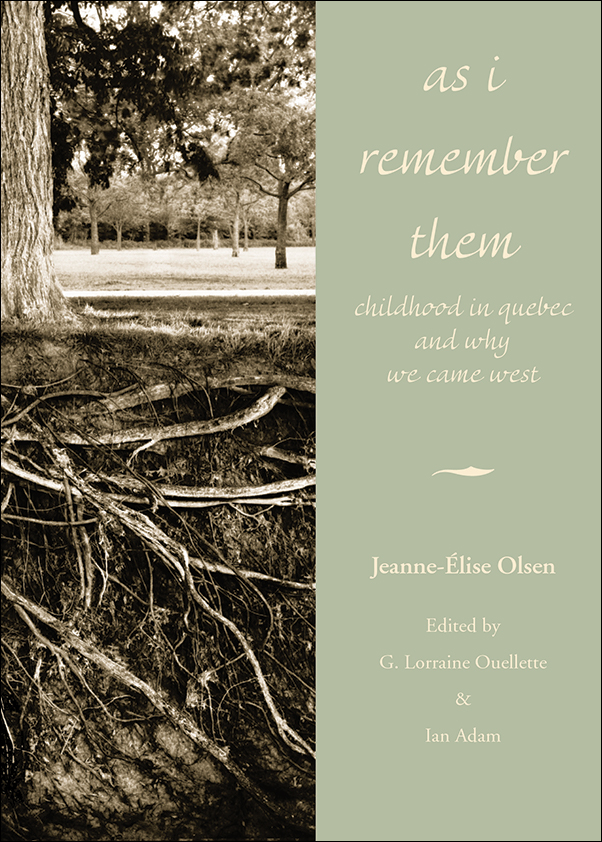 As I Remember Them: Childhood in Quebec and Why We Came West
---
By Jeanne-Elise Olsen, Edited by G. Lorraine Ouellett and Ian Adam
OUT OF PRINT
339 pages, 24 illustrations
5 x 7 inches
978-1-55238-068-0 (Paperback)
978-1-55238-284-4 (Institutional PDF)
December 2002
About the Book
Jeanne-Elise Olson's extraordinary chilhood as the daughter of an excommunicated Roman Catholic priest in the remote Laurentians and their family's subsequent move to Ditton Park, Saskatchewan are told with vivid style in this remarkable memoir.
Originally written in the early 1970s, As I Remember Them is based on Jeanne-Elise Olsen's extraordinary recall of her childhood and youth spent in an isolated part of the Laurentians in the Lièvre River Valley in the early twentieth century. Jeanne was the daughter of a Roman Catholic priest who was excommunicated from the Church because he married a woman in his parish.
She recounts how the Church lifted the ban, but only on specific conditions, one of which was for the family to leave Quebec. The Olsen family moved to Ditton Park in east-central Saskatchewan, where they became engaged in agricultural pursuits. This memoir eloquently tells a personal story—and social history—that reveals strength of character, family bonds, religious devotion, and childhood memories that are truly reflective of life in Quebec and the Canadian West.
Sensuous and rich in detail, As I Remember Them will leave you with lasting images of the unforgettable personalities, the strength of clerical control in one family's destiny, and the vast and varied Canadian landscape.
About the Author:
Jeanne-Elise Olson was born in Val-des-Bois Quebec and moved to Saskatoon in 1918. She achieved a Master of Arts at the University of Alberta and taught Art, Botany, and French. 
About the Editors:
Lorraine Ouelette is the daughter of Jeane-Elise Olson. 
Ian Adam is Jean-Elise Olson's nephew.  
As I Remember Them was published as a part of Legacies Shared
Praise for As I Remember Them: 
Remarkably warm, affecting and vivid, swathed in prologues and sequels of family commentary, Jeanne Olsen's memoir is both a family story and larger than that. The writing glows with poignant details that appear to spring from a poetic imagination to catch us emotionally, but the narratives are sturdy and resonant of experience and history. Here is a girl's view of an extended community, Catholic and substantial, offering a voice out of Canada which is sweetly complex, making intimacy near characters that have been invisible and lost to distance and time. 
—Shirley Geok-lin Lim, Author, Among the White Moon Faces: An Asian-American's Memoir of Homeland 

An important contribution to our understanding of clerical control in Quebec a century ago. I have never before felt so deeply the impact of this.
—Donald Smith, University of Calgary
Table of Contents

 

About the Author
G. Lorraine Ouellette, née Olson

Foreword

Prologue: The Literary Context
Ian Adam

A Note on Family Relations
Ian Adam

Introduction

1. Out of Babyhood

2. Home, Lessons, Chores

3. Here, There and Round–About

4. Toys, Games Pastimes, Outdoor Play

5. Relatives, Household Crafts

6. The City — School Days

7. The Why

8. The Last Chapter

Epilogue
G. Lorraine Ouelette

Notes

1. Connétable

2. Country Mice in the City

3. C.H. Edwards

4. Le Brin de Cerfeul (The Sprig of Chevril)

5. Adieu à Nos Deux Anges

5a. Farewell to Our Two Angels

6. Letter from W.D. Richer to the Bishop of Prince Alberta

7. Jeanne's Letter to her Sister Damienne

8. The Mill

8a. The Story of the Burning of the Mill (Added by G. Lorraine Ouelette)

9. Blueprint for Contentment

Appendix I
Genealogy of Joseph Richer and Olive Grignon

Appendix II
Genealogy of Phidine Côté and Marie Tremblay