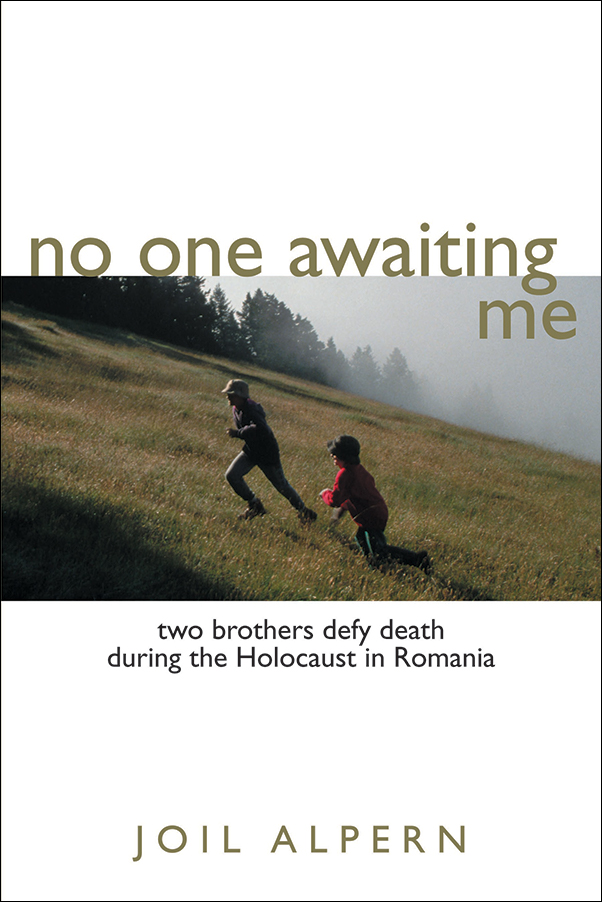 No One Awaiting Me: Two Brothers Defy Death During the Holocaust in Romania
---
Joil Alpern
$24.95 CAD / $24.95 USD (S)
259 pages, 19 illustrations
978-1-55238-061-1 (Paperback)
OUT OF PRINT
About the Book
Here is the riveting account of two orphaned brothers whose unshakeable courage enable them to survive the still rarely told horrors of the Holocaust in Romania.
As Jews were expelled from Bukovina and Bessarabia to Transnistria, young Joil and Avrum witnessed the cruel destruction of their own parents and many others. But underlying the author's unflinching account of the unthinkable brutality of the Holocaust is the inspiration and passion Joil and his little brother had to live.
No One Awaiting Me is a story both triumphant and poignant. Readers will never forget the powerful and loving bond which existed between these two brothers. Their fight to endure the nightmare was waged with unmistakable optimism. Joil Alpern's indefatigable will to survive, and to protect his younger brother, enabled the boys to live through the most oppressive existence mankind has ever devised. Progressively, the memoir becomes a remarkably inspiring and thoughtful experience for any reader who is willing to consider the never-ending conflict between the finest and most constructive drives of humankind and the murderously destructive capacities of our species.
About the Author
Joil Alpern was born in Bukovina, Romania. He and his family were force-marched to Transnistria in 1941. He and his brother were orphaned the following year. After two years in Displaced Persons camps across Europe, Joil Alpern came to Canada where he worked in the garment industry, and eventually found his way into the cattle business.
No One Awaiting Me was published as a part of Legacies Shared. It is co-published with the Jewish Heritage Project.
Praise for No One Awaiting Me
Dare not ask what other terrifying images remained buried and secure in Joil Alpern's memories of childhood. Those he has transcribed are sufficiently, majestically, indelible. No one who reads his story will remain unmoved, and none will be able to forget his memories.
—Robert J. Young, professor of Modern European History, University of Winnipeg
Table of Contents

Introduction
Alan Adleson and Heather Colman

The Beginning
Leaving Home, June 1941
Forced March to Otaci
Arrical at Stepanki
Stepanki, Spring 1942
Summer 1942
The Orphanage in Mogilev
Winter, 1942-43
Spring 1943
The Work Camp at Tulchin
Destination Unknown
Return to Stepanki
Spring 1944
At Work in the Minefields
Spring 1946
Journey to "Freedom"
Milan, October 1946
Canada, March 1948
Epilogue
Notes