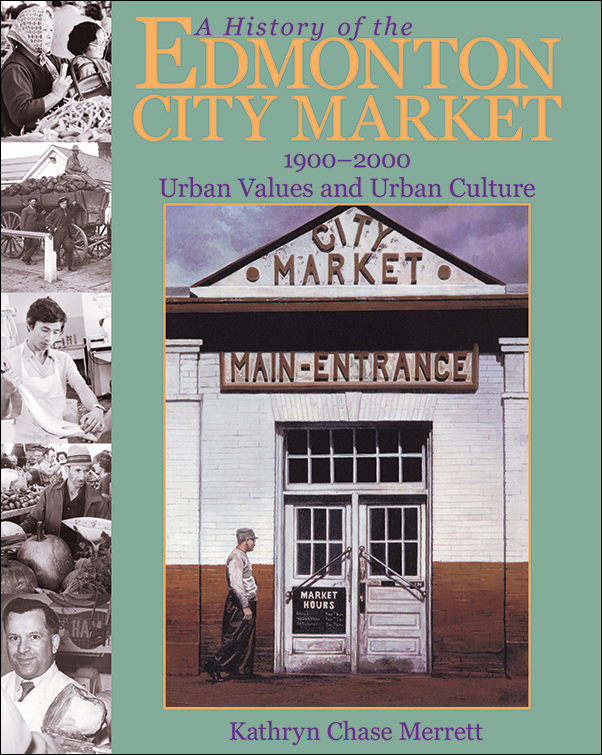 A History of the Edmonton City Market 1900-2000: Urban Values and Urban Culture
---
Kathryn Chase Merrett
$29.95 CAD / $34.95 USD (S)
247 pages, 93 illustrations
10 x 8 Inches
978-1-55238-052-9 (Paperback)
978-1-55238-363-6 (Institutional PDF)
August 2001
About the Book
Kathryn Chase Merrett celebrates 100 years of the Edmonton City Market in this groundbreaking local history. Richly textured with archival photographs, drawings, maps, and anecdotes by vendors and customers of the city market, this book reveals how the market managed to thrive in the heart of a city that grew from a frontier outpost to a high-rise metropolis.
In this original study, Merrett sheds light on the turbulent relationship between a city's cultural and agricultural values and the civic aspirations of the city's officials. A History of the Edmonton City Market brings a comprehensive study of a long-lived and much-loved institution to life by seamlessly integrating details of the city market with wider contexts of urban, economic, and cultural studies.
Kathryn Chase Merrett obtained her master's degree in history from the University of Alberta in 1992. She is editor of the architectural, dance, film, and theatre articles in the Canadian Encyclopedia. She has been a resident of Edmonton since 1967.
A History of the Edmonton City Market 1900-2000 was published as a part of Legacies Shared
Praise for A History of the Edmonton City Market: 
These stories are presented with care and attention . . . Chase Merrett effectively stitches this social history into the economic and political fabric of the city's past.
—Sean Gouglas, The Canadian Historical Review 
Table of Contents

Preface
Acknowledgements
Abbreviation
LIst of Illustrations

Chapter 1. The Market and the City I
Chapter 2. A Castle in the Air, 1892–1916
Chapter 3. Blue Sky Trading in Edmonton: The Boom in the Bust, 1916–1939
Chapter 4. The Market and the Civic Centre, 1940–1964
Chapter 5. The "New" City Market, 1965–2000
Chapter 6. The Market and the City II

Notes
List of Interviewees
Sources
Notes on Primary Sources
Notes on Secondary Sources
Works Consulted
Further Reading
Index

h6>