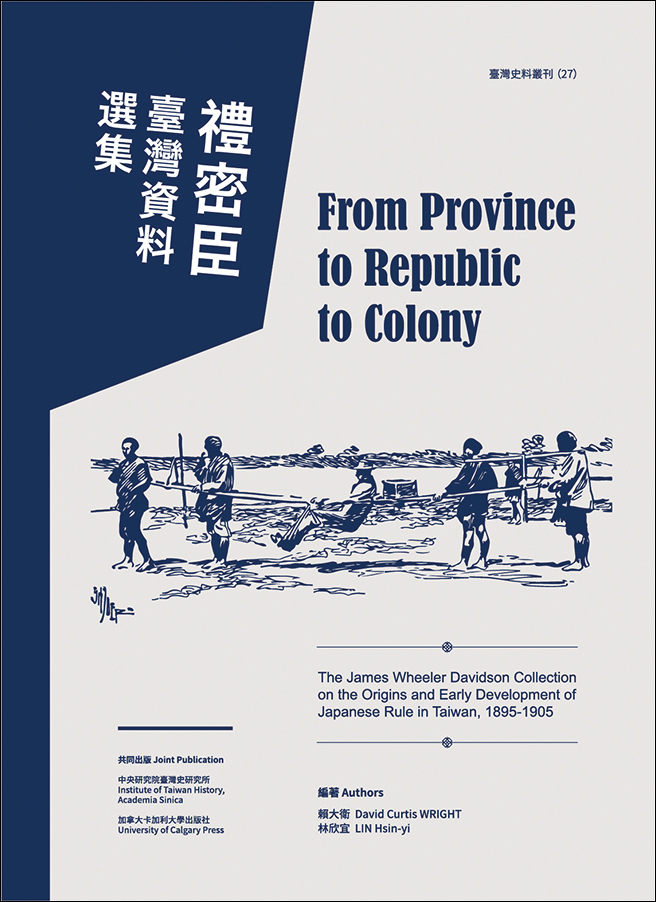 From Province to Republic to Colony: The James Wheeler Davidson Collection on the Origins and Early Development of Japanese Rule in Taiwan, 1895-1905
---
David Curtis Wright and Hsin-Yi Lin
$69.95 CAD / $69.95 USD (S)
688 pages, 470 illustrations
7.5 x 10 inches
978-9-86053-164-0 (Paperback)
August 2017
About the Book
Now Available in North America
James Wheeler Davidson, journalist, businessman, and Arctic explorer, traveled to Taiwan as a correspondent dedicated to providing an alternative perspective on the First Sino-Japanese War, which spanned 1894-1895. From 1895 to 1903 he lived and worked in Taiwan, experiencing it first as a province of the Manchu Qing empire, then as a brief and abortive republic, and finally as Japan's first colonial possession. He was an able chronicler of the unfolding of Japanese colonial rule in Taiwan, and wrote the first book in English on the island's history and geography. It remains a classic to this day.
From Province to Republic to Colony draws on Davidson's personal collection of rare photographic images and source documents archived at the University of Calgary. Selected portions are reproduced, illustrating crucial moments in Taiwan's history. These include selections from Davidson's war diary, newspaper clippings, and lantern slides. Professors David Curtis Wright of the University of Calgary and Hsin-yi Lin of National Taiwan Normal University each offer introductory historical background essays and deliver commentary on more than 500 historical artifacts.
From Province to Republic to Colony is a joint publication of the University of Calgary Press and Academia Sinica.
David Curtis Wright is an associate professor in the Department of History at the University of Calgary.
Hsin-Yi Lin is an assistant professor in the Department of History at National Taiwan Normal University.
Table of Contents

Foreward
HSIEH Kuo–hsing

Introduction

LIN Hsin–yi

Introduction to James Wheeler Davidson's life and collection

Robert LAMPARRD

Marching with the Japanese Under a Formosan Sun: James Wheeler Davidson's War Diary, June–July 1895

David Curtis WRIGHT

I. Youth

II. Preparing to depart for Asia, late 1894
III. Davidson and the Republic of Formosa, 1895
IV. Diplomatic Service as American Consul at Tamsui and the publication of The Island of Formosa (1896–1903)
V. Life after Taiwan (1903–1933)
VI. Scrapbook kept by Lillian Dow Davidson
VII. Photographs, lantern slides, etc.