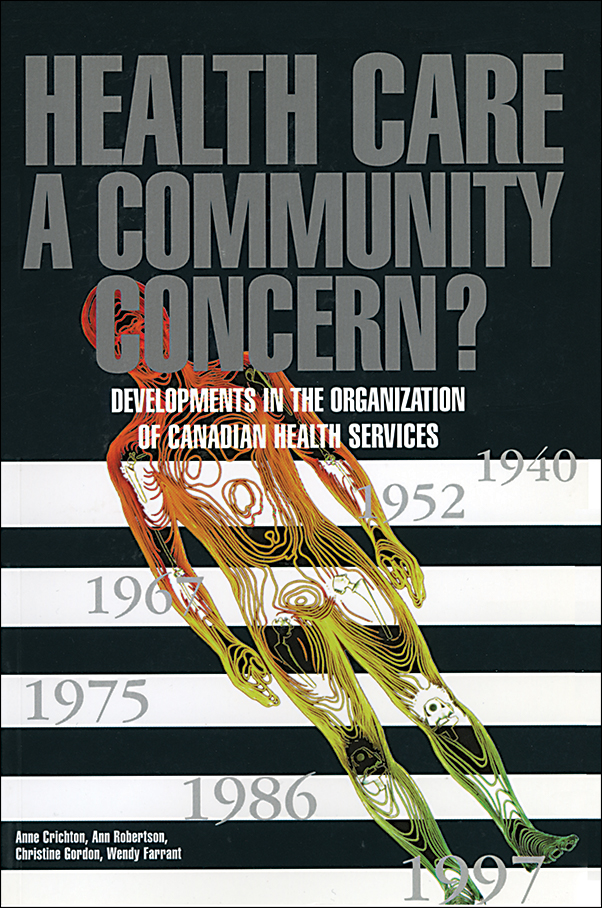 Health Care: A Community Concern?: Developments in the Organization of Canadian Health Services
---
By Anne Crichton, Ann Robertson, and Christine Gordon, and Wendy Farrant
Out of Print
Digital Editions Available
432 pages, 14 illustrations
978-1-55238-361-2 (Institutional PDF)
April 1997
About the Book
Developed within the context of the expansion of the Canadian welfare state in the years following the Great Depression, the present organization of Canadian health care delivery is now in serious need of reform. This book documents the causes and effects of changes made in this century to Canada's health care policy. Particular emphasis is placed on the decades following 1940, the years in which Canada moved away from an individualistic entrepreneurial medical care system, first toward a collectivist biomedical model and then to a social model for health care.
Anne Crichton taught health policy at the University of British Columbia from 1969 to 1985.
Ann Robertson, has been an assistant professor in the Department of Behavioural Sciences at the University of Toronto since 1993 and has worked in community development as a Seniors' Wellness Coordinator for the Vancouver Health Department.
Christine Gordon is a consultant in health and social policy and community development. She is a founder of the B.C. Health Communities Network, the Global Health Network, and the B.C. Coalition for Health Care Reform.
Praise for Health Care: A Community Concern?
A good summary of the evolution of the Canadian welfare state and Medicare.
—Harley D. Dickinson, Canadian Public Policy
Table of Contents

Charts and Lists

Executive Summary

Preface and Acknowledgements

Acronyms

Part I: Themes of the Book

1. An Explanation of the Approach
2. Canada's Publicly Financed Health Care System
3. The Welfare State in Canada
4. The Redistribution of Power Away from Local Communities and the Prospects for its Return

Part II: The Context of Health Policy Development

5. Development of Canada's Welfare State Programs
6. From Welfare State to Welfare Society?

Part III: Canada's Publicly Financed Health Care System Evolves

7. Developing Federal and Provincial Organizations for Providing Collectivist Health Services, 1948–66
8. Questioning Canadian Health Care Organizational Policies, 1967–86

Part IV: Service Delivery Systems and Their Response to the Need for Change to a Collective Care Organization

9. Care in the Doctor's Office
10. Support Services for Physicians in General Practice
11. Medical Practice Organization: Alternative Medical Care Delivery Methods
12. Evolution of Public Health Departments
13. Community Care for the Elderly
14. Rural Health Services
15. Four Preventive Care Programs

Part V. Developing Control by Formal Authorities

16. Developing Provincial Policies and Building Up Administrative Structures
17. Some Issues in Horizontal and Vertical Coordination

Part VI. Research on Organizational Issues

18. Development of Research and Planning Activities
19. Research on Organization Theory and its Relevance for Canadian Health Policy Development
20. Health Promotion: Development of a Demonstration Strategies
21. Economic Evaluation of Models of Community Services: A Critique of Applications of the Concept

Part VII: Reform and Restructuring

22. The Welfare State Approach is Questioned
23. The Impact of the Federal Deficit and Accumulating Debts
24. Provincial Inquiries into Health Care Organization
25. The Challenge of Human Rights' Policies to Traditional Health Care Systems
26. A New Look at Community Inputs
27. The Health Care System in the Welfare Society

Part VIII: Afterword

28. Continuing Cutbacks: Implications for Health Services and Health
29. Regionalization
30. Where Do We Go from Here

Appendix A
Appendix B
Bibliography
Government Publications

Index