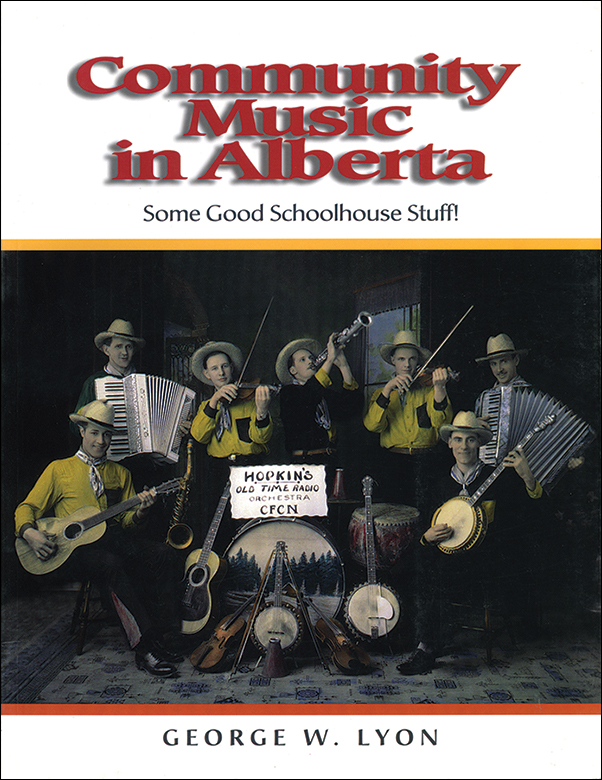 Community Music in Alberta: Some Good School House Stuff!
---
George W. Lyon
$29.95 CAD / $34.95 USD (S)
176 pages, 304 illsutrations
8.5 x 11 inches
978-1-89517-683-4 (Paperback)
978-1-55238-314-8 (Institutional PDF)
June 1999
About the Book
An album of photographs and musical experiences during the first century of Alberta's history. Explore Alberta's astonishing musical heritage, from brass bands and minstrel shows to Ukrainian folk music and symphonies, from native singers to Wilf Carter.
George W. Lyon has been researching Alberta vernacular culture since 1984. In 1991, he co-edited, with Sid Holt of Gleichen, Alberta, an anthology of Alberta folk and popular poetry, titled A Toast to Baldy Red. Lyon teaches English at Mount Royal College in Calgary and makes music on a variety of instruments.
Table of Contents

Acknowledgements

Introduction

One of the First Orders of the Day

The Pekisko Kids

Tempting as it may be to assumer

Crowsnest Pass Preserved by Gushul

The Voices is the first instrument

Keeping the Traditions Alive

"Band" invariably meant "Brass Band"

Fiddle Contests and Fiddle Culture

Any account of music must consider dancing

Those who provided music for dances were not always paid

Some professional musicians from Alberta's past

Musical Instruments in Portraiture

Alberta could not avoid the cultural influence

Making Music at Home (and Work)

Country Music Has a presence in Alberta

Music is Essential at Weddings (and Elsewhere)

Native people participate in mainstream culture

Bibliography

Index