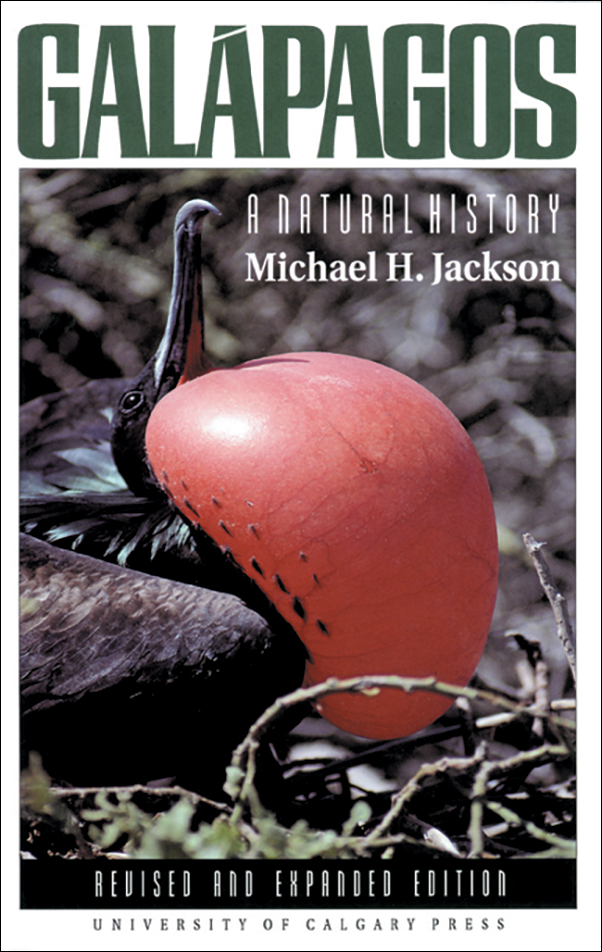 Galapagos: A Natural History
---
Michael H. Jackson
$19.95 PB / $34.95 HC (T)
336 pages, 329 illustrations
6 x 9 inches
978-1-89517-640-7 (Paperback)
978-1-89517-607-0 (Hardback)
978-1-55238-350-6 (Institutional PDF)
978-1-55238-725-2 (ePub)
978-1-55238-726-9 (Mobi)
June 1994
About the Book
With more than fifty thousand copies sold Galápagos is the essential guidebook for everyone planning to visit, or simply fascinted by, the rich natural world of the Galápagos Islands.
Galápagos is an attractive, comprehensive, easy-to-use guide to the natural history of the plants and animals of the Galápagos Islands. Discover the unique flora and fauna of these incredible islands along with the management and conservation strategies used at Galápagos National Park to protect and steward the health and welfare of its plants and animals.
Containing essential information on the historical significance of the Galápagos Islands, their geology, evolution and ecology, and detailed introductions to their plants, reptiles, birds, native mammals, invertebrates and marine life this book will be an indispensable resource for all those visiting the islands. An index and checklist of plants and animals and a glossary of technical terms make reference and discovery simple.
Complete with detailed guides to visiting the islands including maps, photographs, and notes on visitor sites, Galápagos is your gateway to one of the world's true natural wonders.
About the Author
Michael H. Jackson has worked in the Galápagos Islands as a naturalist guide and has done research and led tours to the islands for various organizations. He is now teaching sciences at St. Michael's University School, Victoria, B.C. His wife, Monica, prepared many of the drawings and maps for this book.
Table of Contents

Preface
Galápagos National Park Rules
Acknowledgements

1. Historical Background
2. Environmental Setting
3. Colonisation, Evolution, and Ecology
4. Plant Life
5. Reptiles
6. Seabirds
7. Coastal Birds and Migrants
8. Land Birds
9. Native Mammals
10. Terrestrial Invertebrates
11. Intertidal and Marine Life
12. Conservation in the Islands
13. Visiting the Islands

Selected Bibliography
Appendix 1: Checklist of Plants and Animals
Appendix 2: Glossary of Terms
Appendix 3: Units and Conversions
Appendix 4: Information for Supporters of Galápagaos Conservation
Index