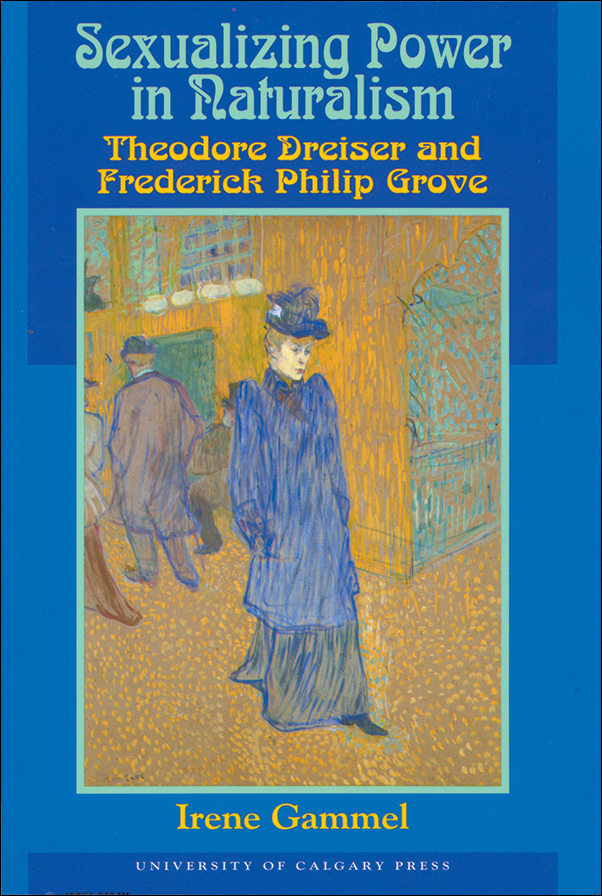 Sexualizing Power in Naturalism
---
Irene Gammel
$24.95 CAD / $28.95 USD
272 pages
978-1-89517-639-1 (Paperback)
978-1-55238-447-3 (Institutional PDF)
December 1994
About the Book
Sexualizing Power in Naturalism sheds light on the function of female sexuality in a predominantly male genre: naturalist fiction.
Author Irene Gammel reveals that naturalism is frequently implicated in the very power structures it critiques. Reading European and North American naturalism through the lens of feminist and Foucaultian theories of power, Gammel argues that twentieth-century naturalism increasingly deconstructs itself in its depiction of sexuality, inevitably exposing the genre's internal ideological contradictions. The book makes a special contribution to Canadian studies.
About the Author
Irene Gammel is Assistant Professor in the English Department at the University of Prince Edward Island. She has published on women's issues in early twentieth-century literature.
Praise for Sexualizing Power in Naturalism
Irene Gammel has authored a major trail-blazing text of feminist (re)readings of Dreiser, one that leaps into the lacuna in feminist analysis of his work. If we are on our way to a post-gender world, her substantive book helps us understand how we get there by showing us where we've been
—Kathy Frederickson, Dreiser Studies
Gammel's book is extremely lucid, readable and coherently presented . . . Anyone interested in Grove and Dreiser, in naturalism or in the sexualization of power and discourse will find much suggestive—even provocative—material in this book.
—Faye Hammill, British Journal of Canadian Studies
[Gammel] excels in placing Grove's German works in context, and is especially adept at outlining the subtleties of Grove's original prose.
—John J. O'Connor, University of Toronto Quarterly
Irene Gammel's study . . . should become the indispensable text for any further study of either or both [Theodore Dreiser and Frederick Philip Grove]. [She] deftly moves their texts away from the monologic discourse that critics have for the most part structured them as.
—E. D. Blodgett, Ariel: A Review of International English
Table of Contents

Acknowledgements
Introduction

Naturalism and Foucault

Naturalism's History of Sexuality
"Liberating" Sexuality
Power and the Docile Body

Dreiser, Naturalism and the New Woman

Sister Carrie: Sexualizing the Docile Body
Female Sexuality and the Naturalist Crisis: "Emanuela"

Deconstructing the Naturalist Prostitute

Fanny Essler: A Sexual Picaresque
Fanny's Sexual Confusion
Fanny Essler in (A) Search for America

Eroticising Bourgeois Power

The Mail Body of Power: The Titan
Naturalism's Spectrula(riza)tion: The "Genius"

Grove's Sexualization of Patriarchal Power

Sovereign Power, Bio-Power and the "Inevitable Form" in The Master of the Mill
The Father's Seduction and the Daughter's Rebellion
Conclusion

Bibliography
Index