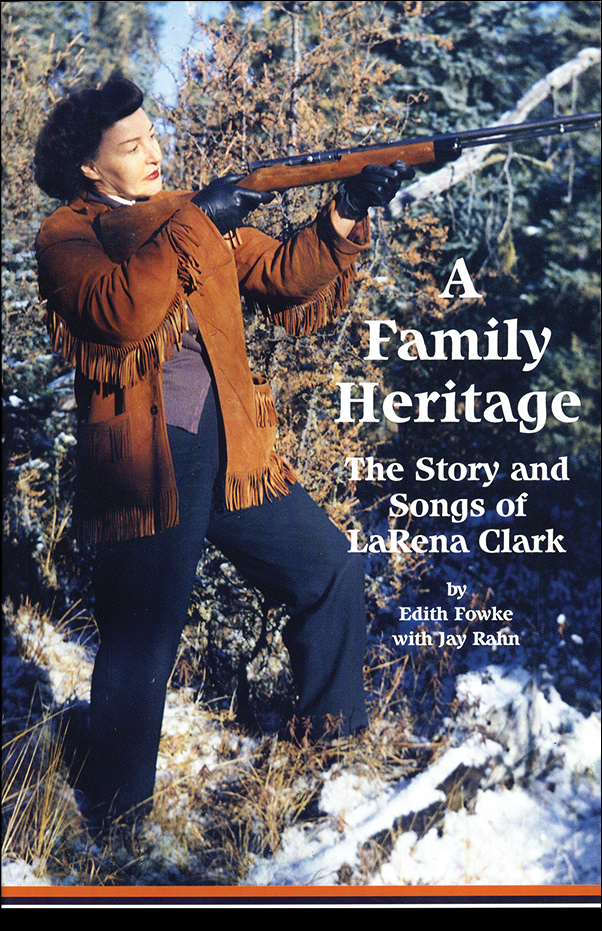 A Family Heritage: The Story and Songs of LaRena Clark
---
Edith Fowke and Jay Rahn
$27.95 CAD / $31.95 USD (S)
308 pages, musical scores
6 x 9 Inches
978-1-89517-636-0 (Paperback)
978-1-55238-337-7 (Institutional PDF)
June 1994
About the Book
New folk music and folk-song materials in this comprehensive study are particularly important for singers, folk music enthusiasts, ethnomusicologists, comparative and cultural studies scholars, and those interested in Canadian culture.
LaRena Clark was a great singer and knew many fine songs. Her wide repertoire covers almost the complete range of types and topics of traditional Anglo-Canadian songs. Comparison with other collections in Canada, the United States, the British Isles, and Australia indicate just how unique and far-reaching it was. Clark's background and her varied ancestry shaped her repertoire. The account of her parents' activities gives a vivid picture of folk life in rural Ontario during the early years of this century. She knew some Canadian songs previously unreported, and she wrote songs with a strong Canadian flavour.
Musically, Clark's songs are a microcosm of practices characteristic of British folk music throughout the English-speaking world. Particularly noteworthy is her constant reworking of traditional materials, procedures, forms, and individual tunes.
About the Authors
The late Edith Fowke, an internationally known folklorist, produced more than twenty books, countless articles and eight record albums devoted to Canada's oral heritage.
Jay Rahn is a Canadian ethnomusicologist and is a Professor of Music at York University. He has published extensively on ethnomusicology, music theory, and music history.
Table of Contents

>





Acknowledgements




Introduction
Women and Folksongs
My Relationship with LaRena
LaRena's Repertoire
General Aspects of LaRena's Singing by Jay Rahn




LaRena's Story
Background
Early Life
LaRena and Gordon
LaRena's Songs and Records
LaRena Tells of Her Ancestors
LaRena Talks of her Songs




The Songs




1. Classic Ballands
The Dapple Grey
The King's Daughter
Lord Gregory
Barbara Allen
The Gypsy Davy
There Was a Lord in Edinburgh
The House Carpenter
I'll Go See My Love
The Golden Vanity


2. Songs of True Love
The Gallant Hussar
The Cottage on Yonder Moors
The Rifle Boys
The Lady Leroy
The Wars of Troy
The Banks of the Nile
Molly Vaughn
The Lass of Glenshee
Lovely Jimmy
My Irish Girl
Through Rocks and Hills Do Us Divide
Peggy Gordon
Lord Allan's Daughter
King Henry Has Sent Me Free
I'll Remember You, Love, In My Prayers
A Woman's the Joy and the Pride of the Land




3. Songs of False Love
The Ship's Carpenter
The Jealous Lover
Early, Early in the Spring
The Bonny Young Irish boy
The Butcher Boy
The False Young Man
Go and Bring Me Back the Boy I Love
Go and Leave Me If You Wish To
Adieu Unto Cold Weather
I Once Loved a Lass
Rattle on the Stovepipe
I'm Ruined, I'm Ruined Forever
The Hidden Question
Young Jimmy Brown
I'll Go Seek for Another




4. Returned Lover Ballads
The Dark–Eyed Sailor
The Mantle So Green
Bloody Waterloo
George Riley
The Banks of Claudy
The Banks of Inverness




4. The Burns Connection
Burns and His Highland Mary
Highland Mary O
The Soldier Laddie




6. Bawdy Ballads
The Foggy Dew
Razinberry lane
The Little Ball of Yarn
The Roving Shantyboy
Green Grows the Rushes O
Green Leaves So Green O




7. North American Romantic Ballads
The Lass of Mohee
The Young Indian Lass
The Chippewa Stream
The Banks of the Pembina




8. Comic Songs
Devilish Mary
Pat and His Old Leather Britches
Big Jackass Smelling of Partridge
Jane McInnery from Cork
I Had But Fifty Cents
Come Tiddly Wink Some Day
The Burglar Boy




9. Irish Songs
The Drowning of Willie Leonard
The Banks of Newfoundland
The Cruiskee Lawn




10. English Songs
The Old Country Fair
The Faggot Cutter
Thyme, 'Tis a Pretty Flower
The Rich and the Poor
Bonny Black Bess




11. American Songs
The Texas Rangers
The Cowboy's Lament
Young Charlotte
The Arkensas Traveller
Never Going to Cease My Wandering
The Ploughboy




12. Local Canadian Songs
Bridget from Washago
Drill, Ye Tarriers, Drill
Memories of the Miramichi




13. Lumbering Songs
The Farmer's Son and the Shantyboy
Fine Times in Camp Number Three
Hurry Up, Harry
The Squire Boys
The Raftsmen's Song




14. LaRena's Composition
O Canada, Land of Our Homeland
Buckskin Baby
Tuscarora Maiden
Woes of Two Fisherman
Hawkestone on the Shores of Lake Simcoe




LaRena's Palce in Musical Tradition
By Jay Rahn




Summing Up
Sources and References for LaRena's Songs
LaRena's Family Songs
LaRena's Recordings
LaRena's Compositions
Publications Cited
Recordings Cited
Index of Songs
Index of First Lines