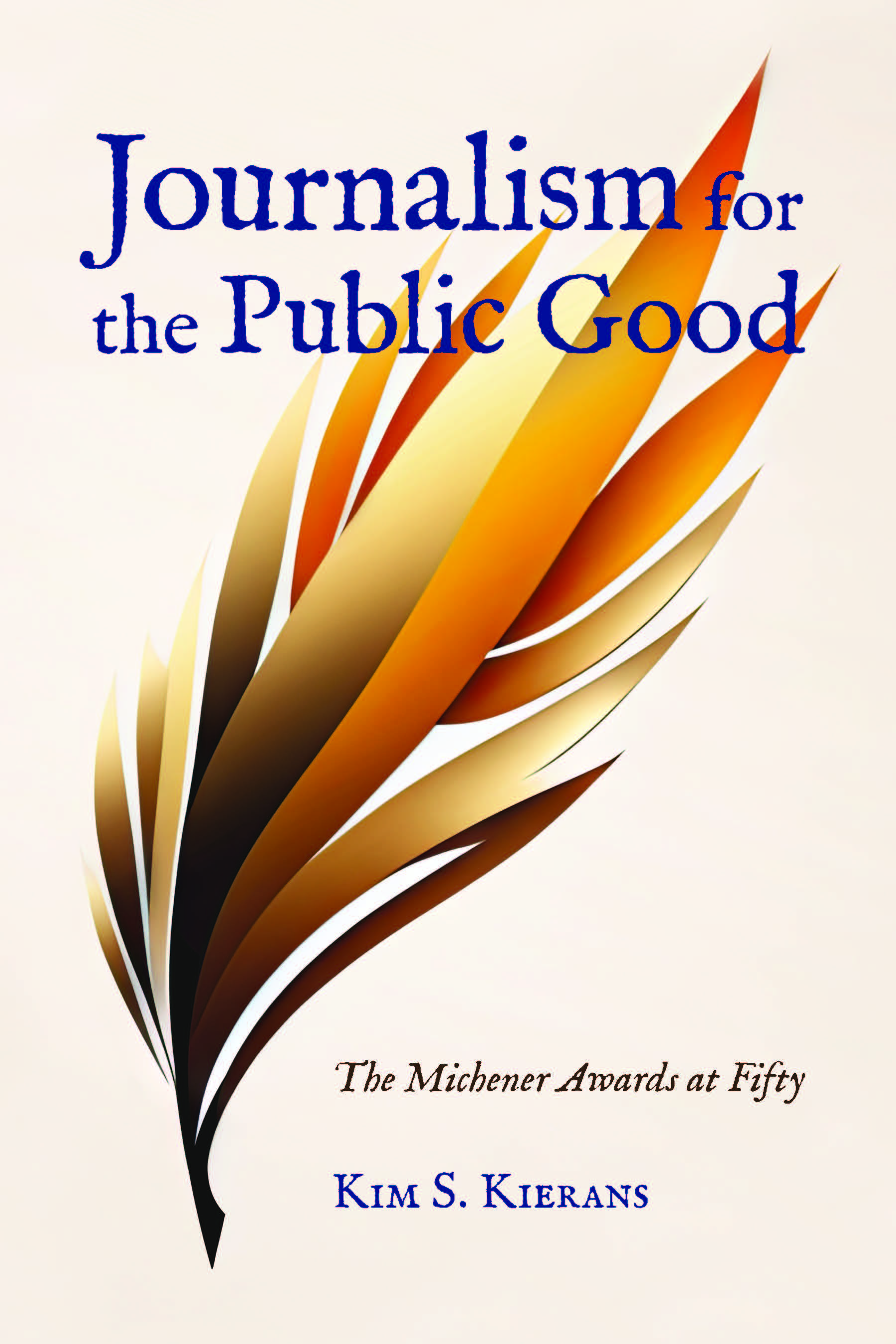 Journalism for the Public Good
---
Kim S. Kierans
$68.99 HC / $38.99 PB (T)
6 x 9 inches
978-1-77385-534-9 (Hardback)
978-1-77385-535-6 (Paperback)
978-1-77385-537-0 (Institutional PDF)
978-1-77385-538-7 (ePub)
May 2024
About the Book
For fifty years the Michener Awards have honoured outstanding and unbiased Canadian journalism that results in positive change for the public good
Journalism makes a difference. In-depth investigation and reporting can break preconceptions, expose hidden truths, and have deep impacts on both public perception and public policy. Evidence-based journalism is essential in a world where information is free, and facts are disputed.
The Michener Awards, named after Governor General Roland Michener, for half a century have recognized the important role of free media within democracy and have honoured the organizations that invest in public interest journalism. Journalism for the Public Good is the story of the Micheners as told through the award-winning reporting they have celebrated since the 1970s.
This book feature outstanding examples of hard-hitting investigative journalism that have made an impact on the lives of Canadians. It documents the successes and struggles of the Michener Awards and the its volunteers. It traces how journalism has evolved, influenced, and been changed by Canadian society over the past half-century, and it explores the challenges journalists working in a multi-platform world face today. Journalism for the Public Good is a celebration of the organizations and individuals who give voice to marginalized communities, challenge the powerful, and through their fearless journalism make Canada a better place.
Journalism for the Public Good is a Bighorn Books title.
About the Author
Kim S. Kierans is Inglis Professor emerita in the School of Journalism, Writing & Publishing at the University of King's College, Halifax, where she taught for twenty-four years following a career in journalism. She is senior fellow at Massey College, University of Toronto, sits on the advisory board of OxCo Academic Video in Oxford, UK, and is on the board of the Asian Center for Journalism at Ateno de Manila University.
Praise for Journalism for the Public Good
Pour this book through a sieve and these are some of the words caught in the mesh: Struggle. Sadness. Disruption. Power. Passion. Joy. Justice. Kim Kierans takes us into the newsrooms of the reporters end editors who produced the chapters placed on this altar of glorious Canadian journalism. A dip-in book for inspiration and a deep reference for excellence for every j-student and every j-veteran in our country. Kieran has produced a masterpiece for our masterpieces.
—Michael Cooke, Chair, Journalists for Human Rights and former Editor-in-Chief, Toronto Star
This is an important and engaging book about Canada's own Pulitzer Prize. In its pages you'll read about high stakes, intrigue and passion for journalism that can change the world. Every journalist, avid reader or viewer of impactful coverage, and every journalism scholar needs to read this book. This work, by a top-level Michener Award insider, is a significant contribution to our understanding of the field and its most prestigious award.
—Marsha Barber, professor of journalism, Toronto Metropolitan University
In chronicling the history of the Michener Awards, Kim Kierans also recounts the impressive array of journalistic scoops and exposés of the last half century. Investigative journalists have dug into every corner of Canadian society, revealing wrongful convictions, broken social systems, systemic racism, corruption and conflicts of interest. Kierans also shows how newsrooms have fought over the years to win access to court documents and exhibits, police records and other information in the public interest. This book is a celebration of Canada's best journalism over the last half century, and an awards competition that encouraged top-flight reporting. With an impressive attention to detail, Kierans shows how an awards program that is tied to the Governor General always maintained its independence and integrity, even honouring a CBC story that called Rideau Hall "a house of horrors." For anyone interested in how journalism changed Canada, this is an important book.
—Cecil Rosner, investigative journalist and adjunct professor, University of Winnipeg