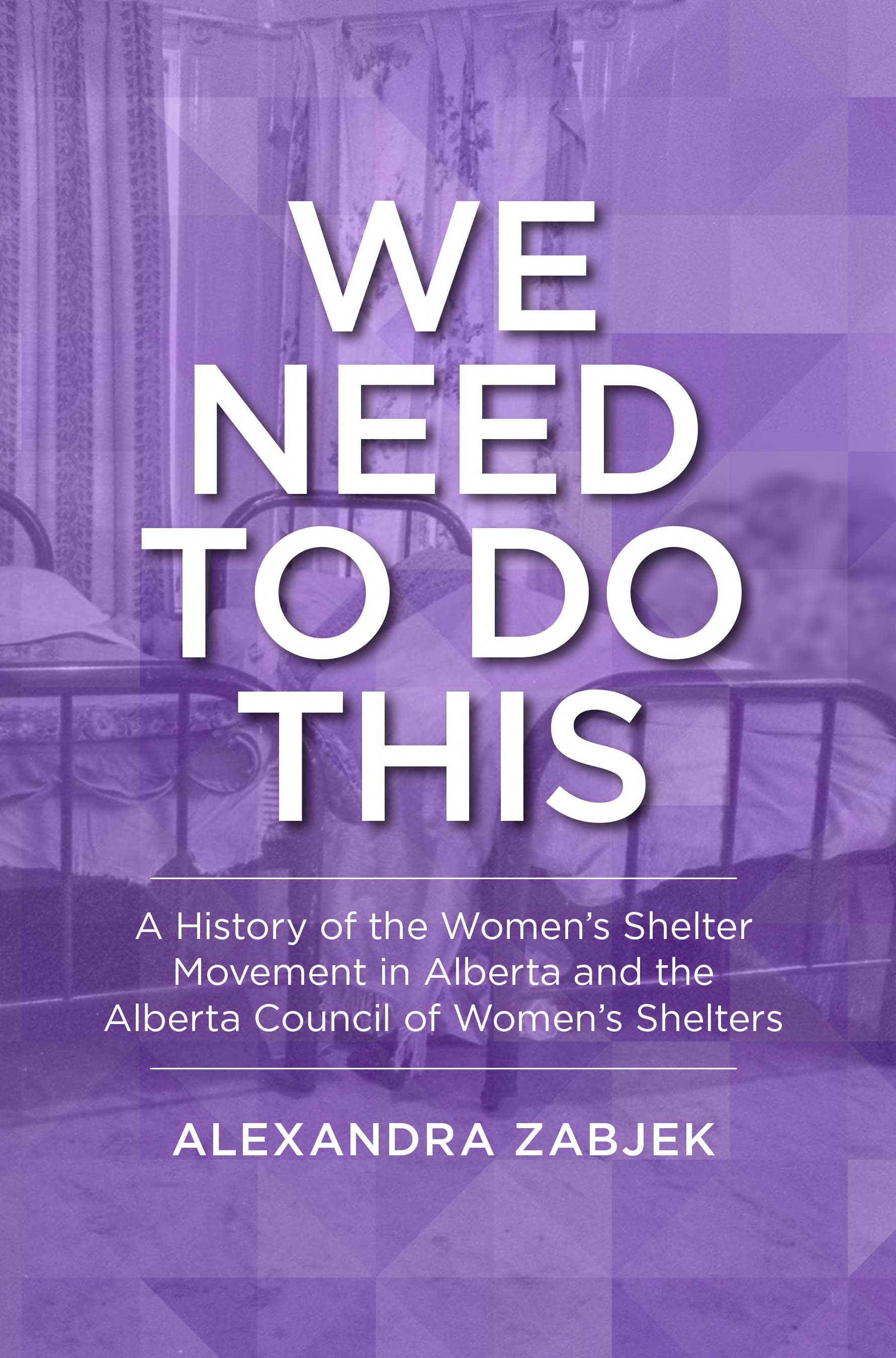 We Need to Do This: A History of the Women's Shelter Movement in Alberta and the Alberta Council of Women's Shelters
---
Alexandra Zabjek
$47.99 HC / $27.99 PB (T)
160 pages
6 x 9 inches
978-1-77385-491-5 (Hardback)
978-1-77385-492-2 (Paperback)
978-1-77385-494-6 (Institutional PDF)
978-1-77385-495-3 (ePub)
September 2023
About the Book
Alberta's first women's shelter was founded in 1973. In 1982, the Alberta Council of Women's Shelters became a respected voice for advocacy across the province. Today, Alberta's women's shelters valiantly strive for an end to gender-based violence.
In Canada, a woman is killed by her intimate partner every six days. Alberta has one of the highest rates of domestic violence in the country. Starting in the 1970s, Alberta women's shelters have assisted women in crisis. Much more than a safe place to sleep, shelters work to prevent violence through education and training, connect people and communities, and support the complex needs of survivors through a multitude of services.
We Need to Do This is the story of Alberta women's shelters. Based on dozens of in-depth interviews, it traces the evolution of a progressive social movement in a traditionally conservative province. These are the stories of women whose voices may otherwise never have been heard: entry-level workers at fledgling shelters battling the assumption that their facilities would create crime, small-town shelter directors forced to self-censor or lose community—and financial—support, Indigenous women fighting to serve their sisters in Indigenous spaces.
Beginning with the women who founded the first shelters, and continuing through the establishment of the Alberta Council of Women's Shelters to the present day, We Need to Do This is a story of hope and survival for the women's shelter movement and for the mothers, sisters, aunts, cousins, and daughters it continues to serve.
About the Author
Alexandra Zabjek has worked as a staff writer at the Edmonton Journal and as a producer for national radio programs, including CBC's The Current. She also produced and co-hosted The Broadcast, one of the first podcasts in Canada focused on women in politics. Alexandra lives in Edmonton with her husband and son. We Need to Do This is her first book.
Praise for We Need to Do This
This book debunks the tired stereotype of Alberta as a redneck bastion of oil workers and cowboys. Alberta's shelter network is a living testament to the perseverance, drive, and compassion of its women.
—Margo Goodhand, author of Runaway Wives and Rogue Feminists
We Need to Do This is a powerful reminder of the critical role grassroots organizations play in creating and sustaining societal change. Zabjek's compassionate telling of women's stories, often in their own voices, will help preserve the history of the Alberta Council of Women's Shelters and serve as encouragement for a world free from gender based violence.
—Trisha Estabrooks, Trustee, Edmonton Public School Board
Brenda Brochu. Ardis Beaudry. Lena Neufeld. Ruth Scalp Lock. Janet Gladue. Gerri Many Fingers. Clara Moberly. Jan Reimer. Pat Garrett. Just a few of the many determined and fearless women who helped build the life saving constellation of women's shelters in Alberta. In We Need to Do This Alexandra Zabjek has skillfully written this largely unknown but important chapter of our province's history. Carefully weaving together the contributions of each woman and the ACWS over the last 50+ years, Zabjek details the highs and lows of this project, ensuring that often marginalized or ignored voices were finally heard and documented. In a world where gender-based violence still remains an ongoing and underreported crisis, We Need to Do This is an inspiring call to action to keep up the work to build communities free of abuse and violence for all. A must-read for anyone who wants to help build that world.
—Katherine O'Neill, CEO, YWCA Edmonton and former Globe and Mail National Correspondent
Table of Contents

Foreword
No Place to Go
A Reckoning about Wife Battering
Prairie Pragmatism Drives the Shelter Movement
A Shelter for Indigenous Women
Calgary, Fired Up for Change
"If You've Got the Data, They Can't Argue With You"
Fighting for Equitable Funding for First Nations
A Commitment for Social Change
Afterword
Acknowledgements
We Need to Do This is a publication of LCR Publishing Services