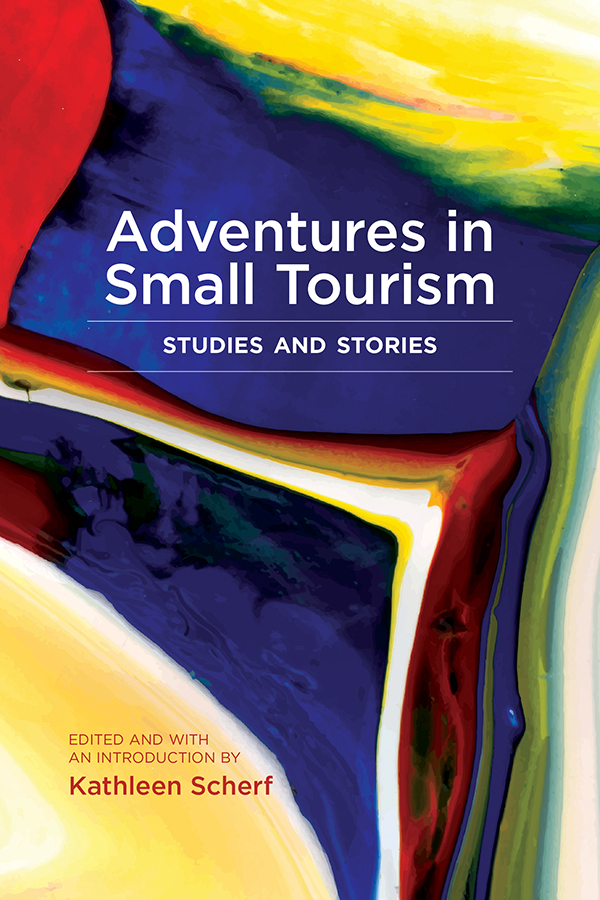 Adventures in Small Tourism: Studies and Stories
---
Edited by Kathleen Scherf
$69.99 HC / $39.99 PB (S)
316 pages
6 x 9 inches
978-1-77385-475-5 (Hardback)
978-1-77385-476-2 (Paperback)
978-1-77385-478-6 (Institutional PDF)
978-1-77385-479-3 (ePub)
October 2023
About the Book
The double blow of overtourism and COVID has shaken the travel industry and forced a reconsideration of what tourism is, and can be. This volume offers a vision of regenerative tourism beneficial to travelers and locals alike.
Adventures in Small Tourism presents academic studies and personal stories about small tourism. While small tourism is not new, it has become increasingly important as the widespread negative effects of overtourism have become increasingly apparent, with cities like Amsterdam and Barcelona experiencing barriocide, the death of neighbourhoods, as they host overwhelming numbers of visitors.
Small tourism, especially creative tourism, not only reduces the actual and potential negative impact of guests on local culture but actively seeks to strengthen and revive local communities by weaving together the experiences of guest and host. Participatory, respectful, and celebratory methods and manners of tourism, rooted in community and cultural networks, has the potential to strengthen cultural bonds, support economic development, and increase sustainability.
Focusing on the provision of small-scale creative tourism experiences, Adventures in Small Tourism explores possibilities for local empowerment through community-based tourism. With stories and studies from Italy, Portugal, Colombia, Japan, Australia, and beyond, this collection tells stories of visitors and residents coming together to co-create place in walks and workshops, gastronomy and art, festivals, markets, and more. This is a book that dares to ask what the future can be.
With Contributions By: Diana Guerra Amaya, Katja Bek Kos, Keith Lewis Bradbury, Nancy Duxbury, Darcen David Esau, Mohammadreza Gohari, John S. Hull, Vid Kmetič, Attila Komlós, Donald Lawrence, Sylvia M. Leighton, Alison Lullfitz, Moira A.L. Maley, Courtney W. Mason, Una McMahon-Beattie, Mateja Meh, Emese Panyik, Carol Pettersen, André Luis Quintino Principe, Meng Qu, Donna M. Senese, M. Jane Thompson, Spencer J. Toth, J. Eddy Wajon, Josie Vayro, Ian Yeoman, Simona Zollet, and Diana Marcela Zuluaga Guerra
About the Editor
Kathleen Scherf is professor of Communication at Thompson Rivers University. She is the editor of Creative Tourism in Smaller Communities: Place, Culture, and Local Representation and a contributor to Creative Tourism: Cultural Resources and Engaging Creative Travellers.
Praise for Adventures in Small Tourism
If the local matters in tourism, then so does this book! Scherf invites us to indulge in a thoughtful exploration of the characteristics, principles and value of small tourism. Diverse in its geographic presentations and proposing multiple and complex expressions of small-scale places, we are exposed to a whirlwind tour of opportunity, all the while clarifying for us the nature of the issues and challenges that beg to be addressed. Not at all a convenient critique of mass tourism, this volume provokes wonder and delivers evidence that a different kind of tourism is not only possible, but already exists. Small tourism has grown up.
—Suzanne de la Barre, Department of Recreation and Tourism Management, Vancouver Island University
In the wake of the COVID-19 pandemic, this volume provides convincing evidence that "small" may be the new "big" in the tourism sector. Pairing academic studies with personal stories, Adventures in Small Tourism provides a thoughtful and compelling argument for community-based and collaborative tourism centred on local culture and history. A must-read for anyone who values the delights of micro-destinations and wishes to build better connections between residents, visitors, and place.
—M. Sharon Jeannotte, University of Ottawa