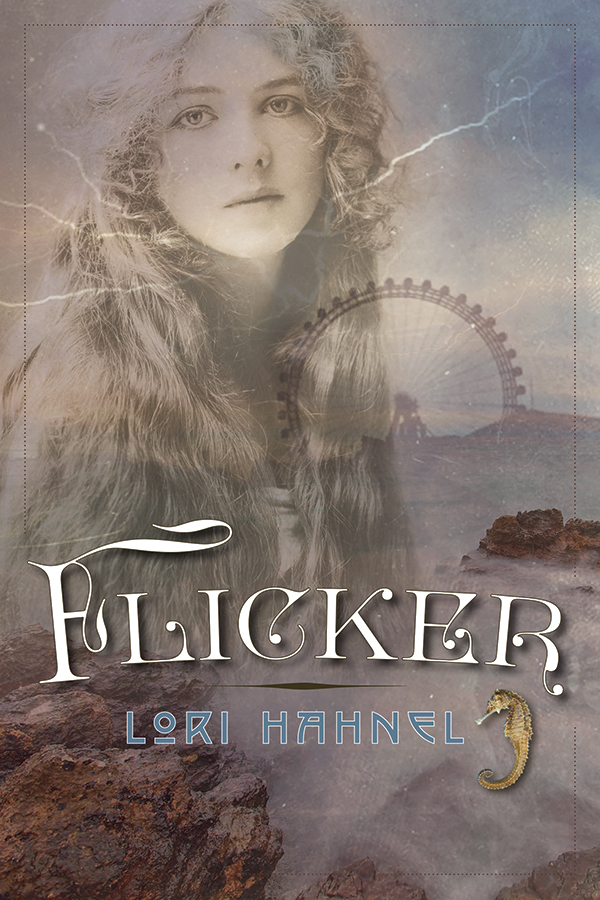 Flicker
---
Lori Hahnel
$54.99 HC / $34.99 PB (T)
252 pages
6 x 9 inches
978-1-77385-467-0 (Hardback)
978-1-77385-468-7 (Paperback)
978-1-77385-469-4 (Institutional PDF)
978-1-77385-470-0 (ePub)
September 2023
About the Book
Flicker is a thrilling novel about time travel, scientific discovery, and the power of love.
Cass Reisender doesn't enjoy her psychic abilities. They appeared after her parents were killed in a tragic accident and led her to Madame Freyja, a travelling fortune teller and all-round terrible person. Swearing to leave both her psychic sensitivity and Madame Freyja behind, Cass starts again in Calgary, Alberta, a city with nothing supernatural about it at all. Then Cass touches a strange antique device and her new life is blown apart.
Transported to West Orange, New Jersey, in the year 1900, Cass meets the dashing Erik Thorvaldsen in Thomas Edison's—that Thomas Edison's—laboratory. As she and Erik grow closer, Cass finally accepts herself as she finds love in a life lived across centuries. Yet Madame Freyja lurks in the shadows, hungry for the power of the time travel device. When Madame Freyja strikes, Cass must face both her fears and her past or lose her connection to Erik forever.
Flicker is a playful, fast-paced romp through the golden age of invention, mythology, and the supernatural. This is a novel for everyone who believes in the power of scientific curiosity and the strength of the human heart.
About the Author
Lori Hahnel is the award-winning author of Love Minus Zero and Vermin. She writes fiction about love, loss, longing, and the lives of women and is fascinated by outsiders, misfits, the strange, and the forgotten. Lori has taught creative writing at Mount Royal University and the Alexandra Writer's Centre, and has served as a mentor via the Banff Centre for the Arts and Creativity, the Writer's Guild of Alberta, and AWCS.
Praise for Flicker
Lori Hahnel seduces the reader with a magical, charming tale of a woman's foray into the past. Flicker is a delightfully compelling read.
—Jerry Levy, author of The Quantum Theory of Love and Madness
Mysticism and science combine to power Hahnel's time-travel tale and give it a delightful twist. She brings alive a unique time and place, and creates an obsessed heroine you can't help but root for.
—Karen Bass, author of the time-travel adventure Two Times a Traitor
A riveting time-travel tale with a feminist twist, Flicker explores love, loss, science and the supernatural with curiosity and conviction. A story about female agency, courage and independence spanning Edwardian-era New Jersey to acid-washed Calgary. Seductive, wistful, electric.
—Ali Bryan, author of Coq and The Crow Valley Karaoke Championships
Flicker is a captivating exploration of a young woman's extra-sensory experiences. During her flickers Cass receives images of something that will happen in the future or that has happened. Time, she discovers, does not move in a straight line and always comes up with a surprise. She must forget her ideas of what makes sense and what does not. In one flicker she meets Eric, from the year 1900, and they soon fall in love. The complications are great. How do you convince a lover that the incomprehensible, the magical, is real? The novel carries the reader smoothly and insightfully along a fascinating path.
—Wade Bell, author of A Destroyer of Compasses
Lori Hahnel invites the reader into a world bent back upon itself, a world in which the past may not yet be over with and the future may only be accessed by one brave enough to face a truth unseen by others. This is a novel rich in insight, bristling with curious energy, driven by the power of the human heart, powered by the perseverance of love.
—Leo McKay Jr, Giller Prize finalist and author of What Comes Echoing Back