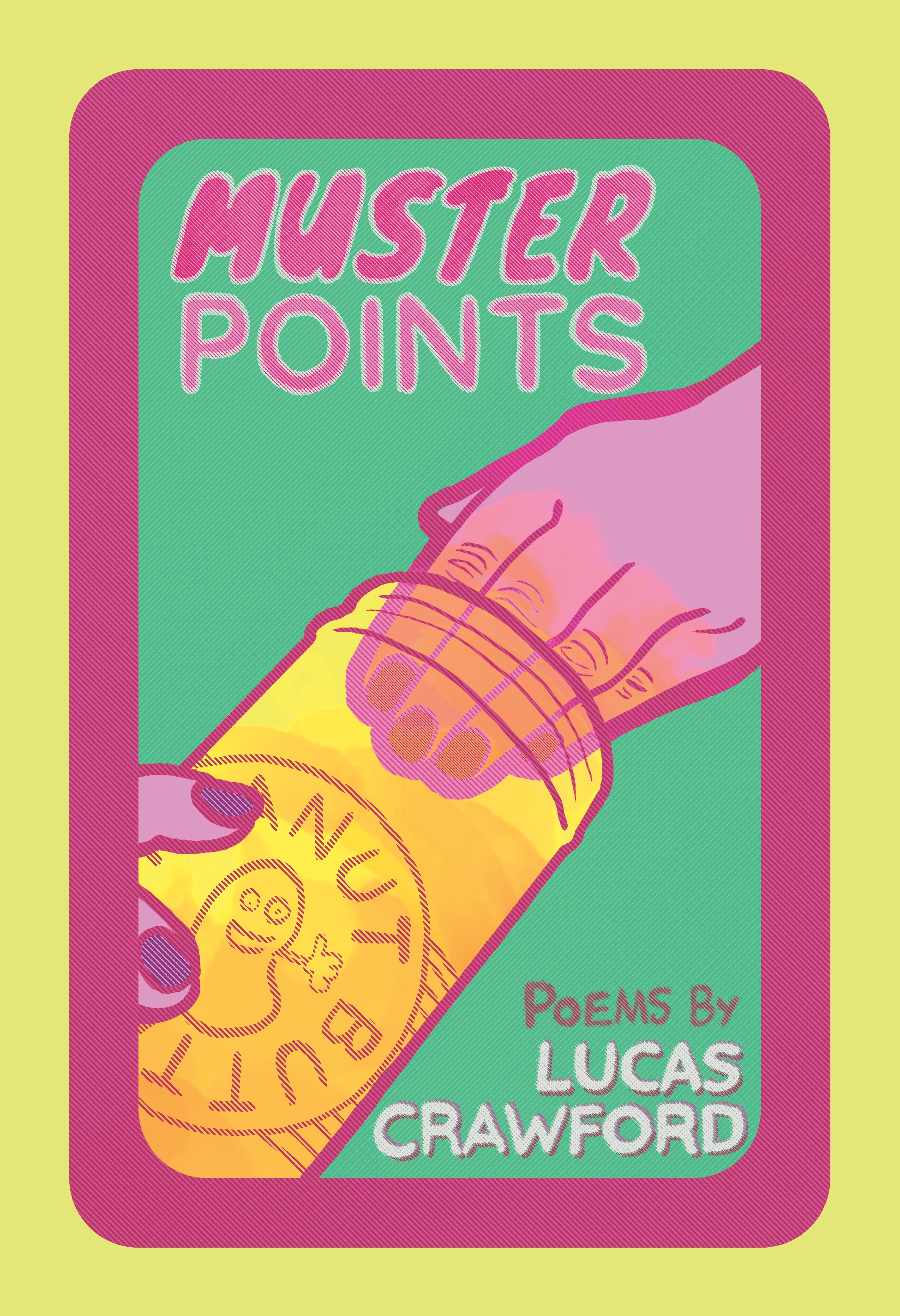 Muster Points
---
Lucas Crawford
$28.99 HC / $18.99 PB (T)
96 pages
6 x 9 Inches
978-1-77385-452-6 (Hardback)
978-1-77385-453-3 (Paperback)
978-1-77385-454-0 (Institutional PDF)
978-1-77385-455-7 (ePub)
June 2023
About the Book
A journey through COVID, small rooms and big cities, hungers and healing, all via the power, pleasure, and pain of queer and trans worldmaking.
In March 2020, Lucas Crawford was quarantined at the Banff Centre for the Arts, coughing like a good fat asthmatic at high altitude, ending a relationship, not knowing when or how he would get home, or where home would be when he got there. What does a writer do, stranded in a dorm room, unsure of the future? Write poems.
Muster Points is a frank discussion of desire, nostalgia, mental illness, and health from a professor with one foot kicking the ivory tower and both feet sloshing in all the sundry fluids of queer sex and depression. These poems bring us on a trans boy's trips through the shard-sharp ruins of heterosexual marriages, into weird rural masculinities and their fraught survival, into regret and recovery, durability and desire.
This book takes readers to the core of Crawford's sexual politic, through his front door and to the back of his mind. As Crawford packs his two suitcases and bangs into past selves, tenuous futures, and a global emergency, he tracks his collisions toughly and tenderly, documenting every relic and clue. 
Muster Points arouses and provokes, uses visceral language and unequivocal vulnerability to conjure places of retreat and relief amidst emergency. Like the green and yellow signs that bear the book's title, Muster Points invites readers to congregate in the spaces where Crawford gathers strength. Join him there!
About the Author
Lucas Crawford is the author of five books, including the award-winning poetry collections Sideshow Concessions and Belated Bris of the Brainsick. His poetry and scholarship focus on relationships between space, aesthetics, bodies, and queer conceptions of health. Lucas has spent most of his life in rural areas of Mi ' kma ' ki but currently lives on Treaty 6 territory in Edmonton, Alberta. He is Canada Research Chair of Transgender Creativity and Mental Health at the University of Alberta's Augustana Faculty.
Praise for Muster Points
Muster Points burns bright as a flare in blackout. Scouring deep cuts of pop, literary, culinary, and queer culture, the poet crafts baroque poems that know, in the apocalypse, lullabies, Carly Rae Jepsen, exes, and strawberry jam will all come in handy. Heartfelt and clever, this collection thrashes and sings amidst the din of unrelenting, overlapping crises.
—Adèle Barclay, author of Renaissance Normcore