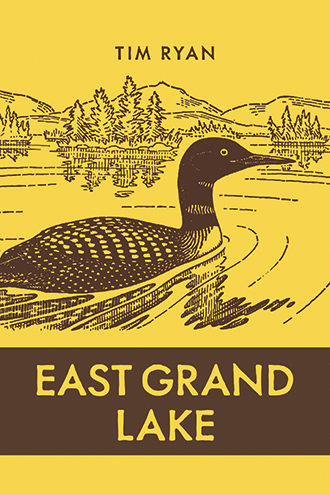 East Grand Lake
---
Tim Ryan
$44.99 HC / $24.99 PB (T)
188 pages
6 x 9 inches
978-1-77385-444-1 (Hardback)
978-1-77385-445-8 (Paperback)
978-1-77385-446-5 (Institutional PDF)
978-1-77385-447-2 (ePub)
May 2023
About the Book
A warm and charming book that will appeal to anyone who's spent a daydream, a day, a week, a month, or a life on a lake.
Shayne won't get out of the car. It's the summer of 1972 and the whole family has come up to Grandpa Murphy's cottage for their annual trip. Three generations are out on the property, swimming, wandering through the forest, fixing up the clubhouse, getting ready to sing around the fire, and having a lovely time. And Shayne won't get out of the car.
A novel in fourteen stories, East Grand Lake is a lovely, thoughtful, warm-hearted tale of life at the lake with a big family. Following the Murphy Clan from one evening to the next, Tim Ryan captures the many tiny, important dramas that occur simultaneously, sometimes invisibly, when everyone gets together. A pair of brothers hunt frogs. The girl cousins make a bid for supremacy. A boy is afraid of the end of the dock. Over one sun-soaked day, the Murphy family wrestles with grief, aging, betrayal, mental illness, and the many small fictions that occur when people share their lives.
Written with humour, compassion, and authenticity, East Grand Lake welcomes readers into the complex inner world of a large and loving family. This is a book for everyone who misses or wishes for summer vacation.
About the Author
Tim Ryan works and plays in and around Calgary, Alberta. He lives with his wife and daughter, a bossy cat, and a curious rabbit. He is the winner of the AlbertaViews short story contest. Tim's work has appeared in The Write Launch, The Prairie Journal, Prometheus Dreaming, and more. East Grand Lake is his first novel.
Praise for East Grand Lake
Tim Ryan's debut novel, East Grand Lake, is sure to stir up memories for anyone who's spent time at a family cottage. . . . [he] skilfully creates the young Murphy cousins' thoughts and dialogue as they catch frogs, cannonball off the dock and practise their acts for a family talent show.
—Winnipeg Free Press
If you have ever been a kid who wants to be taken seriously, East Grand Lake is for you.
—Rona Altrows, author of At This Juncture
Emotionally precise, richly-observed, affecting and witty, East Grand Lake explores coming of age, loss and the messy bonds of family with humility, veracity and warmth. A triumphant debut.
—Ali Bryan, Stephen Leacock Memorial Medal Finalist and Author of The Crow Valley Karaoke Championships
Tim Ryan gives us so much to love in this summer-lit nostalgia of the best kind . . . not the shallow lies we convince ourselves are the past, but the deep honesty, humour, and melancholy that makes a feeling real again. This book is a unique, heartfelt gift of what makes a family, a childhood, and a person . . . and Rory is just the bow on top. A must read!
—Bradley Somer, author of Fishbowl and Extinction.