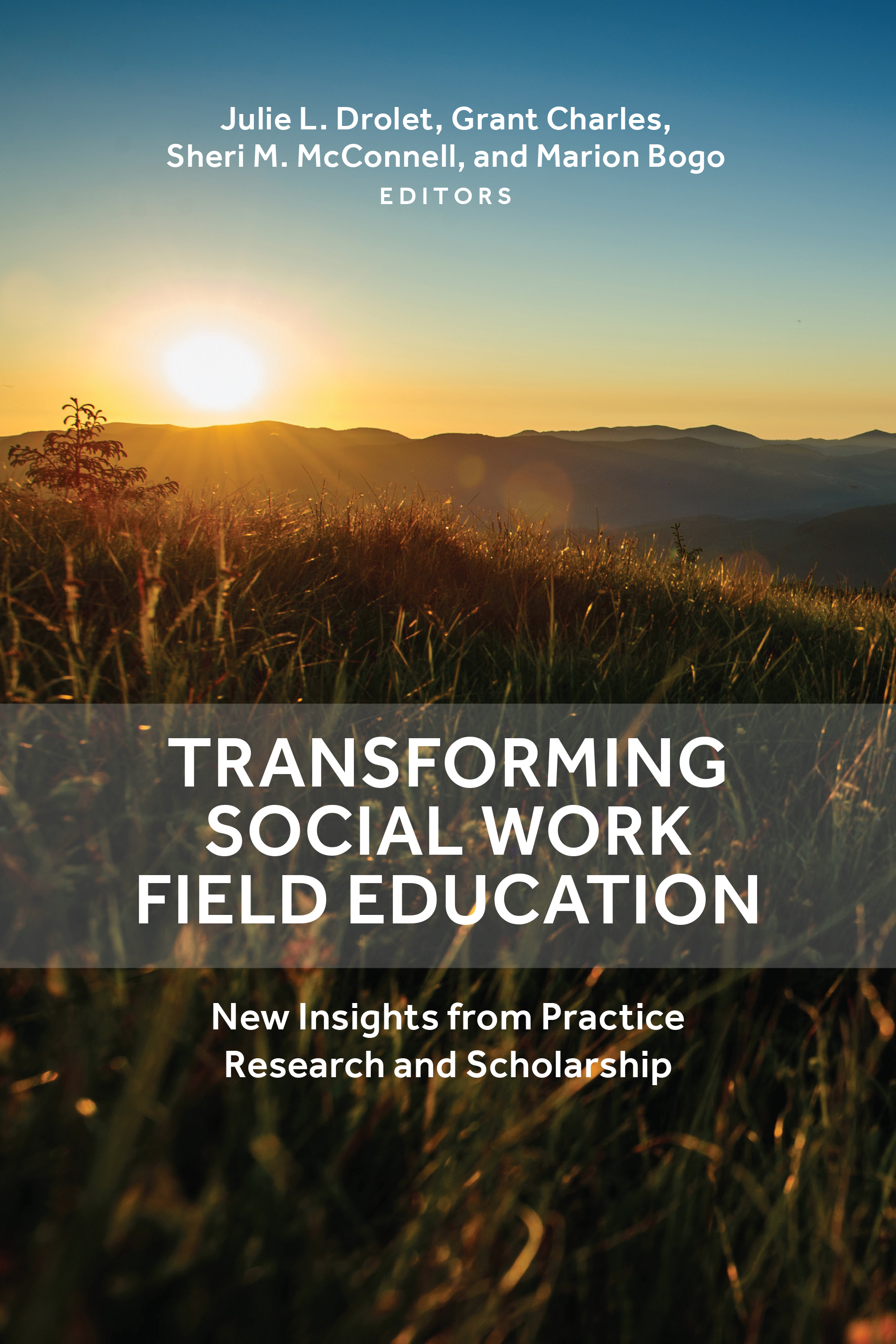 Transforming Social Work Field Education: New Insights from Practice Research and Scholarship
---
Edited by Julie L. Drolet, Grant Charles, Sheri M. McConnell, and Marion Bogo
$94.99 HC / $44.99 PB (S)
400 pages, 10 illustrations
6 x 9 inches
978-1-77385-438-0 (Hardback)
978-1-77385-439-7 (Paperback)
978-1-77385-441-0 (Institutional PDF)
978-1-77385-442-7 (ePub)
December 2022
About the Book
Offers current theoretical concepts and perspectives in social work field education, providing case studies of practice research grounded in diverse communities and experiences, and highlighting critical issues.
Social work field education in Canada is in crisis. New understanding and approaches are urgently needed. Innovative and sustainable models need to be explored and adopted. As professionals, social workers are expected to use research to inform their practice and to contribute to the production of research. Yet many social workers are reluctant to integrate research into their practice and into field education.
Transforming Social Work Field Education encourages the adoption of research and scholarship into the practice of social work, especially field education. It offers current theoretical concepts and perspectives that shape social work field education and provides case studies of practice research grounded in the experiences of diverse communities and countries. Highlighting cutting-edge research and scholarship, each chapter addresses critical issues in social work practice and their implications for field education.
Bringing together scholars at various stages of their careers, this book fosters a meaningful dialogue on the dynamic, complex, and multi-faceted nature of social work practice, research, and innovation in the critical area of field education. A vivid and original work, it stimulates interest and discussion on the integration of research and scholarship in social work field education in Canada and around the world.
With contributions by: Wasif Ali, Helen Asrate Awoke, Kelemua Zenebe Ayele, Afework Eyasu Aynalem, Nicole Balbuena, Morgan Jean Banister, Natalie Beck Aguilera, Sheila Bell, Heather M. Boynton, Janice Chaplin Mailing, Emmanuel Chinlanga, Jill Ciesielski, Alise de Bie, Emma De Vynck, Cyerra Gage, Anita R. Gooding, Zipporah Greenslade, Annelise Hutchinson, Christine Anne Jenkins, Vibha Kausik, Ermias Kebede, Edward King, Kaltrina Kusari, William Lamar Medley, Karen Lok Yi Wong, Alexandra Katherine Mack, The Ottawa Adult Autism Initiative, Endalkachew Taye Shiferaw, Richardio Diego Suárez Rojas, Margaret Janse van Rensburg, Jennie Vengris, and Courtney Larissa Weaver
Published by LCR Publishing Services
About the Editors
Julie L. Drolet is a professor in the Faculty of Social Work at the University of Calgary and director of the Transforming the Field Education Landscape (TFEL) project. She is an internationally recognized expert in the field of social work, and her research focuses on field education, disaster social work, social development, and sustainable development.
Grant Charles is associate professor in the School of Social Work and an affiliated faculty with the Division of Adolescent Health and Medicine in the Department of Pediatrics with the Faculty of Medicine at the University of British Columbia. He holds an adjunct appointment with the School for Child and Youth Care at the University of Victoria, is a member of the UBC Cluster on research-based theatre, and a member of the Prato International Collaborative on Family Mental Health.
Sheri M. McConnell, a registered social worker, is an assistant professor and former field education coordinator at the Memorial University School of Social Work. She is a queer white settler who currently resides on the traditional lands of the Beothuk and Mi'kmaq. As part of her commitment to decolonization, reconciliation, and Indigenization, she chairs the team offering a BSW in Nunavut.
Marion Bogo was a professor in the Factor-Inwentash Faculty of Social Work at the University of Toronto. She was recognized for her many contributions to the field of social work and field education.
Discover the Journal
Transformative Social Work is a scholarly refereed open access journal designed to exchange knowledge and promote transformation in the field of social work steered by Editor-In-Chief Julie Drolet and Associate Editors Aduga Abebe, David Nicholas, and Phyllis Muraguri. Expanding on the themes explored in Transforming Social Work Field Education it reports on transformative research, discussing practice, and examining principles and theories, and will be read by social work educators, researchers, practitioners, and students who wish to keep informed with innovations and developments in the field.
Transformative Social Work is an Open Access journal and may be read online for free.