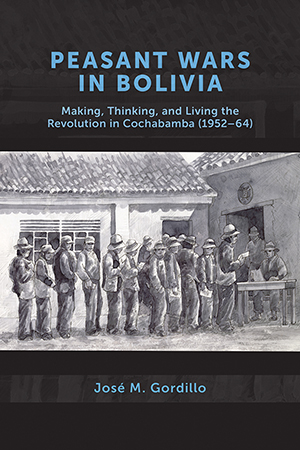 Peasant Wars in Bolivia: Making, Thinking, and Living the Revolution in Cochabamba, 1952-64
---
José M. Gordillo
$34.99 CAD / $34.99 USD (S)
338 pages, 17 illustrations
6 x 9 inches
978-1-77385-399-4 (ePub)
978-1-77385-400-7 (Institutional PDF)
978-1-77385-401-4 (Paperback)
July 2022
About the Book
Peasant Wars in Bolivia reveals the active political role played by the Cochabamba valley peasants during the 1952-64 revolutionary period in Bolivia from a non-state perspective. Based on contemporary research in social, political, and cultural issues in Latin America it blends sociological and anthropological methods to go beyond recognized contexts of central power and emphasize the revolutionary experience of the peasants themselves.
Drawing on archival research, newspapers, interviews, and a wealth of secondary sources, the book argues that the Cochabamba valley mestizo population of rural workers forged their own collective "campesino" identity alongside their revolutionary struggles against regional elites and the state. This newly created identity allowed the campesinos entry into the Bolivian national political arena as dynamic actors, transformed their subjectivities, and changed the existing political culture of Bolivia. It goes on to analyze the historical status of the revolution and the role of the mestizo peasantry within it in the context of academic and political debates of the first two decades of the twenty-first century.
Crossing established borders between history, anthropology, and sociology, Peasant Wars in Bolivia is a fascinating, interdisciplinary exploration of the revolutionary campesinos of the Cochabamba valley, of Bolivia's nationalist revolution, and of the ways it has been interpreted and understood within Bolivian politics and culture.
About the Author
José M. Gordillo is an adjunct assistant professor in the Department of History at the University of Calgary. His previous affiliations include the Departments of Economics and Sociology at the Universidad Mayor de San Simón (Cochabamba-Bolivia), the Programa de Investigación Estratégica en Bolivia (PIEB,) and the United Nations Population Fund (UNFPA). He has been a member to the Board of Directors of the Centro de la Realidad Económica y Social (CERES) in Bolivia, a fellow to the SEPHIS program in Holland, and a fellow to the Fulbright program in the USA.
Praise for Peasant Wars in Bolivia
Jose Gordillo's fascinating history reveals that Bolivian peasants were a diverse group of shrewd political actors who transformed Bolivian society in the wake of the 1952 Bolivian revolution. Peasant Wars in Bolivia is a must-read for anyone interested in social revolution, agrarian transformation, and peasant politics.
—Sarah Hines, author of Water for All: Community, Property, and Revolution in Modern Bolivia
A very welcome addition to the "new social history from below!" This book plots the vital role that militant "campesino" actors played in transforming Cochabamba's local political culture in their own agrarian/leftist image. Through oral testimony, vivid ethnography, and close textual interpretation, Gordillo unsilences the voices of his historical protagonists and opens a window into their quotidian "lived experiences," attitudes, and aspirations during two decades of wrenching political change. In short, the author creatively restores peasant agency to the center of the narrative and, from that vantage point, reappraises the revolution's powerful impact on the course of modern Bolivian history.
—Brooke Larson, Stony Brook University