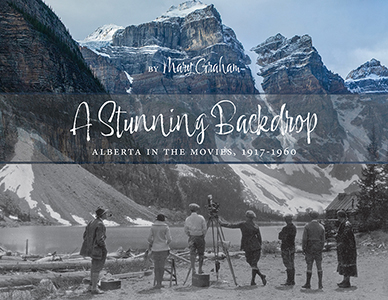 A Stunning Backdrop: Alberta in the Movies, 1917-1960
---
By Mary Graham
$119.99 HC (S) / $54.99 PB (T)
416 pages, 189 images
8.5 x 11 inches
978-1-77385-392-5 (Hardback)
978-1-77385-393-2 (Paperback)
978-1-77385-395-6 (Institutional PDF)
978-1-77385-396-3 (ePub)
October 2022
About the Book
The unconventional, untold story of Alberta's film history, defined by the terrible beauty of its pristine landscape, surprisingly important to Hollywood, and recaptured in lost or ignored Indigenous perspectives and stories.
Alberta's magnificent landscape has served as a popular location for filmmakers since the dawn of the movie industry. For film pioneers, Alberta embodied the myth of the Great Northwest, a primeval mountain wilderness and the last western frontier. In turn, Canadian entrepreneurs were eager for American studios to drape Alberta landscape across the backdrop of their movies, an advertisement without equal.
A Stunning Backdrop is the untold story of six rollicking decades of filmmaking in Alberta. Mary Graham draws on twelve years of exhaustive research to reveal a film history like no other, illuminating the deep importance of the province to Hollywood. She explores the often friendly partnerships between American filmmakers and Indigenous communities, particularly the Stoney Nakoda, that provided economic opportunities and, in many cases, allowed them to retain religious and cultural practices banned by the Canadian government.
Beautifully illustrated with archival photography and featuring century-old set stills alongside photographs of the locations as they appear today, by Jean Becq, Solomon Chiniquay, Jeff Wallace, George Webber, and Paul Zizka, A Stunning Backdrop is the fascinating, often surprising, always unconventional story of film in a province whose rugged, compelling, multifarious, terribly beautiful landscape continues to inspire filmmakers and audiences around the world.
About the Author
Mary Graham is a writer, documentary journalist, and film historian. She has appeared as a feature film specialist at CBC Radio and ARTE, the European Culture Channel. She presents frequently about her ongoing work on the importance of Indigenous contributions to Alberta film history in the media, and at universities, museums, and other public venues.
Praise for A Stunning Backdrop
The winning title stood out because of its captivating content, offering an insightful and comprehensive behind-the-scenes view of a lesser-known aspect of Alberta's history. With a discerning editorial eye, an accessible interior design, and a robust marketing plan, the final product stands as a stunning achievement.
—The Alberta Book Publishing Awards Jury on A Stunning Backdrop
Very, Very Cool. 
—Historica Canadiana-A Cultural History of Canada
The book is well researched, and a beautifully illustrated one with great photographs, stills from productions, as well as more recent photos showcasing where some memorable movies were shot.
—Joe Planta, The Commentary
Graham, a writer and film historian, compiles her 12 years of research on Alberta's film industry in the first half of the 20th century
—Ben Sigurdson, The Winnipeg Free Press
Mary Graham explores that history [of filmmaking], as well as how the Îyârhe (Stoney) Nakoda used early films to preserve their culture and practice rituals that were banned at the time.
—Craig Baird, Rocky Mountain Outlook
Hollywood's biggest stars have spent a lot of quality time chewing the scenery around Banff and Jasper . . . While she covers all the bases, journalist-historian Mary Graham's primary focus is on the impact of the Stoney Nakoda people, who worked as guides, location scouts and actors, occasionally in ways that allowed them to preserve and celebrate their culture.
—Pat St. Germain, The National Post
In the Media
Joseph Planta and Mary Graham Talk A Stunning Backdrop, The Commentary
Mary Graham on A Stunning Backdrop, Historia Canadiana 
Tempting Tomes, The Winnipeg Free Press
Backdrop to the Stars, The Calgary Herald
The History of Hollywood Movies in Alberta, CBC Edmonton AM
New Book Catalogues Alberta's Film History, Global News Morning
Alberta's Film History, CBC Homestretch 
New Book Highlights Film History of Bow Valley, Stony Nakoda, Rocky Mountain Outlook
Awards
Shortlisted - Alberta Book Publishing Trade Non-Fiction Book of the Year | 2023
WINNER - Alberta Book Publishing Regional Book of the Year | 2023
Bronze Medal - PubWest Award for Design of a Historical Book | 2022