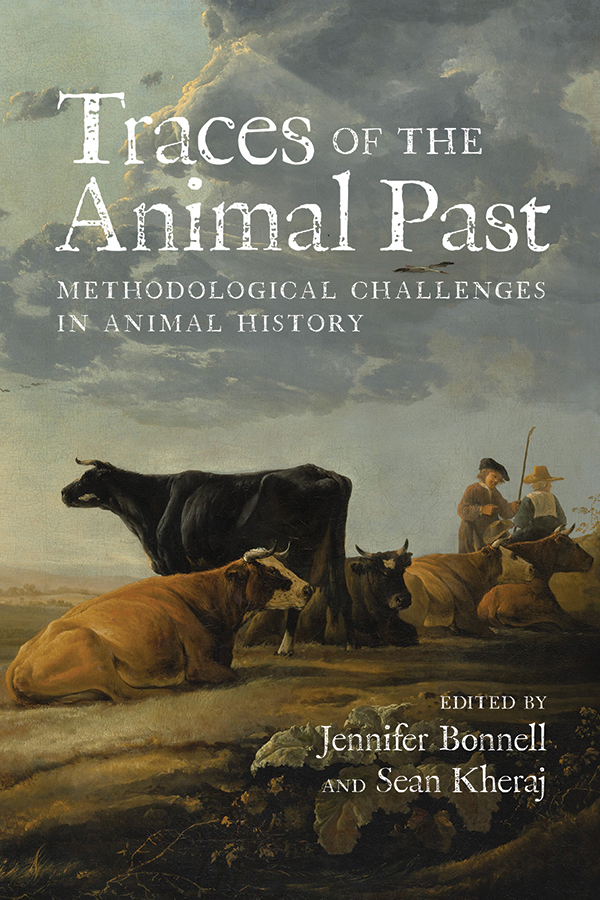 Traces of the Animal Past: Methodological Challenges in Animal History
---
Edited by Jennifer Bonnell and Sean Kheraj
$74.99 HC / $42.99 PB (S)
428 pages, 65 illustrations
6 x 9 inches
978-1-77385-384-0 (Paperback)
978-1-77385-383-3 (Hardback)
978-1-77385-386-4 (Institutional PDF)
978-1-77385-387-1 (ePub)
October 2022
About the Book
Leading scholars in animal history confront key questions of how we can know and understand the more-than-human past, showcasing the innovative methods historians use to discover and explain how animals fit into our collective histories.
Understanding the relationships between humans and animals is essential to a full understanding of both our present and our shared past. Across the humanities and social sciences, researchers have embraced the 'animal turn,' a multispecies approach to scholarship, with historians at the forefront of new research in human-animal studies that blends traditional research methods with interdisciplinary theoretical frameworks that decenter humans in historical narratives. These exciting approaches come with core methodological challenges for scholars seeking to better understand the past from non-anthropocentric perspectives.
Whether in a large public archive, a small private collection, or the oral histories of living memories, stories of animals are mediated by the humans who have inscribed the records and organized archival collections. In oral histories, the place of animals in the past are further refracted by the frailty of human memory and recollection. Only traces remain for researchers to read and interpret.
Bringing together seventeen original essays by a leading group of international scholars, Traces of the Animal Past showcases the innovative methods historians use to unearth and explain how animals fit into our collective histories. Situating the historian within the narrative, bringing transparency to methodological processes, and reflecting on the processes and procedures of current research, this book presents new approaches and new directions for a maturing field of historical inquiry.
With Contributions By: Jennifer Bonnell, Colleen Campbell, Jason Colby, George Colpitts, J. Keri Cronin, Joanna Dean, Jody Hodgins, Dolly Jørgensen, Sean Kheraj, Tina Loo, Lindsay Stallones Marshall, Catherine McNeur, Susan Nance, Harriet Ritvo, Andrew Robichaud, Nigel Rothfels, Sandra Swart, Emily Wakild, and Jay Young
About the Editors
Jennifer Bonnell is an associate professor of History at York University and the author of Reclaiming the Don: An Environmental History of Toronto's Don River Valley, which won the Canadian Historical Association's Clio prize and Heritage Toronto's best book award. Her new book project explores the relationships between beekeeping, agricultural modernization, and environmental change in the Great Lakes Region. For more on her work, visit jenniferbonnell.com.
Sean Kheraj is an associate professor of Canadian and environmental history at York University. He is the author of Inventing Stanley Park: An Environmental History. He is also the director of the Network in Canadian History and Environment and producer of Nature's Past: Canadian Environmental History Podcast.
Praise for Traces of the Animal Past
An impressively informative, exceptionally well organized, and thought-provoking compendium of unique, seminal, and informative essays.
—Midwest Book Review
A dazzling collection of interdisciplinary essays, illuminating the methodological pitfalls and possibilities of animal history. Essential reading for animal historians.
—Chris Pearson, author of Dogopolis: How Dogs and Humans Made Modern New York, London, and Paris
Scholars of animal history face serious methodological challenges, from the scarcity of sources to the difficulty of imagining nonhuman lives on their own terms. This impressive collection shows how historians are rising to the challenge by uncovering new kinds of sources, developing new methods for interpreting them, and building bridges to art and science—all while acknowledging the importance of embodied experience and the limits of knowability. This is animal history at its most methodologically innovative, with lessons for historians of all kinds.
—Etienne Benson, Max Planck Institute for the History of Science
These exciting, innovative essays address the significant challenges of writing valid animal history. The authors consider how to expand and revise what we think of as sources and archives to write history that reveals the material and lived experiences of animals themselves. Their interdisciplinary approach has relevance beyond animal history for fields such as environmental and social history. The thoughtful, creative, wide-ranging essays in this volume should inspire conversation and research for a long time to come.
—Ann N. Greene, University of Pennsylvania
Awards
NiCHE Prize for Best Book Chapter for "Making Tracks: A Grizzly and Entangled History," by Colleen Campbell and Tina Loo | 2023