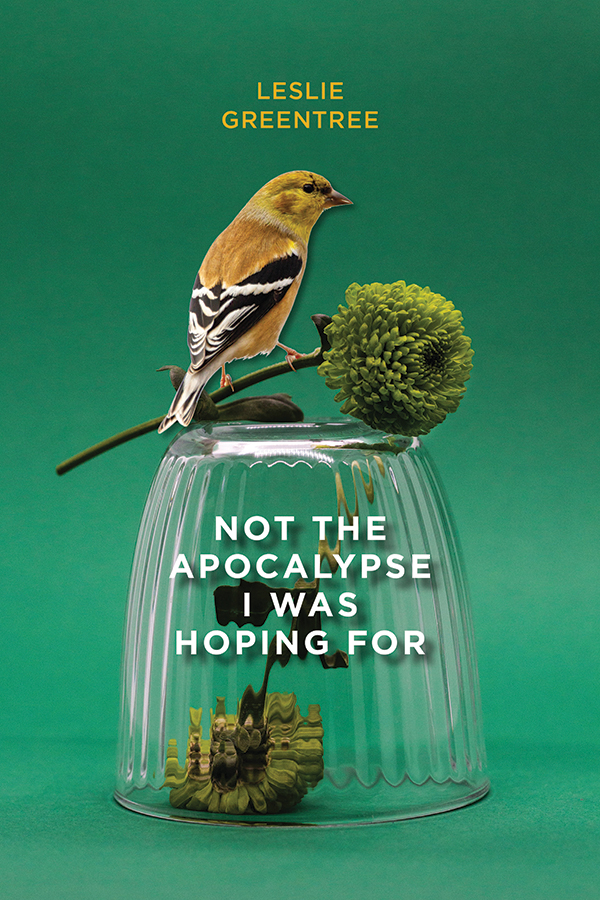 Not the Apocalypse I Was Hoping For
---
Leslie Greentree
$24.99 CAD / $24.99 USD (T)
190 pages
6 x 9 inches
978-1-77385-369-7 (Paperback)
978-1-77385-370-3 (Institutional PDF)
978-1-77385-371-0 (ePub)
September 2022
About the Book
Vividly drawn, deeply engaging short stories that flit through funerals, art shows, protests, and the complicated depths of family relationships. Featuring the Little Bird award winner The Room of Pickled Foods.
Award-winning author Leslie Greentree presents fourteen short stories in this dark, often funny, deeply compelling collection that asks how we locate, create, and avoid meaning in our lives. These are stories about people and relationships challenged by death and redeemed by art. Satirical, political, personal, and tender, they take us to funerals, protests, art galleries, to the dark side of the service industry, and through cities on fire.
An actress turns her terminal cancer diagnosis into an art installation; a boy's attempt at a practical joke derails his grandfather's funeral; a mother discovers she may care more for her sick dog than her newborn son; a man watches his dream of becoming a #hero burn with the city around him; a teacher befriends a gargoyle; a coalition of women fighting for bodily autonomy turn to the ultimate shock-performance protest.
Taking on the social collective, the performance of death, the political battleground, and the search for existential happiness with fearlessness and verve, Not the Apocalypse I Was Hoping For is full of sharp observation, irreverence, wit, and compassion.
About the Author
Leslie Greentree is the author of the award-winning short story collection A Minor Planet for You. Her second book of poetry, go-go dancing for Elvis, was shortlisted for the Griffin Poetry Prize. Leslie co-wrote the play Oral Fixations with her life partner Blaine Newton, which was produced in 2014 by Ignition Theatre. She has won CBC literary competitions for poetry and fiction, and has been shortlisted for Writer's Guild of Alberta and Humber Creative Nonfiction awards.
Praise for Not the Apocalypse I Was Hoping For
Greentree's knack for comedy interweaves with an aching sorrow.
—Angie Abdou, AlbertaViews Magazine
This collection reveals an already-major writer in command of her craft. 
—The Winnipeg Free Press
Leslie Greentree's bold and beleaguered creations run the gamut from apathy to flaming anger . . . Yet the center holds. The world keeps spinning. Within these fourteen tales, the fight for meaning and honesty continues.
—The Literary Review of Canada
Leslie Greentree's Not the Apocalypse I Was Hoping For crackles with playfulness and wit, its dark humour bringing into stark relief the gut punch of truth at the heart of every story. This is one of those books you'll find yourself thinking about in the most unexpected places: its exquisitely crafted lines, rich characters, and truly original storylines coming back to you in the shower, in the car, while walking the dog. Greentree's writing exposes both the absurdity and spectacular beauty of what it means to be human, and I know I will be revisiting these stories—both in my mind and on the page—for years to come.
—Amy Jones, author of We're All in This Together and Every Little Piece of Me
Haunting and soulful, tender and perverse, this extraordinary collection explores loss and longing and how perilously complicated love can be. Readers drawn to rich prose and gut-wrenching aha moments will devour these riveting tales.
—Fran Kimmel, author of No Good Asking
Greentree pulls off something marvellous in these stories which are at once careening, jagged, yet spare, crafted; sardonic, yet intimate; earthy, yet laced with poetic resonance. At times, real menace lurks, offset by Greentree's brilliant humour, wit, and skill at ripping back the veils of absurdity and pretension that so often permeate our social landscapes. You'll be hooked from the first sentence of the opening story.
—Jeanette Lynes, author of The Apothecary's Garden