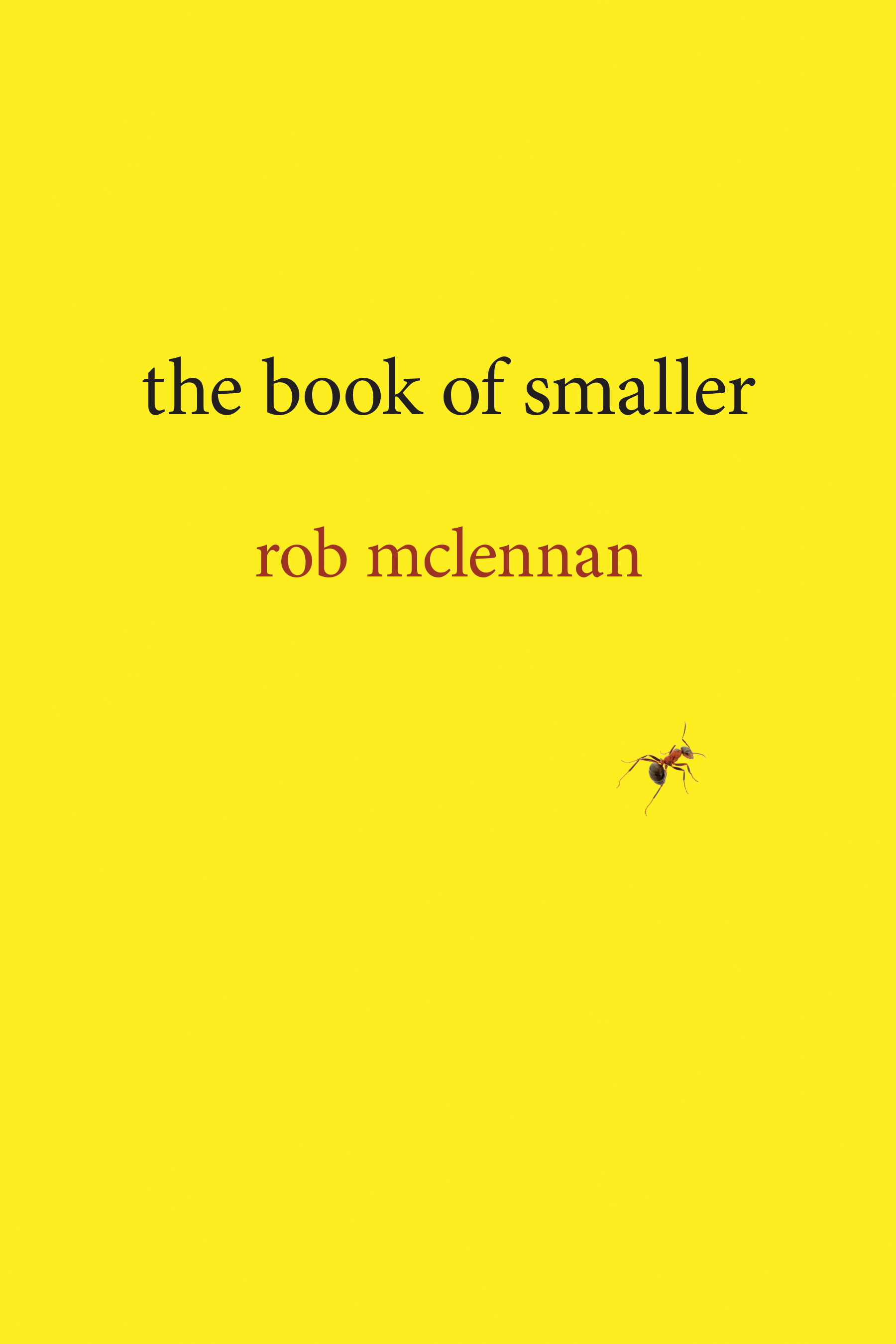 the book of smaller
---
rob mclennan
$19.99 CAD / $19.99 USD (T)
120 pages
6 x 9 inches
978-1-77385-261-4 (Paperback)
978-1-77385-263-8 (ePub)
978-1-77385-262-1 (eDist PDF)
May 2022
About the Book
rob mclennan presents a collection of sharp, challenging prose poetry that asks what can be achieved if we try a little smaller.
Written while at home full-time with two small children under five, the book of smaller is a collection of short, sharp, incredibly dense prose poems. Created in moments snatched from chaos, these poems challenge the possibilities of language in very small spaces.
Each poem is a still moment, a memory, a burst of observation, suspended outside time and held up to the light as the world whirls around it. Some are intimate, some are public, all are grounded personal, domestic space. With trademark intelligence and daring, rob mclennan uses radical structures to express the concision and disorientation, jumps in sense and mood, the collapse of time and duration, the shattering joy and powerful fears, of full-person, full-time parenthood.
With an unparalleled knowledge of modern poetry and poetic evolution, mclennan breaks the sentence into its most vital pieces, then breaks it further, smashes punctuation out of the expected into spaces of risk and uncertainty, pushing conventions to the edge and then beyond to challenge what writing is, and what a reader can be.
About the Author
rob mclennan lives in Ottawa, where he is home full time with two wee girls. He is the author of more than thirty books of poetry, fiction, and non-fiction. He is the winner of the John Newlove Poetry Award, the Ottawa Council for the Arts Mid-Career award, and was inducted into the VERSe Ottawa Hall of Honour in 2014.
Praise for the book of smaller
In the book of smaller, rob mclennan continues his sprawling, lifelong commitment to the everyday. In these poems, mclennan braids together the details of his domestic life with a measured attention to the form of the sentence. We meet his kids and his kitchen, his traffic and his drift. Syntax, weather. These looping, cyclical prose poems pool up paratactically. They piece slight movements into panoramas. They count the moments of the day to bleed them together. They wait, rumble. In this small book, mclennan lives.
—ryan fitzpatrick, author of Coast Mountain Foot
The rhythms of domesticity underlie the book's music, and the author wrestles with how to write in the midst of caring for young children while wanting also to live fully in the larger world. Unabashedly, the book confesses to what is true for every real writer—"I don't know how to write"—and so succeeds as a poignant record of "A human, being."
—Lisa Fishman, author of Mad World, Mad Kings, Mad Composition