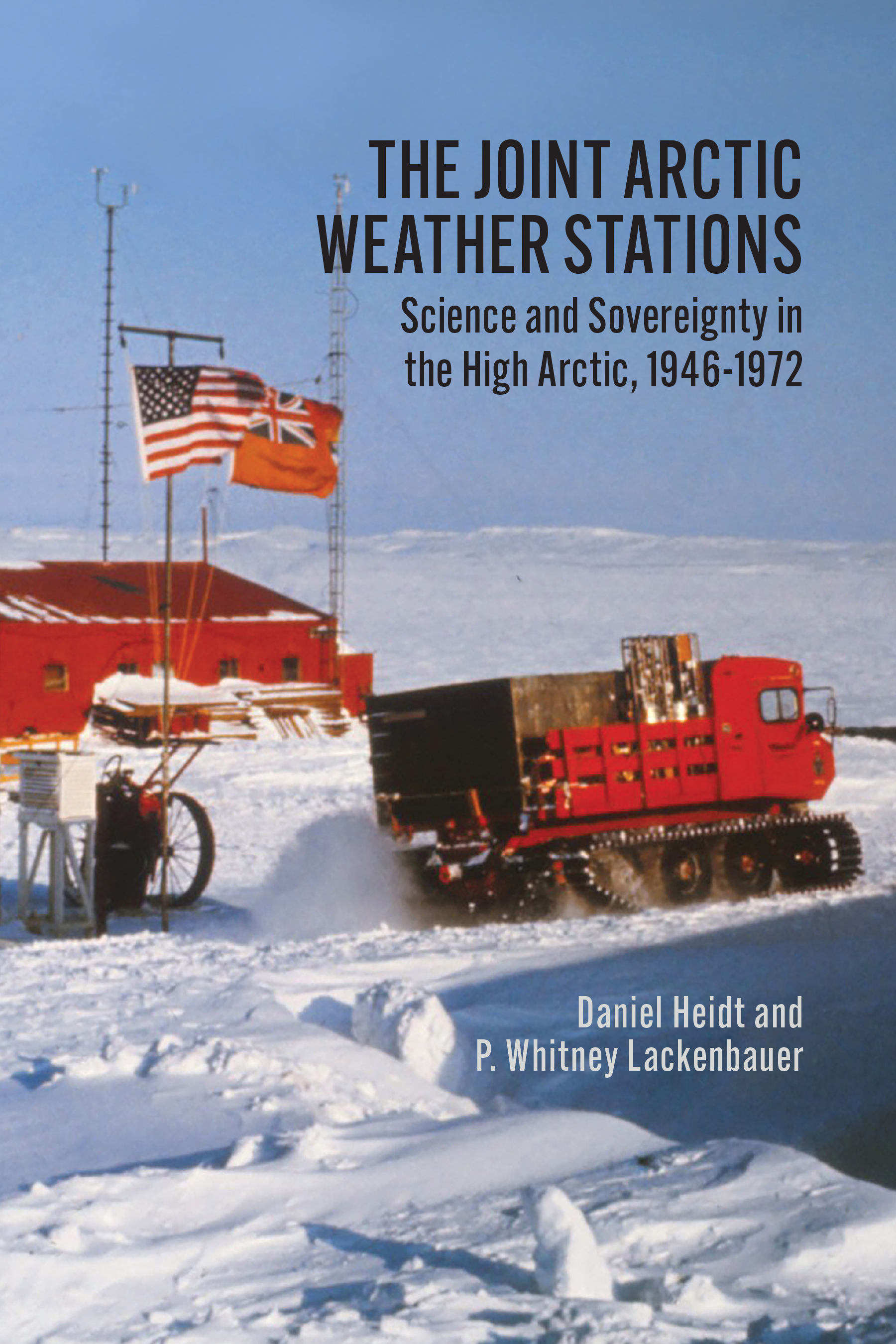 The Joint Arctic Weather Stations: Science and Sovereignty in the High Arctic, 1946-1972
---
Daniel Heidt and P. Whitney Lackenbauer
$54.99 PB / $89.99 HC (S)
600 pages, 103 illustrations
6 x 9 inches
978-1-77385-257-7 (Paperback)
978-1-77385-276-8 (Hardback)
978-1-77385-259-1 (Institutional PDF)
978-1-77385-260-7 (ePub)
April 2022
About the Book
The first comprehensive study of the Canada-U.S. Joint Arctic Weather Stations, systematically analyzing large- and small-scale aspects from scientific diplomacy to site logistics to understand how these isolated posts were so successful.
This is the first systematic account of the Joint Arctic Weather Stations (JAWS), a collaborative science program between Canada and the United States that created a distinctive state presence in the Canadian Arctic Archipelago from 1946-1972. These five meteorological stations, constructed at Eureka, Resolute, Isachsen, Mould Bay, and Alert, became remote hubs for science and sovereignty, revealing the possibilities and limits of modernity in the High Arctic.
Drawing on extensive archival evidence, unpublished personal memoirs, and interviews with former JAWS personnel, this book systematically analyzes the diplomatic, scientific, social, environmental, and civil-military dimensions of this binational program. From the corridors of power in Washington and Ottawa to everyday life at the small outposts, The Joint Arctic Weather Stations explores delicate statecraft, changing scientific practices, as well as the distinctive station cultures that emerged as humans coped with isolation in polar environments.
About the Authors
Daniel Heidt is an independent scholar specializing in Canadian Arctic Cold War and Canadian political history. He is the editor of Reconsidering Confederation, Two Years Below the Horn, and Cold Science.
P. Whitney Lackenbauer is Canada Research Chair in the Study of the Canadian North and a Professor in the School for the Study of Canada at Trent University. He is network lead of the North American and Arctic Defence and Security Network and has authored and edited over fifty books.
Praise for The Joint Arctic Weather Stations
The Joint Arctic Weather Stations provides multiple significant historiographical contributions to understanding the Canadian High Arctic during the Cold War era.
—The Northern Review
A captivating story of the difficulties, as well as the benefits and successes, of jointly operating Canadian-American scientific research bases in the remote Arctic.
—Alina Bykova, NiCHE Canada
Awards
Shortlisted - Alberta Book Publishing Awards Scholarly & Academic Book of the Year | 2023
Honourable Mention - CSN-REC Best Book in Canadian Studies | 2022
Runner-Up - ASLI's CHOICE Award for History Monograph Related to Atmospheric Science | 2022