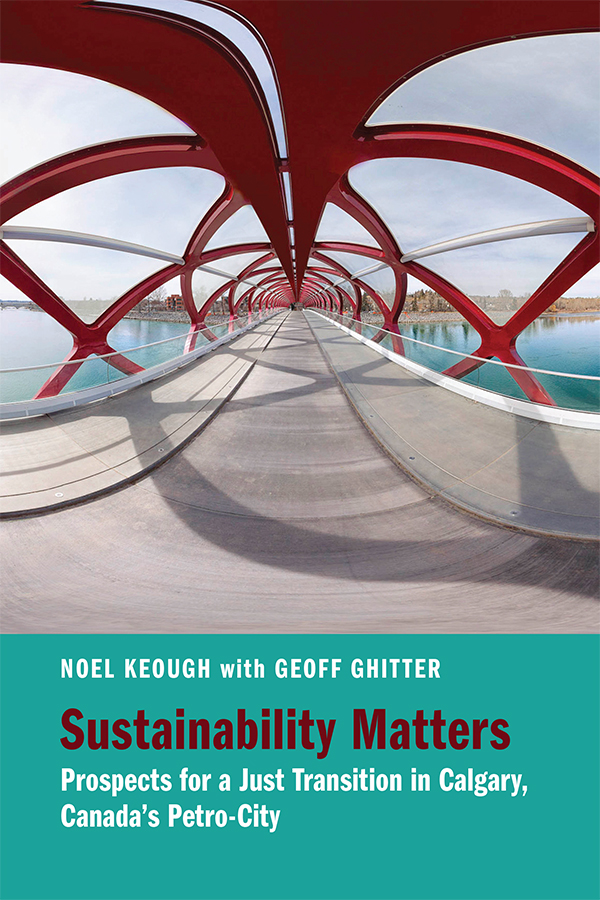 Sustainability Matters: Prospects for a Just Transition in Calgary, Canada's Petro-City
---
Noel Keough with Geoff Ghitter
$34.99 CAD / $34.99 USD
256 pages, 10 images
6 x 9 inches
978-1-77385-248-5 (Paperback)
978-1-77385-250-8 (Institutional PDF)
978-1-77385-251-5 (ePub)
September 2021
About the Book
Through close examination of one city's struggle for a just transition to a post-carbon world, Sustainability Matters argues for a global, holistic, and radical understanding of the importance of sustainability.
Calgary, Alberta is a culturally diverse urban metropolis. Sprawling and car-dependent, fast-growing and affluent, it is dominated by the fossil fuel industry. For 30 years, Calgary has struggled to turn sustainability rhetoric into reality.
Sustainability Matters is the story of Calgary's setbacks and successes on the path toward sustainability. Chronicling two decades of public conversations, political debate, urban policy and planning, and scholarly discovery, it is both a fascinating case study and an accessible introduction to the theory and practice of urban sustainability. A clear-eyed view of the struggles of turning knowledge into action, this book illuminates the places where theory and reality converge and presents an approach to municipal development, planning, and governance that takes seriously the urgent need to address climate change and injustice.
Addressing a wide variety of topics and themes, including energy, diversity, economic development, and ecological health, Sustainability Matters is both a critique of current practice and a vision for the future that uses the city of Calgary as a microcosm to address issues faced by cities around the world. This is essential reading not only for every Calgarian working for a vibrant and sustainable future, but for all those interested in in the future of cities in a post-carbon world.
About the Authors
Noel Keough is a co-founder of CivicCamp Calgary and Sustainable Calgary Society. He was an Associate Professor of Sustainable Design at the University of Calgary and has published extensively on sustainability, sustainable community design, and low-carbon cities. Noel has been honoured to receive an Alberta Centennial Medal, Jim Grey Safer Calgary Award, University of Calgary Sustainability Award, and Calgary Award for Environmental Achievement.
Geoff Ghitter is an urban researcher, theorist, and retired university instructor with a focus on the application of complex systems theory to both natural and urban systems. He was a postdoctoral fellow at the Institute for Sustainable Energy, Environment, and Economy, where his work centred on the development of low-carbon communities.
Praise for Sustainability Matters
Sustainability Matters lives up to the authors' goals of offering readers a collection of short essays exploring various issues related to sustainability firmly grounded in Calgary. The writing is brisk and the authors can turn a good phrase . . . these essays will be useful for anyone trying to better understand Calgary's urban development and possible futures.
—Jenn Manel, H-Environment
Cities are a work in progress as well as a labour of love. They can also break your heart. Part cautionary tale, part bellwether, Noel Keough and Geoff Ghitter have written a how-to guide on building the city of the future. If you care about cities and the people who live in them, read this book
—Druh Farrell, Calgary City Councillor, 2001-2021
An outstanding example of quality journalism bridging front-line academic research and urgent community challenges. This is a view from somewhere—Calgary, Alberta, oil company capital of Canada—but a view that takes us far beyond the limits of that city and the borders of Canada, explicitly to New Orleans, Helsinki, Freiberg and Havana, among others, implicitly to many more around the world. Witty and engaging, this book challenging the growth-imperative so easily taken for granted by impossible to maintain. City-dwellers who care about their future should read this book.
—Ana María Peredo, Professor of Political Ecology, University of Victoria
Urban sustainability is often considered a matter of cutting edge design, planning, and technology. In this excellent analysis of Calgary's pressing sustainability issues, Noel Keough and Geoff Ghitter show that sustainability is fundamentally political, requiring political solutions. At its core, sustainability requires changing the relationships among social, economic, and environmental processes, which means changing how those relationships are governed. Meaningful solutions depend not only on the knowledge and best efforts of planners, but on much more… including a fundamental rethinking of what constitutes a just city and a just society. As Keough and Ghitter delve deeply into the urban sustainability dilemmas of Calgary, they uncover critical lessons not only for Calgary's sustainability transition, but for the rest of Canada and beyond.
—Byron Miller, Urban Sustainability, University of Calgary
Awards
SHORTLISTED Alberta Book Publishing Regional Book of the Year | 2022