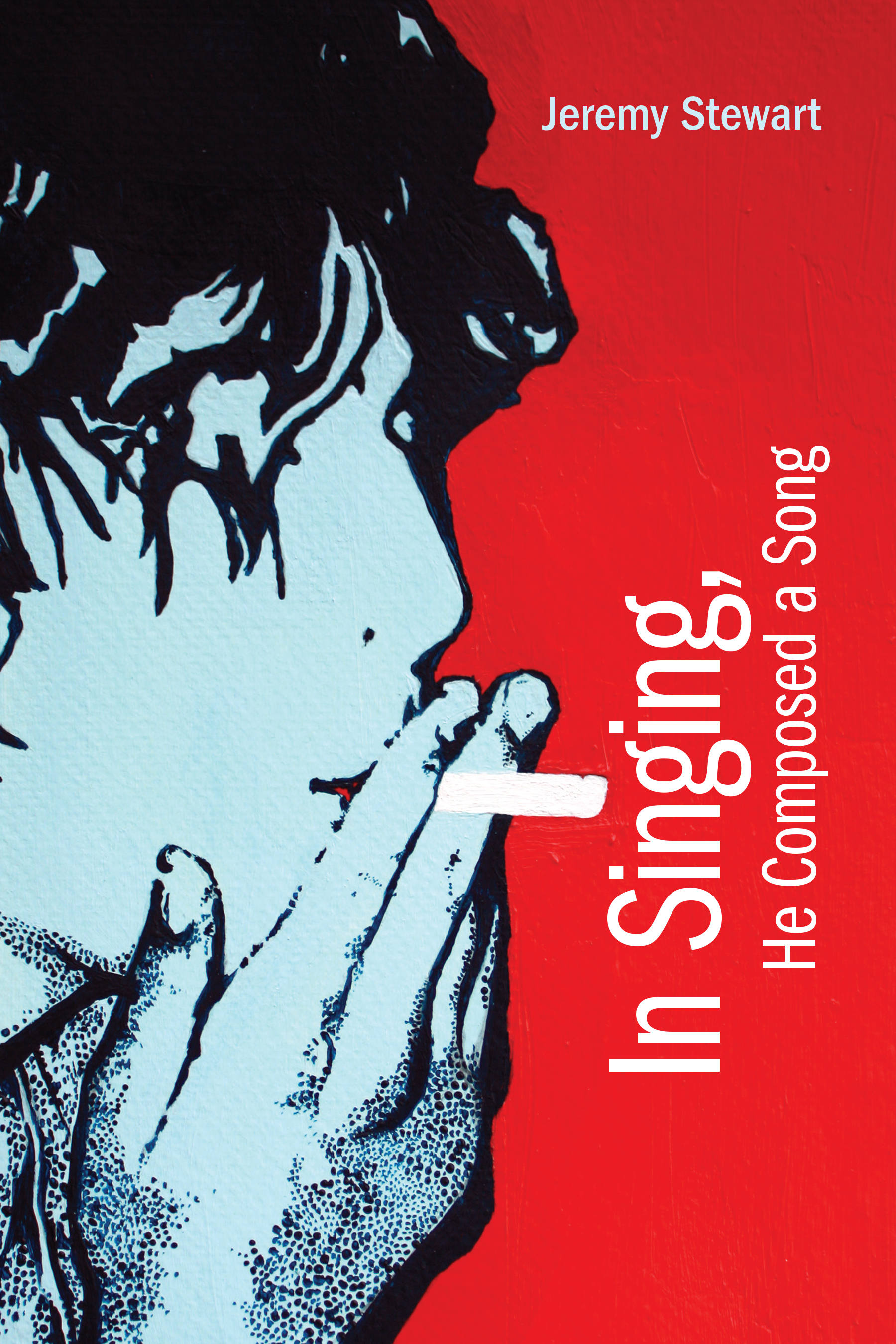 In Singing, He Composed a Song
---
Jeremy Stewart
$19.99 CAD / $19.99 USD (T)
88 pages, 15 illustrations
6 x 9 inches
978-1-77385-220-1 (Paperback)
978-1-77385-221-8 (Institutional PDF)
978-1-77385-222-5 (ePub)
September 2021
About the Book
Raw and challenging, In Singing, He Composed a Song is a powerful experimental novella that scavenges institutional language to tell the story of self and find the lyric within the noise.
John is the teenage terror of his northern industrial town. With his friends, James and Simon, he is a disciple of depression and ennui. His world is a haze of smoke and heavy metal, anchored by poverty. Every day he steps closer to the edge. When an altercation at school leads to a bad encounter with the police and involuntary commitment to a psychiatric ward, John finds himself alone in the hospital Quiet Room with time to think, to reflect on who he is, how he got here, and how to move forward—whether he wants to or not.
John is a successful musician. Music is his passion, his solace, and the place he belongs. Looking for the lyric in the noise, he sifts through his life, through layers of experience overlapping like chords. He searches for himself in his psychiatric records, in the voices of his friends, his teachers, the cops, his doctors, and in his own memories. Rearranging the layers into some sort of music, he tries to find a true account of himself.
In Singing, He Composed a Song is a masterful experimental novella that blends poetry and fiction, past and future, word and image, to radically question how language and authority intertwine to shape the ways we view ourselves. It finds the music—however dissonant—that can't be held behind steel doors or hidden in the pages of your file.
About the Author
Jeremy Stewart is the author of (flood basement and Hidden City, which won the Robert Kroetsch Award for Innovative Poetry. He is the founding Artistic Director of Casse-Tête: A Festival of Experimental Music and recipient of the inaugural Barbara Pentland Award. He once dropped a piano off a building.
Praise for In Singing, He Composed a Song
Should you read this book you will read that "the sky is never empty, it is always full of sky." And this is a book that is itself full of sky, of that which is never empty—like the air, radio, song, & what they call madness. It is good, very good, to read such a sky-book
—John Schad, Professor of Modern Literature, Lancaster University
Beautiful and stark, Jeremy Stewart's novella explores the cruelty of institution, the kindness of gesture, and the threadbare armour of memory. His conflicted and conflicting voices come together in a drop D chorus that is heavy, dissonant, and true.
—Greg Rhyno, author of To Me You Seem Giant
Jeremy Stewart's In Singing, He Composed a Song dares to bring the unspeakable to the page through psychiatric records, photographs, and transcripts to craft a genre-breaking docu-poetic response to friendship, suicide, and masculinity. In Singing, He Composed a Song is a symphonic long poem that opens the "star curtain" of life with a humbling grit and wholesome heart.
—Shazia Hafiz Ramji, author of Port of Being
Jeremy Stewart beautifully captures the angst-ridden annals of highschool and the intersections of regret and anxiety that make phantasms out of time. This book is a deft investigation, one that looks at self-annihilation with a raw conscientiousness that captures the pain of creation.
—Marc Herman Lynch author of Arborescent
In the Media
65 Canadian Works of Fiction to Watch For in Fall 2021 at CBC Books
Awards
Long Shortlist, ReLit Award for Poetry | 2022