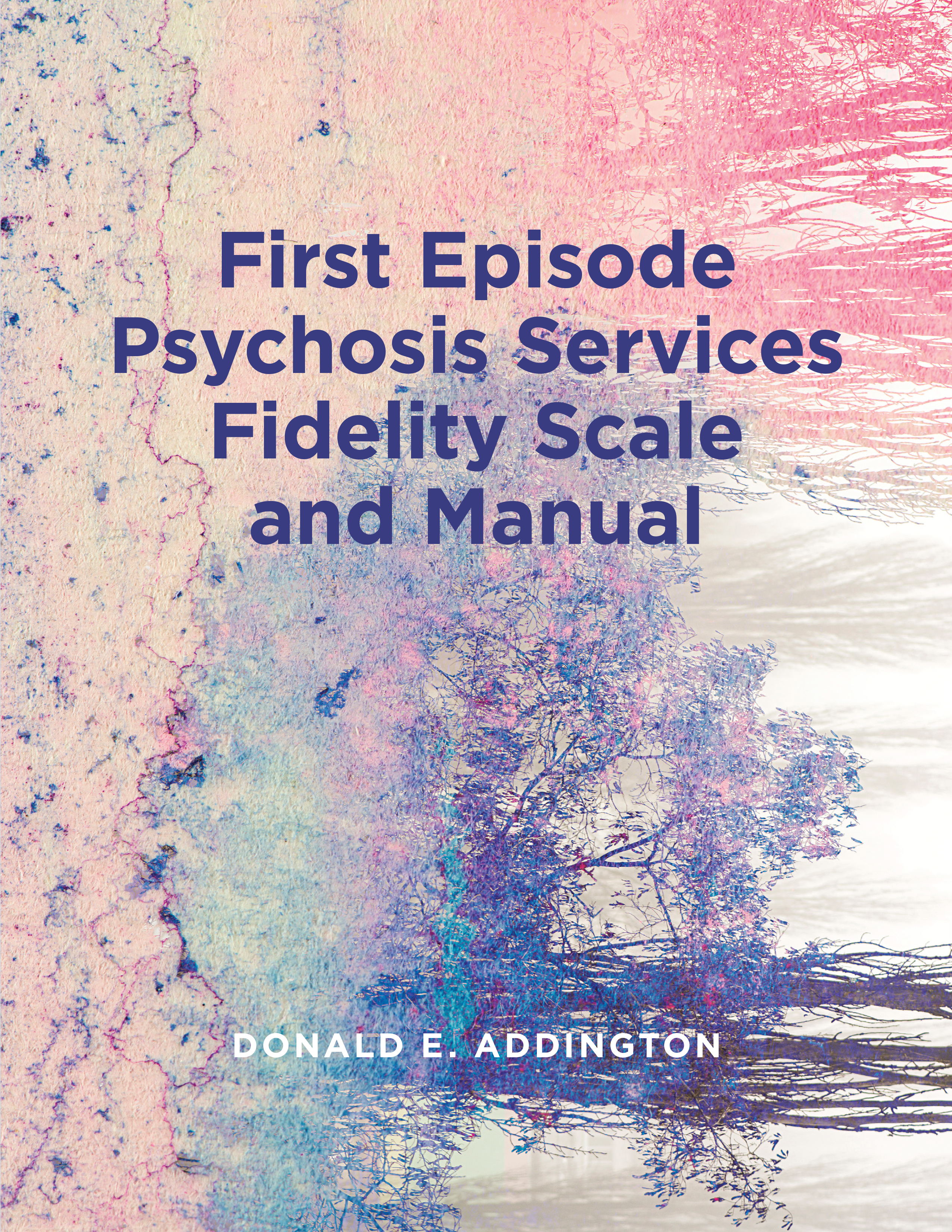 First Episode Psychosis Services Fidelity Scale (FEPS-FS 1.0) and Manual
---
Donald Addington
35.99 CAD / 35.99 USD
108 pages
8.5 x 11 inches
978-1-77385-208-9 (Paperback)
978-1-77385-210-2 (Institutional PDF)
978-1-77385-211-9 (ePub)
978-1-77385-212-6 (Mobi)
February 2021
About the Book
The First Episode Psychosis Services Fidelity Scale and Manual support the reliable assessment of quality of care for early psychosis intervention teams that can be used for accreditation, quality improvement or research
The First Episode Psychosis Services Fidelity Scale (FEPS-FS 1.0) is a highly reliable scale that assesses the degree to which mental health teams deliver specialized evidence-based care to people experiencing a first episode psychosis. The scale comprises 35 components each rated on a 1 to 5 scale. It has been used in the United States, Canada and Europe. It can be used for on site fidelity reviews, remote fidelity assessment or self-report. Published papers document its psychometric features and allow comparisons with a representative sample of US programs. It is suitable for research, quality improvement and accreditation.
The Manual provides a practical guide for scoring a FEPS program against the criteria set out in the fidelity scale. It is designed to increase the reliability and consistency of ratings across different sites and assessors. It includes a definition and rationale for each component, data sources, decision rules and a structured interview guide. There are also modules to support training the key informant and data abstractor. Templates support structured feedback to programs for quality improvement. The scale can be adjusted to rate care for different diagnostic groups including the schizophrenia spectrum disorders, bipolar disorder and those with an attenuated psychosis syndrome.
Published by LCR Publishing Services
About the Author
Donald Addington is a professor in the Department of Psychiatry in the Cumming School of Medicine at the University of Calgary. He is also a member of the Mathison Centre for Mental Health Research and Education and the Hotchkiss Brain Institute. He has developed tools that have had a broad impact on the quality of health care delivery, including clinical practice guidelines, psychiatric status rating scales, fidelity scales, risk adjustment models, and performance measures. He is the author of Calgary Depression Scale for Schizophrenia, the internationally recognized gold standard for the assessment of depression in schizophrenia.
Praise for First Episode Psychosis Services Fidelity Scale (FEPS-FS 1.0) and Manual
This manual is an outstanding volume. It is clear and well written, both practical and conceptual, providing a rationale for the criteria and detailed information about how to measure each item. This will move the field forward and offer a common vocabulary.
—Lisa Dixon, Edna L. Edison Professor of Psychiatry, New York State Psychiatric Institute
With the First Episode Psychosis Fidelity Scale and Manual, Don Addington has provided a comprehensive and practical guide to an essential tool for evaluating first episode psychosis services. This state-of-the-art manual will be indispensable; Addington has thought of every detail needed to assess the fidelity of first episode psychosis services.
—Howard Goldman, Professor of Psychiatry, University of Maryland
One of the tragedies of mental illness is that a wide range of effective treatments have been developed but only a minority of patients truly benefit from their efficient delivery. In recent years it has been recognised that the platform or model of care is a crucial enabler for implementation of evidence-based interventions. . Early psychosis fidelity tools provide a model for what should be in place in all mental health services, and this volume is a blueprint of how to implement this process.
—Patrick McGorry, Professor of Youth Mental Health, University of Melbourne
Dr Addington should be congratulated on producing this excellent manual and fidelity scale to evaluate how closely Early Intervention in Psychosis teams adhere to the key evidence-based approaches that are crucial to maximise the benefits of these teams for those individuals and their carers who use them. This is an excellent resource that guides the reader through the entire process of conducting a fidelity review. This demystification of the whole process is incredibly useful as it helps staff understand exactly what is being undertaken and why.
—Paul French, Manchester Metropolitan University
The First Episode Psychosis Services Fidelity Scale (FEPS-FS-1.0) and Manual, by Professor Donald E. Addington, is comprehensive, clearly outlined, and includes important resources such as an interview guide, scoring sheet and more. The FEPS-FS-1.0 represents a tremendous service to the early psychosis intervention community, clinicians, caregivers, and service users alike. It is an essential guide and approach that, if used, can improve quality of care for patients and families, while acting as a key support for rapid learning health systems.
—Dr Aristotle N. Voineskos, CAMH