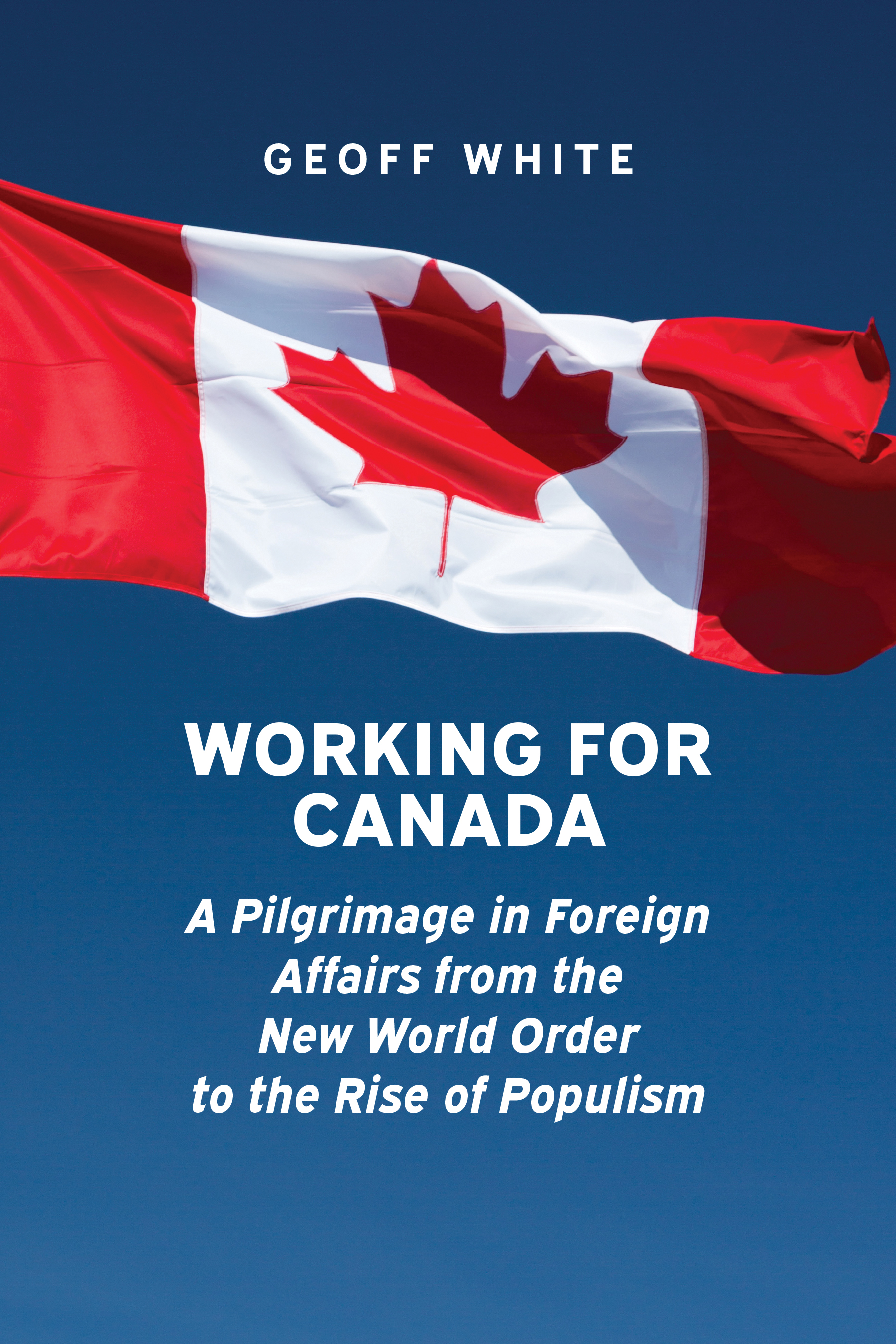 Working For Canada: A Pilgrimage in Foreign Affairs from the New World Order to the Rise of Populism
---
Geoff White
$89.99 HC / 34.99 PB (S)
194 pages
6 x 9 inches
978-1-77385-443-4  (Hardback)
978-1-77385-193-8  (Paperback)
978-1-77385-195-2  (Institutional PDF)
978-1-77385-196-9  (ePub)
September 2022
About the Book
A deeply insightful memoir tracing Geoff White's career as an officer of Global Affairs Canada, providing a clear view of diplomacy and international affairs as they are practiced.
An officer of Global Affairs Canada from 1990–2018, Geoff White is a career expert in Canadian foreign policy. In Working for Canada he shares that expertise, illuminating the often invisible work of creating and enacting international policy. Writing with clarity, wit, and common sense, White demystifies Canadian diplomacy and provides a clear view of how it actually works—and when it doesn't.
Reflecting on the headlines, highlights, and sometimes scandals of a long and successful career, White offers a highly readable blend of personal recollection and political insight. He begins with his first assignment in communications planning during the 1991 Persian Gulf War and continues through the establishment of NAFTA, humanitarian intervention in Kosovo, softwood lumber, during assignments at headquarters and in Canadian embassies abroad. He shares his experiences of negotiating aviation agreements with foreign governments, and of diplomatic efforts aimed at restoring and protecting human rights.
Working for Canada is a fascinating memoir tracing a career spent in the service of Canada and Canadians. At the same time, it provides an unparalleled insider view into communications, negotiations, international trade, and diplomacy.
About the Author
Geoff White is a former diplomat and journalist with wide-ranging experience in foreign and trade policy. He was an officer of Global Affairs Canada from 1990-2018.
Praise for Working for Canada
[White] is a gifted writer . . . And his book enriches a long tradition of writing by Canadian diplomats that goes back at least to the early 1960s.
—Martin Laflamme, The Literary Review of Canada
Table of Contents

 

Prologue
Breaking the Spell, 1990-1991
Explaining NAFTA, 1991-1993
Human Security, 1994-1999
Freedom of the Skies, 2000-2006
A Dickensian Deal, 2007
Trashing the Arts, 2007-2009
The Unfortunately Named . . . 2009
Disillusioned Friends, 2009-2012
A Visit, A Funeral, and an Elegy, 2013-2014
A Canadian Gulliver Confronts an Arcane World, 2009-2013
Virtuous New World, 2014-2016
Chile and the Progressive Trade Agenda, 2019
Epilogue