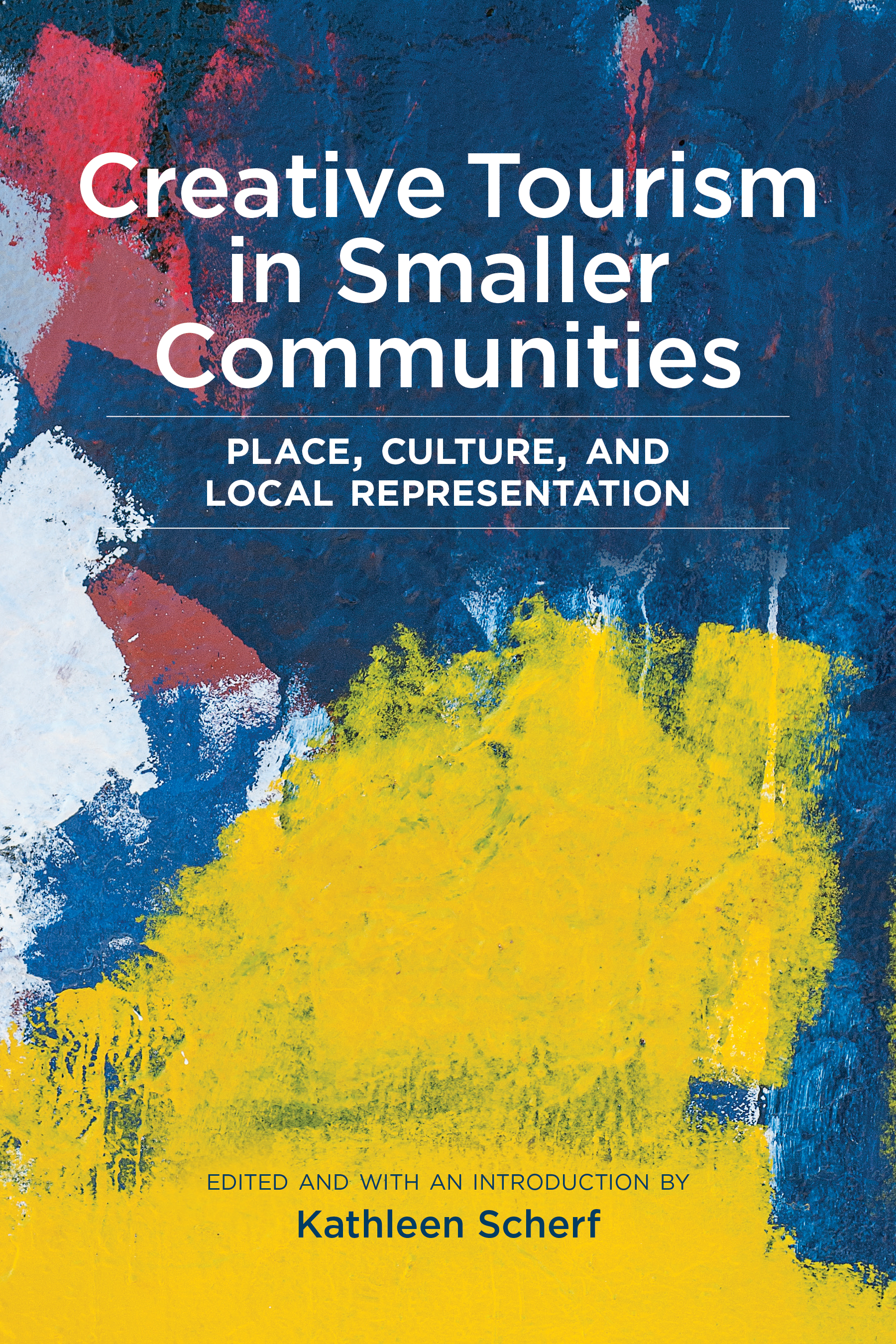 Creative Tourism in Smaller Communities: Place, Culture, and Local Representation
---
Edited By Kathleen Scherf
$39.99 CAD / $39.99 USD (S)
328 pages, 20 illustrations
6 x 9 inches
978-1-77385-188-4 (Paperback)
978-1-77385-190-7 (Institutional PDF)
978-1-77385-191-4 (ePub)
978-1-77385-192-1 (mobi)
April 2021
About the Book
As more people travel the world than ever before, smaller communities have a unique opportunity to develop creative, culturally sustainable tourist industries that provide unparalleled experiences for visitors.
Tourists are travelling the world in greater numbers than ever before, seeking immersive cultural experiences. This massive rise of tourism has raised issues of social and cultural sustainability in the world's global cities. At the same time, smaller cities and rural communities struggling with increasing urbanization and the loss of traditional industries could benefit from increased tourism.
Smaller cities and communities are uniquely well-suited to hosting tourists seeking authentic connection with local cultures. Locally led, collaborative efforts to build creative tourism industries have the possibility to reinvigorate struggling communities. Creative tourism offers the opportunity to build socially and culturally sustainable channels for growth that benefit locals and visitors alike.
Creative Tourism in Smaller Communities examines the processes, policies, and methodologies of creative tourism, paying special attention to the ways creative and place-based tourism can aid sustainable cultural development. With topics ranging from placemaking through food to the cultural impacts of cruise travel, and from catalyzing creative tourism to creating resiliency, this collection offers a wide range of theoretical and practical perspectives from a variety of experts. Creative Tourism in Smaller Communities offers a bold vision for the future of tourism worldwide.
About the Editor
Kathleen Scherf is a professor of communication at Thompson Rivers University. She teaches in all fields of literature, communication, and travel media. She edited the journal Studies in Canadian Literature/ Études en littérature Canadienne from 1989 to 1996, and is the author of The Collected Poems of Malcom Lowry.
With Contributions By: Jon Anderson, Geof Anthrobus, Jessica Faustini Aquino, Georgette Leah Burns, Suzanne de la Barre, Fiona Drummond, James Drummond, Nancy Duxbury, Dimitri Ioannides, M. Sharon Jeannotte, Jeffery Morgan, Evangelina Petridou, Solène Prince, Greg Richards, Kathleen Scherf, Susan L. Slocum, Kieron Smith, Jen Snowball, Eugene Thomlinson, Elisabete Caldeira Neto Tomaz, Christine Van Winkle
Praise for Creative Tourism in Smaller Communities
Creative Tourism in Smaller Communities is an inspiring and interesting book that will benefit tourism development, outreach work, and academic research in many communities. It offers a selection of well described and analysed case studies that expand and explain the concepts of creative tourism, exploring how creative tourism contributes to community resilience.
—Satu Miettinen, University of Lapland
Kathleen Scherf has reached out to the geographical limits of the growing world of creative tourism research and brought together an engaging group of contributors whose common bond of love for community melds their diverse perspectives from across the globe into a compelling case for creative placemaking as a powerful tool to help build resilience in small communities.
—Patrick Brouder, British Columbia Regional Innovation Chair, Tourism and Sustainable Rural Development, Vancouver Island University
This book provides the perfect counterbalance to the theme of unsustainable 'overtourism' in urban environments by promoting the benefits of tourism for small cities, rural areas and local communities. It brings together a diverse and impressive range of examples from around the world that have engaged in creative placemaking that benefits local communities and tourists alike. This book will be of interest to all students, researchers and practitioners who have an interest in sustainable, local tourism development that contributes to the cultural wellbeing of communities while promoting creative experiences and authentic connections for tourists.
—Melanie Kay Smith, Budapest Metropolitan University
Table of Contents

Acknowledgements

Chapter 1 Creative Tourism in Smaller Communities: Collaboration and Cultural Representation
Kathleen Scherf

Chapter 2 Catalyzing Creative Tourism in Small Cities and Rural Areas in Portugal: The CREATOUR Approach
Nancy Duxbury

Chapter 3 The Interplay Between Culture, Creativity and Tourism in Sustainable Development of Smaller Urban Centers
Elisabete Caldeira and Neto Tomaz

Chapter 4 The Role of Cultural Festivals in Regional Economic Development: A Case Study of Mahika Mahikeng
James Drummond, Jen Snowball, Geoff Antrobus, and Fiona Drummond

Chapter 5 Creative Yukon—Finding Data to Tell the Cultural Economic StorySuzanne de la Barre

Chapter 6 When Our Ship Comes In: The Cultural Impact of Cruise Tourism on Northern Canadian Communities
M. Sharon Jeannotte

Chapter 7 Creative Tourism: The Path to a Resilient Rural Icelandic Community
Jessica Faustini Aquino and Georgette Leah Burns

Chapter 8 Placemaking Through Food: Co-Creating the Tourist Experience
Susan L. Slocum

Chapter 9 Literary Atlas: A digital Resource for Creative Tourism in Wales
Kieron Smith, Jon Anderson, and Jeffrey Morgan

Chapter 10 Creative Tourism Opportunities through Film and Tourism Industry Collaboration
Christine Van Winkle and Eugene Thomlinson

Chapter 11 Art Worlds in the Periphery: Creativity and Networking in Rural Scandinavia
Solène Prince, Evangelia Petridou, and Dimitri Ioannides

Chapter 12 Creative Placemaking Strategies in Smaller CommunitiesGreg Richards