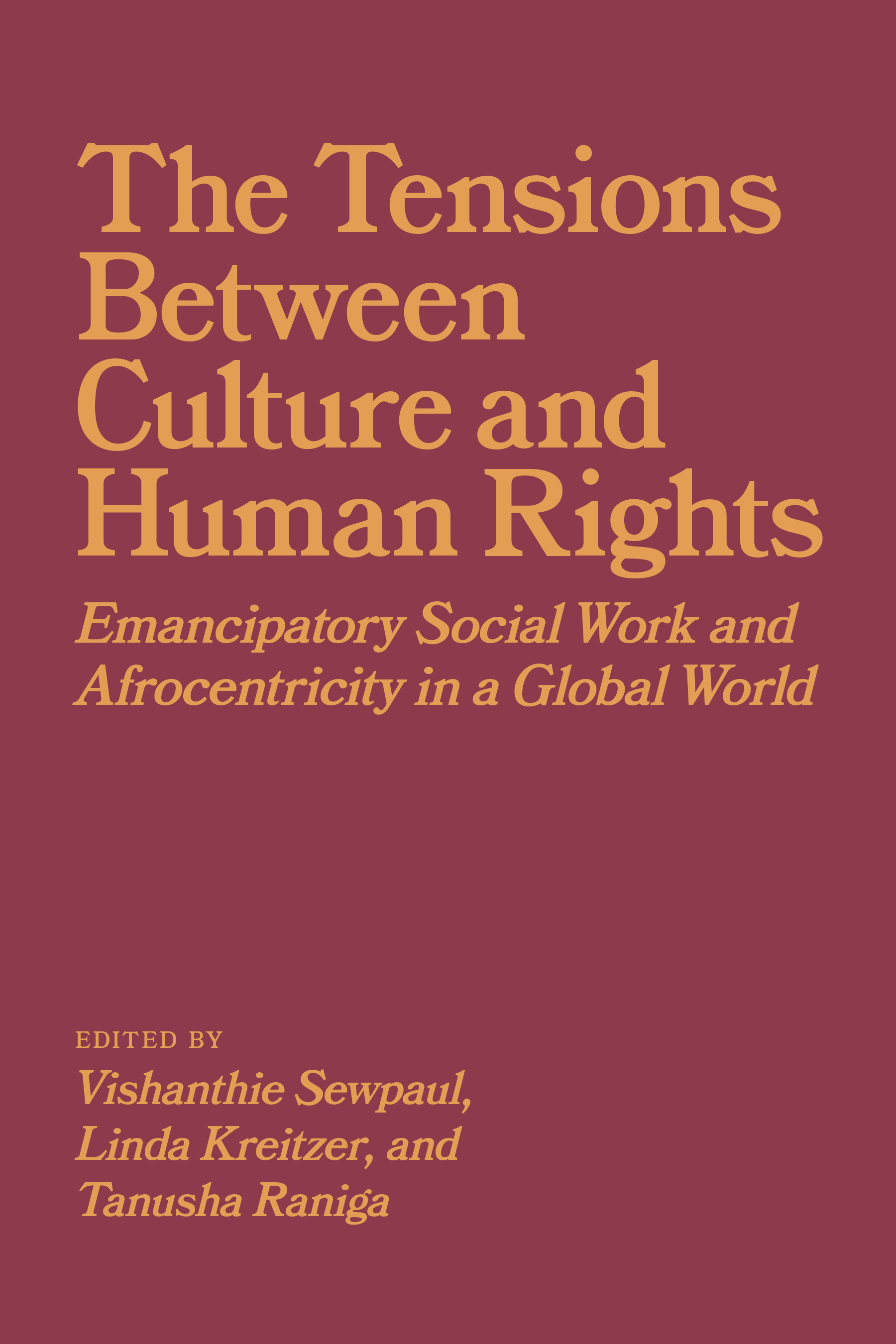 The Tensions between Culture and Human Rights: Emancipatory Social Work and Afrocentricity in a Global World
---
Edited by Vishanthie Sewpaul, Linda Kreitzer, and Tanusha Raniga
$39.99 CAD / $39.99 USD (S)
314 pages, 4 illustrations
6 x 9 inches
978-1-77385-182-2 (Paperback)
978-1-77385-184-6 (Institutional PDF)
978-1-77385-185-3 (ePub)
978-1-77385-186-0 (mobi)
May 2021
About the Book
A critical interrogation of the relationship between cultural practices and human rights in Africa rooted in Afrocentricity and emancipatory social work.
Cultural practices have the potential to cause human suffering. The Tensions between Culture and Human Rights critically interrogates the relationship between culture and human rights across Africa and offers strategies for pedagogy and practice that social workers and educators may use.
Drawing on Afrocentricity and emancipatory social work as antidotes to colonial power and dehumanization, this collection challenges cultural practices that violate human rights, and the dichotomous and taken-for-granted assumptions in the cultural representations between the West and the Rest of the world. Engaging critically with cultural traditions while affirming Indigenous knowledge and practices, it is unafraid to deal frankly with uncomfortable truths. Each chapter explores a specific aspect of African cultural norms and practices and their impacts on human rights and human dignity, paying special attention to the intersections of politics, economics, race, class, gender, and cultural expression.
Going beyond analysis, this collection offers a range of practical approaches to understanding and intervention rooted in emancipatory social work. It offers a pathway to develop critical reflexivity and to reframe epistemologies for education and practice. This is essential reading not only for students and practitioners of social work, but for anyone seeking a deeper understanding of African cultures and practices.
Customers in Africa, Europe, the Middle East, Oceania, and Latin America may direct orders to the Eurospan Bookstore. Customers in the US and Mexico may direct orders to Longleaf Services.
About the Editors
Vishanthie Sewpaul is emeritus professor at the University of KwaZulu Natal, South Africa, and professor at the University of Stavanger, Norway. She has occupied leadership positions at national, regional and global levels, and received numerous awards, including a Distinguished Women in Social Sciences and Humanities award in South Africa.
Linda Kreitzer is professor in the Faculty of Social Work, University of Calgary. She has taught social work in Ghana and Canada and is the recipient of the University of Calgary Peak Scholar Award. She is the author of Social Work in Africa and co-author of Sherpa in My Backpack.
Tanusha Raniga is professor at the University of Johannesburg, South Africa where she teaches social work and community development. She is a recipient of the National Association of South African Education Institutions Young Up and Coming Award and the University of KwaZulu-Natal Award for Outstanding Contribution to the School of Applied Human Sciences in the College of Humanities.
With contributions by: Ziblim Abukari, Alice Boateng, Paul Bukuluki, Julia Drolet, Mel Gray, Ronald Luwangula, Abel Blessing Matsika, Manquoba Victor Mdamba, Manyaradzi Muchacha, Jacob Mugumbate, Ronald Muckeye, Juliana Naumo, Tatenda Nhapi, Aloysious Nnyombi, Poloko N. Ntshwarang, Augusta Olaore, Israel B. Olaore, Shahana Rasool, Bonitumelo Seepamore, Yania Seid Meikye Seid-Ali, Cynthia Akorfa Sottie, and Eunice Tumwebaze
Table of Contents




Introduction: Culture, Human Rights, and Social Work: Colonialism, Eurocentricism, and Afrocentricity
Vishanthie Sewpaul and Linda Kreitzer

Disrupting Popular Discourses on Ilobolo: The Role of Emancipatory Social Work in Engendering Human Rights and Social Justice
Vishanthie Sewpaul, Manqoba Victor Mdamba, and Boitumelo Seepamore

Nigerian Marital Cultural Practices and Implications for Human Rights
Augusta Olaore, Julie Drolet, and Israel Olaore

Socio-Cultural Constructions of Intensive Mothering and Othermothering: Domestic Workers' Experiences of Distance Parenting and their Conceptualization of Motherhood
Boitumelo Seepamore & Vishanthie Sewpaul

Misrecognition of the Rights of People with Epilepsy in Zimbabwe: A Social Justice Perspective
Jacob Mugumbate and Mel Gray

Harmful Cultural Practices against Women and Girls in Ghana: Implications for Human Rights and Social Work
Alice Boateng and Cynthia Sottie

The Intersection of Culture, Religion (Islam) and Women's Human Rights in Ethiopia: Private Lives in Focus
Yania Seid-Mekiye and Linda Kreitzer

The Implications of a Patriarchal Culture for Women's Access to "Formal" Human Rights in South Africa: A Case Study of Domestic Violence Survivors
Shahana Rosool

Child Marriage among the Apostolic Sects in Zimbabwe: Implications for Social Work Practice
Munyaradzi Muchacha, Abel Blessing Matsika, and Tatenda Nhapi

"Everybody Knows This, If You Want to Go to School then You Must Be Prepared to Work": Children's Rights and the Role of Social Work in Ghana
Ziblim Abukari

Human Rights and Medicalization of FGM/C in Sudan
Paul Bukuluki

Cultural Dimensions of HIV/AIDS and Gender-Based Violence: A Case Study of Alur and Tieng Adhola Cultural Institutions in Uganda
Paul Bukuluki, Ronald Mukuye, Ronald Luwangula, Nnyombi Aloysious, Juliana Naumo, and Eunice Tumwebaze

When National Law and Culture Coalesce: Challenges for Children's Rights in Botswana with Specific Reference to Corporal Punishment
Poloko Nuggert Ntshwarang and Vishanthie Sewpaul

Conclusion: Emancipatory Social Work, Ubuntu and Afrocentricity: Antidotes to Human Rights Violations
Vishanthie Sewpaul and Linda Kreitzer

List of Contributors

Index