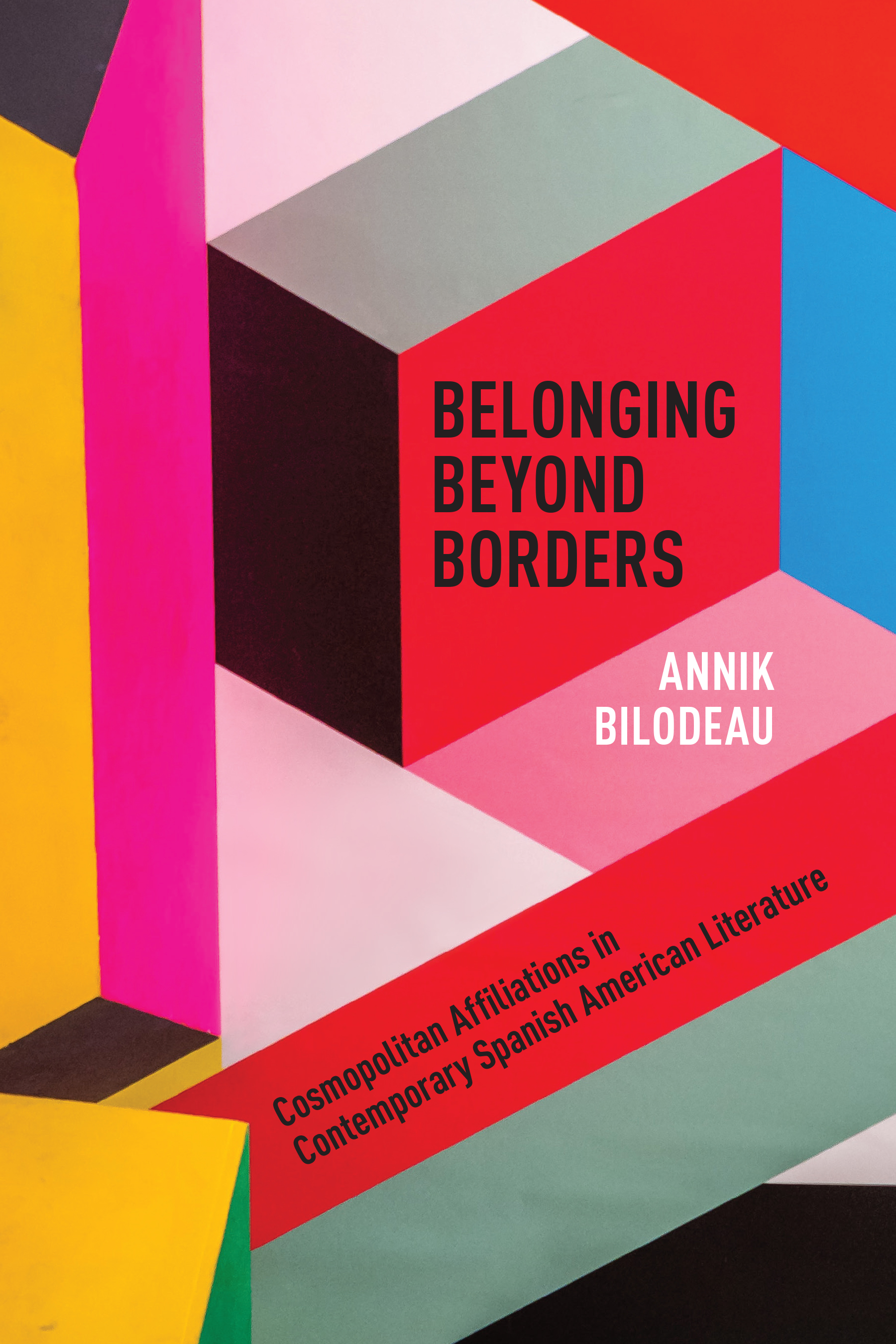 Belonging Beyond Borders: Cosmopolitan Affiliations in Contemporary Spanish American Literature
---
Annik Bilodeau
$34.99 CAD / $34.99 USD (S)
256 pages
6 x 9 inches
978-1-77385-163-1 (mobi)
978-1-77385-159-4 (Paperback)
978-1-77385-161-7 (Institutional PDF)
978-1-77385162-4 (ePub)
January 2021
About the Book
The first book to trace the evolution of political cosmopolitanism in Latin American literature through a generational lens, presenting a new blended theoretical framework.
Belonging Beyond Borders maps the evolution of cosmopolitanism in Spanish American narrative literature through a generational lens. Drawing on a new theoretical framework that blends intellectual studies and literary history with integrated approaches to Spanish American narrative, this book traces the evolution from aesthetic cosmopolitanism through anti-colonial nationalism to modern political cosmopolitanism.
Cosmopolitanism in Latin America has historically been associated with colonialism. In the mid-twentieth-century, authors who presented cosmopolitan narratives were harshly criticized by their nationalist peers. However, with the intensification of cultural globalization Spanish American authors have redefined cosmopolitanism, rejecting a worldview that relies on the creation of an other for the definition of the self. Instead, this new generation has both embraced and challenged global citizenship, redefining concepts to address human rights, identity, migration, belonging, and more.
Taking the work of Elena Poniatowka, Mario Vargas Llosa, and Jorge Volpi as examples, this book presents innovative scholarship across literary traditions. It shows how Spanish-American authors offer nuanced understandings of national and global affiliations, and identities and untangles the strings of cosmopolitan thought and activism from those of nationalist criticism.
About the Author
Annik Bilodeau earned her PhD in Spanish at the University of Ottawa. Her fields of research include cosmopolitanism studies, and the relationship between visual culture and social movements.
Praise for Belonging Beyond Borders
A significant contribution to the growing debate on the potential of cosmopolitanism as an object of inquiry in literature.
—Luis Torres, University of Toronto Quarterly
An important contribution to Latin American literary criticism.
—Maia Fernández Lamarque, Hispania
Belonging Beyond Borders makes a significant contribution to the study of cosmopolitanism and global engagements in Latin American 20thcentury literatures, pushing beyond the boundaries of previous critical analysis and publications on the topic. Annik Bilodeau's book serves as a useful compass to navigate the dialectic tensions between the sense of local belonging and a desire to dialogue with the world in contemporary narratives of the continent. Beautifully written, well researched, and carefully organized, I expect this book to be influential in the field of Spanish and Latin American literary studies as well as in the larger area of World Literature.
—Marco Ramírez Rojas, Lehman College, City University of New York