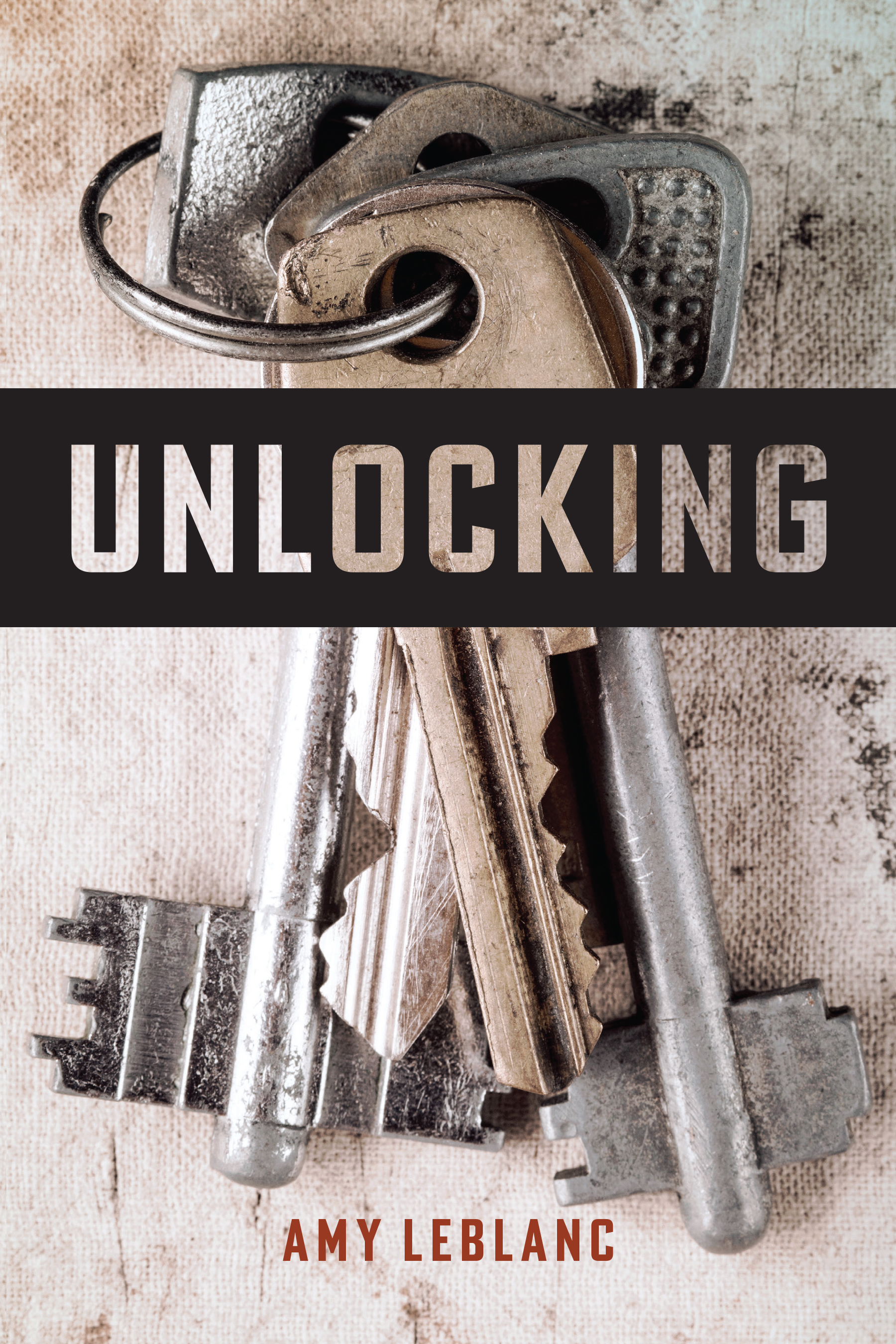 Unlocking
---
Amy LeBlanc
$19.99 CAD / $19.99 USD (T)
112 pages
6 x 9 inches
978-1-77385-139-6 (Paperback)
978-1-77385-140-2 (Institutional PDF)
978-1-77385-141-9 (ePub)
978-1-77385-142-6 (Mobi)
June 2021
About the Book
In Snowton, Alberta, secrets flourish like the crocuses in spring. When Louise Till lets herself into a neighbor's home using a surreptitiously copied key, she discovers more than she ever wanted to know about her small town and herself.
Louise Till, mother of two, has inherited her father's hardware store after her parents' unexpected deaths. She begins to cut copies of her customers' keys for herself, each one a talisman against grief and the terrible guilt she feels at not having realized that her parents were desperately unhappy.
Louise could use the keys, but she doesn't. Not until her life is overturned, again, when her marriage falls apart. Lou gives in to temptation, letting herself into Euphemia Rosenbaum's home. What follows is a tale of blackmail, break-ins, an unsolved mystery, and more secrets than Lou ever wanted to know.
Lou must confront not only the lives of her neighbors, but the unspoken truths of her family and the doors within herself for which there are no keys. Told over the course of one long winter, Unlocking is a poignant and penetrating exploration of grief, community, family, and the secrets we keep, even from ourselves.
About the Author
Amy LeBlanc is a writer and editor based in Calgary, Alberta. She is a recipient of the Lieutenant Governor of Alberta Emerging Artist Award and author of the poetry collection I know something you don't know.
Praise for Unlocking
LeBlanc, winner of the 2020 Lieutenant Governor of Alberta's Emerging Artist Award, is known for her poetry but has now made her mark in fiction with Unlocking. The book features unforgettable characters and a voice that captures the ebb and flow of heartbreak and grief. The narrative feels like a fantastic short story but with the depth of a great novel that you can't put down.
—Heidi Klaassen, AlbertaViews
Lou Till's parents have just died in strange circumstances, she has left her marriage and moved into her hardware store, and now she finds herself enmeshed in a dubious scheme with the sapient sower of seeds and secrets, Euphemia Rosenbaum. In Unlocking, Amy LeBlanc blends the propulsiveness of a murder mystery with the artistry of a literary novella. A gripping read, infused with unusual images and quiet humour.
—Rona Altrows, author of At This Juncture
Unlocking captures the delightful idiosyncrasies of small-town Alberta, tinting the seemingly mundane with the extraordinary. Clues appear in a Scrabble game just as easily as eternal love emerges around a carrot. Playful, wry, and funny, Unlocking will remind you of those childhood moments, sneaking through the dark—the quietude teeming with mystery and emergence.
—Marc Herman Lynch author of Arborescent
Amy LeBlanc's first full length work of fiction is a book of secrets and furtive conversations. Alert and precise, LeBlanc pays attention to the intricate beauty community brings a lost soul, introducing us to a world where the local author stockpiles his own books on a vanity shelf and the ancient gardener supplies a handful of, perhaps harmful, polypor to help a young girl find justice. Through LeBlanc's vivid poetic relationship with language, the reader immediately understands the allure of the key and its direct link to all sorts of secrets.
—Lisa Murphy Lamb, author of Jesus on the Dashboard
Reminiscent of Schitt's Creek and Leacock's Sunshine Sketches, Amy LeBlanc's debut introduces us to a small town bursting at the seams with vivid detail and colourful characters – a community where everyone knows everyone, and everyone locks their doors. Reading Unlocking is like thumbing through a jingling key ring, hearing whispered memories emanating from dozens of tarnished and glittering keys, and then finally finding the one that fits.
—Bruce Cinnamon, author of The Melting Queen
Praise for Amy LeBlanc
In five short years, Amy LeBlanc has jumped into the writing world, with three dozen works of poetry and fiction accepted by magazines and periodicals, and three books about to come out with publishers across Canada, including the University of Calgary Press. Her new work is exploring timely issues of health and feminism. Add to all this is her generous commitment to arts volunteering as an editor, reviewer and committee member
—Lieutenant Governor of Alberta Emerging Artist Award Adjudicators
In the Media
10 or 20 Questions with Amy Leblanc and rob mclennan
Awards
SHORTLISTED - Alberta Book Publishing Awards - Trade Fiction Book of the Year | 2022