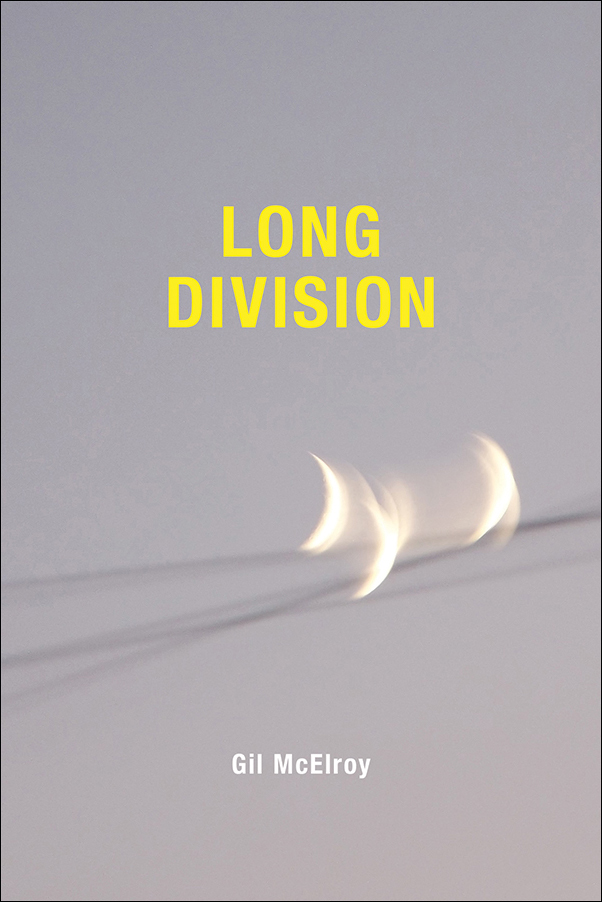 Long Division
---
Gil McElroy
$18.99 CAD / $18.99 USD (T)
154 pages
6 x 9 inches
978-1-77385-131-0 (Paperback)
978-1-77385-132-7 (Institutional PDF)
978-1-77385-133-4 (ePub)
978-1-77385-134-1 (Mobi)
July 2020
About the Book
Experimental poetry at its finest. A poetic expression of a mind in thought that draws on the commentative process of Midrash to discover the complexity of simplicity and the simply complex.
Long Division is a book of poetic commentary that plots a steady course of disillusion. Working in explicit dialogue with Dada, the surrealist poets, spiritual writing, and drawing on Midrash as a wellspring, Gil McElroy captures in poetry the process of a mind in thought. Written in asides and afterwords, comments and commentaries, and interruptions and insertions, these poems challenge and disrupt meaning and intention.
Carefully planned and written with an easy confidence, these poems ruminate on time and chance, astronomy and biology, intertextuality and the interplay of the author's and reader's voice. They interrogate and are, themselves, an internal interrogation through which division wends, splitting words into new units of meaning or reassembling them into new shapes unencumbered by the halos of meaning, reference, and allusion they have accrued.
This is contemporary experimental poetry at its finest, at once abstract and distinct, celestial and personal, a drama of the mind as it engages with and responds to the world and time. Long Division takes what is complex and explores its simplicity before taking what is expected to be simple and showing it instead to be musical and strange.
About the Author
Gil McElroy is a poet and artist. He is the author of four books of poetry, and winner of the bpNichol Chapbook Award. His critical writing has appeared in publications in Canada, the US, and Europe, and a selection of his visual arts writing was collected in Gravity & Grace: Selected Writings on Contemporary Canadian Art.
Praise for Long Division
Voices that range from stoic to manic, introspective to outlandish, with each vying for a clearer experience of its surrounding . . . Gil McElroy delivers a breadth of material that should appeal to both seasoned and novice experimental poetry readers.
—Ryan Pratt, periodicities : a journal of poetry and poetics
Since the 1970s, Gil McElroy's poems and poem sequences have expanded into and threaded through his eventual trade collections, furthering what bpNichol once referred to as the "poem as long as a life." McElroy's poems work not to complete an idea, but to enhance and expand, even as other properties are absorbed, sketching out an ever-expanding map of near-infinite possibility. For a quarter-century, Gil McElroy has not only been on my list of favourite, but underrated, contemporary poets, and the appearance of Long Division is not only a furthering of his work-to-date, but a wonderful reminder of what he has already accomplished. Just how many unknown spaces and half-familiar territories can he continue to discover?
—rob mclennan, author of A halt, which is empty
Gil McElroy's poetry is profoundly spiritual. Though his work is redolent with the syncretic attentions and devotions of a Thomas Merton, his metric compositions keep time to the cyclical processions of the heavenly bodies through the Julian calendar, and his doxologies sing their praises to the creation unfolding not in any ready-made liturgical order of the cosmos but in its ordinary days; his attention to the fractal reiterations of the accidental anomalies of our lives that first appeared on the event-horizon of our universe lends a beautifully estranged voice to his poems, shaped neither by an existential yearning for order, nor by the votive candle of the sanctuary, but by the implacable standard candle of the stars.
—Karl Siegler, C.M.
Long Division in the Media