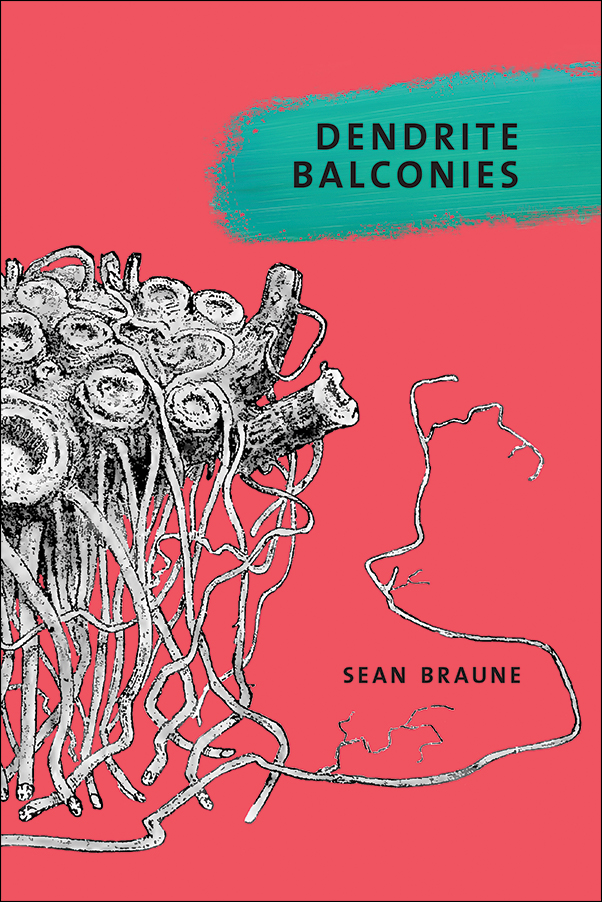 Dendrite Balconies
---
Sean Braune
$18.99 CAD / $18.99 USD (T)
120 pages
6 x 9 inches
978-1-77385-095-5 (Paperback)
978-1-77385-096-2 (Institutional PDF)
978-1-77385-097-9 (ePub)
978-1-77385-098-6 (Mobi)
September 2019
About the Book
As the author dies, the reader is born in this frenetic, dissociative collection of experimental poetry that disassembles the background text of modern, urban life to reassemble a poetic sculpture.
Text surrounds us. Text is everywhere, all the time, and the contemporary world is a codex to be deciphered and disassembled. In Dendrite Balconies, Sean Braune harvests the language that surrounds us—pieces and shards from other writers, conversations, and popular media—reassembling textual fragments into poetic sculptures.
Blending together conceptual writing and lyric poetry, Braune locates beauty in the chaotic landscape of the urban environment and the digital era. Full of smart, funny, insightful moments, this is a poetic montage that collapses experimental traditions into the noise and clang of urban space, and out of the silent cries of canons and libraries.
When the author dies, the reader is born. In Dendrite Balconies, the reader becomes a new author as Braune assembles frenetic, dissociative fragments of language into an aesthetic and sonic whole.
Sean Braune is a poet, philosopher, and filmmaker.
Praise for Dendrite Balconies:
Dendrite Balconies is fr sure a brillyant n wundrful work bringing in from within down organik n th heart n shouldrs n th voices vois n all saying th companee uv each lettr soothing xciting n dansing in our waking dreems
—bill bissett, poet
In Braune's highly condensed, paralinguistically concentrated omniverse the forward momentum of interpretation is continually interrupted by a rigorous, sometimes symbolist, always linear, atonal syncopation. Reads like clues to a multidimensional crossword puzzle. An auspicious debut to be sure.
—Chris Dewdney, poet and non-fiction author
Dendrite Balconies in the Media

Talking Poetics #4: Gil McElroy, Ottawa Poetry Newsletter