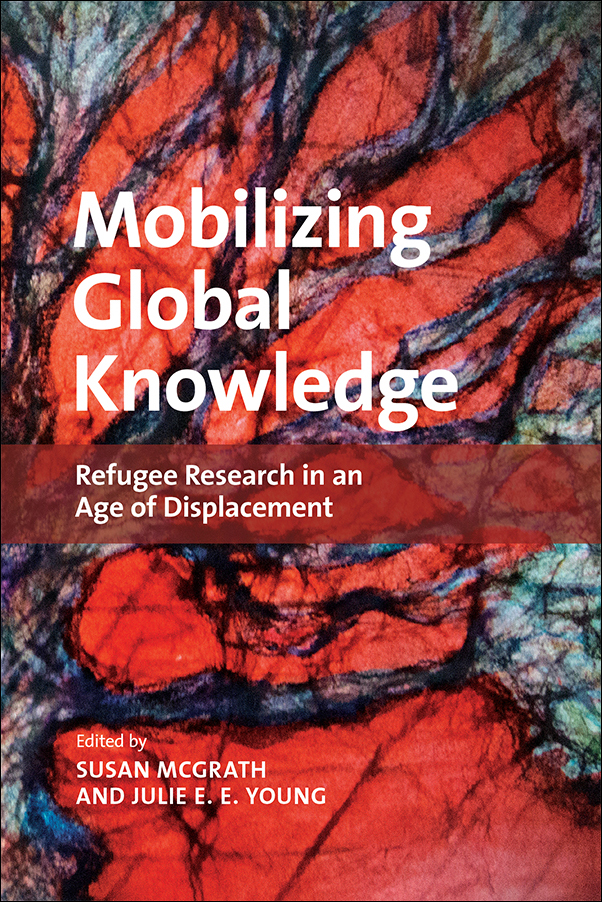 Mobilizing Global Knowledge: Refugee Research in an Age of Displacement
---
Edited by Susan McGrath and Julie E.E. Young
$42.99 CAD / $42.99 USD (S)
336 pages, 13 illustrations
6 x 9 inches
978-1-77385-085-6 (Paperback)
978-1-77385-087-0 (Institutional PDF)
978-1-77385-088-7 (ePub)
978-1-77385-089-4 (Mobi)
September 2019
About the Book
An examination of, and guide to, the challenges and responsibilities of doing research with displaced peoples while respecting their complex needs.
In 2018, the United Nations High Commission for Refugees documented a record high 71.4 million displaced people around the world. As states struggle with the costs of providing protection to so many people and popular conceptions of refugees have become increasingly politicized and sensationalized, researchers have come together to form regional and global networks dedicated to working with displaced people to learn how to respond to their needs ethically, compassionately, and for the best interests of the global community.
Mobilizing Global Knowledge brings together academics and practitioners to reflect on a global collaborative refugee research network. Together, the members of this network have had a wide-ranging impact on research and policy, working to bridge silos, sectors, and regions. They have addressed power and politics in refugee research, engaged across tensions between the Global North and Global South, and worked deeply with questions of practice, methodology, and ethics in refugee research.
Bridging scholarship on network building for knowledge production and scholarship on research with and about refugees, Mobilizing Global Knowledge brings together a vibrant collection of topics and perspectives. It addresses ethical methods in research practice, the possibilities of social media for data collection and information dissemination, environmental displacement, transitional justice, and more. This is essential reading for anyone interested in how to create and share knowledge to the benefit of the millions of people around the world who have been forced to flee their homes.
About the Editors
Susan McGrath is professor emerita and senior scholar at the School of Social Work and Centre for Refugee Studies, York University. She has been invested with the Order of Canada in recognition of her outstanding achievement in research and policy on refugee rights.
Julie E. E. Young is Canada Research Chair in Critical Border Studies and assistant professor in the Department of Geography, University of Lethbridge. Her work has been published in the Journal of International Migration and Integration, Refuge: Canada's Journal on Refugees, and Environment & Planning D: Society and Space.
With Contributions By:  Mohammad Jalal Abbasi-Shavazi , Paula Banerjee, Pablo Bose, Nergis Canefe, Christina Clark-Kazak, Don Dippo, Wenona Giles, Susan Kneebone, Ellen Percy Kraly, Loren B. Landau, Elizabeth Lunstrum, Susan F.  Martin, Susan McGrath, Michele Millard, Petra Molnar, William J. Payne, Ranabir Samaddar, Beatriz Eugenia Sánchez-Mojica, James C. Simeon, Lisa Singh, Brittany Lauren Wheeler, and Julie E.E. Young
Praise for Mobilizing Global Knowledge
Thirteen insightful essays explore the value and challenges of working across disciplines, sectors, and regions . . . Highly Reccomended
—G.B. Osbourne, CHOICE Reviews
A major contribution to the understanding and practice of knowledge mobilization. The significance of this highly original volume stretches far beyond refugee studies.
—John Shields, Ryerson University
A compelling and incisive analysis of the dynamic web of international connections and relations. This book is powerfully argued and deeply compassionate, and is essential reading for scholars, practitioners, and policy-makers of migration and refugee research.
—Suzan Ilcan, University of Waterloo
This book offers insights on ways to produce knowledge and to contribute to evidence-based shaping of policy at a time when narratives about refugees have never been so politicized.
—Jean-Nicholas Beuze, UNHCR Representative in Canada
Table of Contents

Introduction

Mobilizing Global Knowledge in Forced Migration Studies and Practice
Susan McGrath and Julie E.E. Young

Section 1: Power and Politics in Refugee Research

Capacity, Complicity, and Subversion: Revisiting Collaborative Refugee Research in an Era of Containment
Loren B. Landau

Rethinking Displacement: Transitional Justice and Forced Migration Studies
Nergis Canefe

Asia Pacific Forced Migration Connection: Linking Activists and Academics
Susan Kneebone

Transitions from Knowledge Networked to Knowledge Engaged: Ethical Tensions and Dilemmas from the Global to the Local
Wenona Giles and Don Dippo

Insecure Nation, Insecure Migrant: Echoes from India's Northeast
Paula Banerjee and Ranabir Samaddar

Section 2: Emerging and Developing Research Approaches and Tools

Big Data and Early Warning of Displacement
Susan F. Martin and Lisa Singh

Building and Sustaining a Web Platform for Researchers, Teachers, Students, and Practitioners in the Field of Refugee and Forced Migration Studies
James C. Simeon

The Promise and Potential of the Demography of Refugee and Forced Migration
Ellen Percy Kraly and Mohammad Jalal Abbasi-Shavazi

Disseminating Knowledge in the Digital Age: The Case of the Refugee Research Network
William J. Payne and Michele Millard

Section 3: Knowledge Production and the Ethics of Network Formation

New, Emerging Emerged? Navigating Agency, Technology, and Organization in Developing the Emerging Scholars and Practitioners on Migration Issues (ESPMI) Network
Petra Molnar and Brittany Lauren Wheeler

What Constitutes Environmental Displacement? Challenges and Opportunities of Exploring Connections Across Thematically Diverse Areas
Pablo Bose and Elizabeth Lunstrum

Bittersweet Symphony: Challenges and Lessons Learned of Network Building in Latin America
Beatriz Eugenia Sánchez-Mojica

Partnering on Research Methodologies in Forced Migration: Challenges, Opportunities, and Lessons Learned
Christina Clark-Kazak

Conclusion

Reflections on Global Refugee Research Networking
Susan McGrath