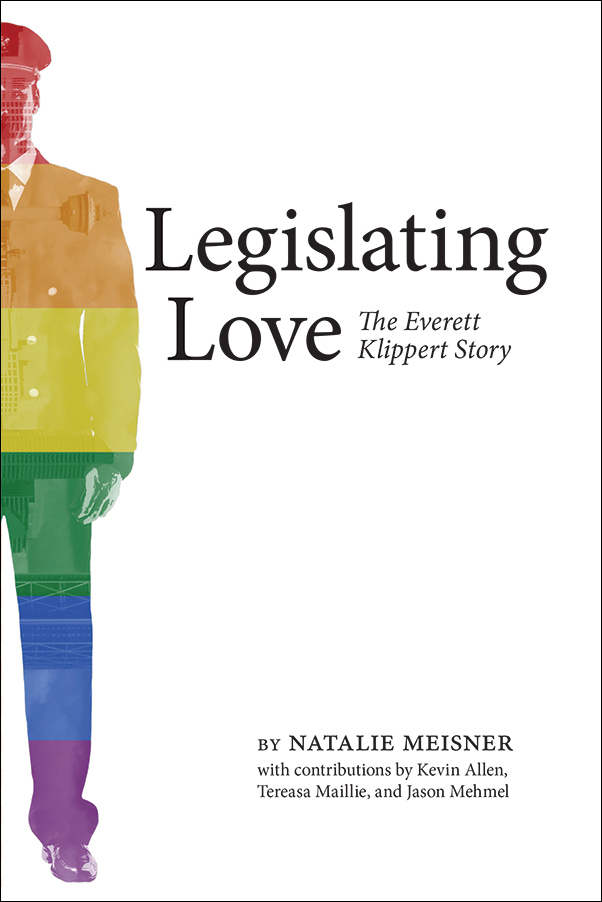 Legislating Love: The Everett Klippert Story
---
Play by Natalie Meisner, with Directors Notes by Jason Mehmel, and Essays by Kevin Allen, and Tereasa Maillie
$24.99 CAD / $24.99 USD (T)
128 pages, 8 illustrations
6 x 9 inches
978-1-77385-081-8 (Paperback)
978-1-77385-082-5 (Institutional PDF)
978-1-77385-083-2 (ePub)
978-1-77385-084-9 (Mobi)
November 2019
About the Book
An uplifting play that celebrates queer love over generations while challenging us to remember and celebrate LGBTQ+ history.
Aspiring historian Maxine is researching Canadian social policy when she discovers the story of Everett Klippert—the last Canadian man jailed simply for being gay. Maxine becomes fascinated with Everett's case and with discovering the man beyond the headlines, a beloved Calgary bus driver on the downtown route who took care to brighten the day of his passengers, who played on the family baseball team and was everyone's favorite uncle, and who, when he was confronted by police about his sexuality, refused to lie.
Inspired and captivated, Maxine interviews people who knew Everett Klippert. She connects with a senior at a local assisted living facility she knows only as Handsome, one of Klippert's lovers and perhaps the only person who can truly illuminate the past. At the same time, Maxine is navigating her own new relationship with Métis comedian Tonya.
This absorbing, heartwarming play weaves together past and present in a multi-generational exploration of queer love. It tells the near-forgotten story of one of Canada's quiet heroes and reminds us all that the past must be remembered as we work together for a better future.
About the Authors
Natalie Meisner is a professor of English and Director of Changemaking at Mount Royal University. She is the author of Double Pregnant
Jason Mehmel is a writer, producer, and director living in Calgary, Alberta. He is the Artistic Director of the Sage Theatre, and directed the premier production of Legislating Love.
This play was originally commissioned by Third Street Theatre with research Dramaturgy by Jonathan Brower. It was researched and developed in conjunction with Tereasa Maillie and Kevin Allen of The Calgary Gay History Project. Subsequently dramaturged by Jason Mehmel who also directed the world premiere at Sage Theatre in Calgary in 2018.
Praise for Legislating Love
An important story that sheds light on the oft-forgotten and sometimes tenuous history of the LGBTQ2+ community in Canada. For all the acceptance our community enjoys today, it can never be forgotten that there was a time in the not-too-distant past when it was illegal to be true to yourself and to love someone of the same sex. This play conveys the enormity of the injustice forced on Klippert, enlightening the audience through a deep connection to his life. This is a powerful story and it moved me deeply.
—Lesley A Brown, Provost and Vice President Academic, Mount Royal University
Legislating Love masterfully weaves together an important unearthing of neglected LGBTQ2+ history with a touching contemporary storyline that had me equally laughing and crying. It is beautiful and exciting work that thoughtfully bridges the gap between generations.
—Mark Kenneth Woods, Filmmaker
A poignant reminder of a generation of gay men and women whose history has always run the risk of being forgotten . . . a thoughtful, moving, new brand of alternative Canadian historical drama.
—Stephen Hunt, Globe and Mail (On the original theatrical run)
Legislating Love in the Media
Play Casts Everett Klippert as a Resilient and Unashamed Queer Elder, Prairie Books Now
Awards
WINNER - Playwrights Guild of Canada Carol Bolt Award | 2023