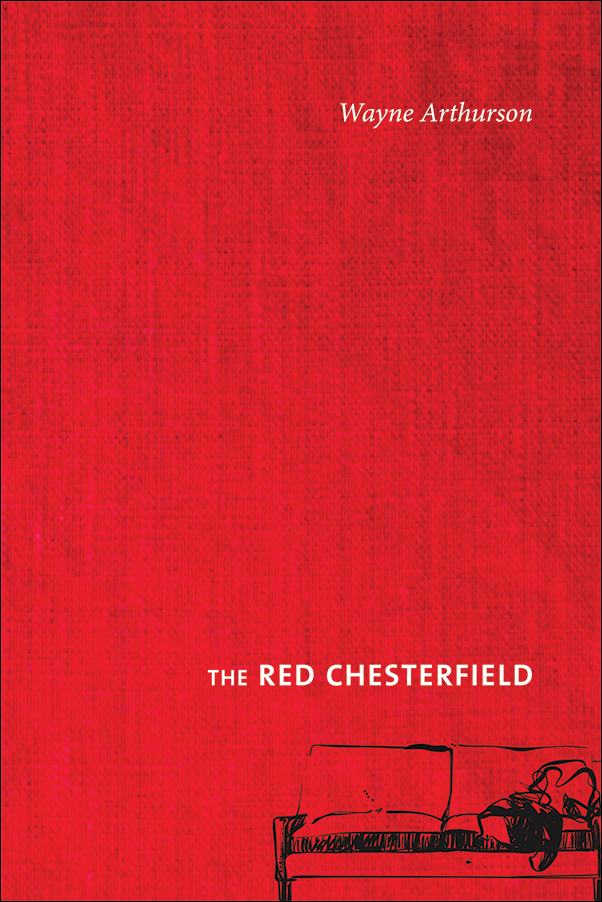 The Red Chesterfield
---
Wayne Arthurson
$18.99 CAD / $18.99 USD (T)
120 pages
6 x 9 inches
978-1-77385-077-1 (Paperback)
978-1-77385-078-8 (Institutional PDF)
978-1-77385-079-5 (ePub)
978-1-77385-080-1 (Mobi)
October 2019
About the Book
Winner of the Arthur Ellis Award for Crime Writing, the Alberta Publishing Award for Trade Fiction and High Plains Award Finalist.
M is a bylaw officer, living with two brothers, in their parents' old house. While investigating a suspicious yard sale, M discovers a red chesterfield sitting in a ditch. Looking closer, M finds a running shoe—and a severed foot.
Now M is involved in a murder investigation. Meanwhile, older brother K's work for a new political party begins to seem suspicious, while younger brother J navigates the complicated world of young-adulthood, and boss Rhonda demands more and more attention, M must navigate a world of Russian gangsters and neglected wives, biker gangs and suspicious coincidences. On top of everything else, M is determined to track down the owner of that red chesterfield and make sure they get a ticket.
The Red Chesterfield is a delightful, unusual novella that upends the tropes and traditions of crime fiction while asking how far one person is willing to go to solve a crime, be it murder or the abandonment of a piece of furniture.
We're proud to partner with the National Network for Equitable Library Service Braille Publication Project to offer The Red Chesterfield in braille transcription, available at a library near you. If you are interested in purchacing a braille copy of this book, please contact the NNELS.
About the Author:
Wayne Arthurson is a writer of Cree and French Canadian descent. He is the author of five novels, including Fall From Grace, winner of the Alberta Reader's Choice Award, and Traitors of Camp 113, a finalist for the High Plains Book Award for Best Indigenous Novel.
Praise for The Red Chesterfield:
Will keep you on your toes and leave you wanting more . . . If you are looking for a quick read that will keep you captivated, leave you with a million questions, and prompt you to examine your own life and unique obsessions, this is the book for you.
—Shelby Alcorn, Montana Standard
A sharp deconstruction of the conventions of the mystery genre . . . There are no neat conclusions at the end of The Red Chesterfield, but there is plenty for readers to uncover as they investigate the various references and meanings embedded within this short but intriguing book.
—Victoria Lessard, Quill & Quire
A seductive crime fiction oddity
—Joan Barfoot, The Sudbury Star
Arthurson has more than pushed the envelope of mainstream mystery narratives, while taking aim at the stereotypical portrayals of Indigenous people that so pervade the genre.
—Basil Guinane, Literary Review of Canada
Thoughtful, surprising, down-to-earth, and secrative. In a wonderfully suspenseful unravelling, the reader is led through a neighbourhood trail of mysteries, small infractions and citizen complaints. Briefly and deftly told, The Red Chesterfield resembles the piece of furniture a little itself: it's roomy but not excessive, fashionable, a bit quirky, and formal yet expressive. In short, it has panache.
—Shawna Lemay, author of Rumi and the Red Handbag
A gently macabre and wildly hilarious novel about making your peace with life in a landscape that refuses to make sense. It combines the quick-fire zaniness of Elmore Leonard with the quiet humanity of Amy Hempel. Delightful, rich, and one-of-a-kind.
—Sandra Newman, author of The Heavens
Part crime novel, part fable, part family drama, The Red Chesterfield is a compelling and inventive story which defies category. Arthurson spins a tale with dry wit and a keen descriptive eye. The Red Chesterfield is a major achievement by an important voice
—Sam Wiebe, author of Cut You Down, Invisible Dead and Last of the Independents
The mark of any great story is when the reader never wants it to end. Wayne Arthurson's The Red Chesterfield pulled me into an alluring world of magic and mystery, a slow tease of crisp, compelling writing. A ten!
—Peggy Blair, author of the award-winning Inspector Ramirez mysteries
The Red Chesterfield in the Media:
Wayne Arthurson talks The Red Chestefield and more at Canada Reads American Style
14 Canadian Mysteries and Thrillers to Check Out This Summer, CBC Books
Wayne Arthurson Plays with the Mystery Genre and Magic, The Next Chapter, CBC Radio
The Red Chesterfield is an Edmonton Bestseller!
The Buzz: 5 New Books with Great Reviews on 49th Shelf
34 Works of Canadian Fiction to Watch For in Fall 2019, CBC Books
The Importance of Perspective in Literature: Wayne Arthurson on the Ryan Jespersen Show, 630 CHED
Mark After Dark: Wayne Arthurson, CBC Edmonton
The Red Chesterfield reviewed at Quill & Quire
"Between the Cusions" The Red Chesterfield reviewed at the Literary Review of Canada
Red Chesterfield a Seducitve Crime Fiction Oddity, The Sudbury Star
The Red Chesterfield: Award-winning novella upends the crime genre, Edmonton Journal
Awards
WINNER, Arthur Ellis Award for Best Crime Novella | 2020
FINALIST, High Plains Book Award for Best Indigenous Writer | 2020
WINNER, BPAA Alberta Publishing Award for Trade Fiction | 2020