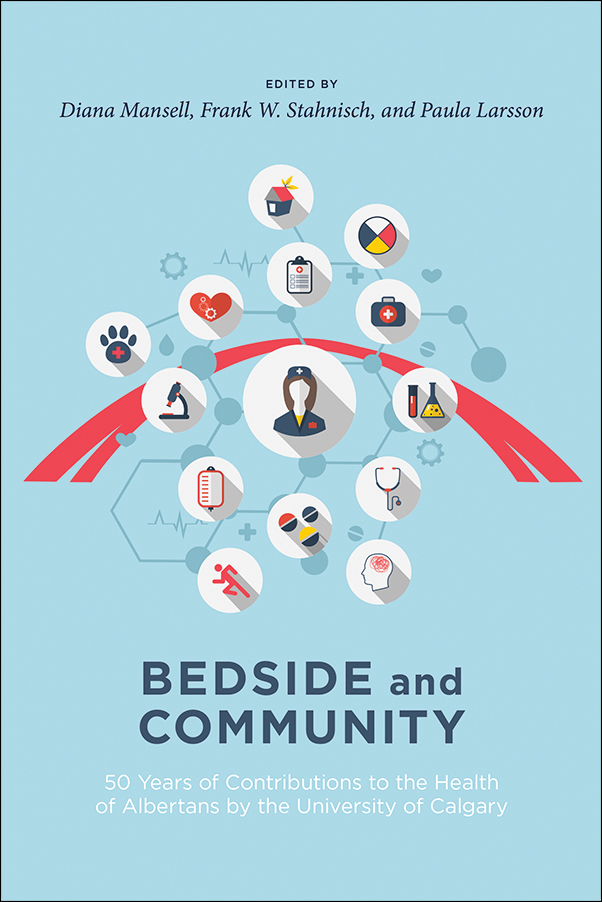 Bedside and Community: 50 Years of Contributions to the Health of Albertans by the University of Calgary
---
Edited by Diana J. Mansell, Frank W. Stahnisch, and Paula Larsson
$34.99 CAD/$34.99 USD (T)
242 pages, 13 illustrations
6 x 9 inches
978-1-77385-072-6 (Paperback)
978-1-77385-074-0 (Institutional PDF)
978-1-77385-075-7 (ePub)
978-7-77385-076-4 (mobi)
February 2020
About the Book
The University of Calgary's innovative and collaborative approach to health care education is celebrated in an interdisciplinary collection.
Bedside and Community is the inside story of fifty years of health care and health research at the University of Calgary. Drawing on the first-person accounts of researchers, administrators, faculty, and students along with archival research, and faculty histories, this collection celebrates the many significant contributions the University of Calgary has made to the health of Albertans.
With contributions from the Cumming School of Medicine, the Faculty of Nursing, Faculty of Kinesiology, Faculty of Veterinary Medicine, Faculty of Environmental Design, Department of Psychology, and Indigenous Health Initiatives Bedside and Community is a truly collaborative history. Addressing the links between departments, the relationship between the university and the community, and evolving research and teaching methods, this book places the University of Calgary within a wider national context and shows how it has addressed the unique health needs of Southern Alberta.
With a pioneering focus on primary care and commitment to interdisciplinary connections, the University of Calgary has made strides in health research, health education, and community outreach. Bedside and Community tells the story of a tradition of excellence that will light the way to future outreach and discovery.
About the Editors:
Diana J. Mansell is a Canadian Nurse Historian now retired from the Faculty of Nursing at the University of Calgary. Her research has focused on nursing leadership and nursing in Alberta.
Frank W. Stahnisch is the Alberta Medical Foundation/Hannah Professor in the History of Medicine and Health Care at the University of Calgary. He has achieved the John J. Pisano Award of the National Institute of Health and was awarded the inaugural Klaus Reichert Prize for Medical Philosophy. 
Paula Larsson is an Oxford-based scholar of health history with a focus on intersections of ethnicity, health and policy. She is the recipient of the Mary Lemessurier Award and James Burns Scholarship.
With Contributions By:  David Bright, M. Elizabeth Cannon, Alastair Cribb, Patricia K. Doyle-Baker, Barbara Dupuis, Paula Larsson, Diana Mansell, David Monteyne, H. Lorraine Radtke, Brian R. Sinclair, Frank W. Stahnisch, Henderikus J. Stam, Wilfreda E. ("Billie") Thurston.
Praise for Bedside and Community:
Medical faculties elsewhere may learn from the distinctive experience of the health sciences at the University of Calgary, with its pioneering emphases on primary care and interdisciplinary, especially in such areas as kinesiology and Aboriginal health care. Altogether, a very timely and well-conceived volume.
—Edward Shorter, Jason A Hannah Professor of the History of Medicine, University of Toronto
Table of Contents

Illustrations

Glossary

Acknowledgments

Preface
Dr. Elizabeth Cannon, President Emerita, University of Calgary

Forward
Dr. David Bright, Professor of History, Niagara College

Introduction
Paula Larsson, Frank W. Stahnish, and Diana Mansell 

Chapter 1: The Faculty of Medicine and its Response to Changing Health Care Contexts in the Province of Alberta, 1996-2016
Frank W. Stahnisch

Chapter 2: A History of Aboriginal Health Research Within the Faculty (Cumming School) of Medicine, University of Calgary, 1966-2016
Paula Larsson and Wilfreda Thurston

Chapter 3: The Transformation of the Concept of Nursing
Diana Mansell

Chapter 4: Clinical and Health Psychology at the University of Calgary and its Contributions to Health Care in Alberta
Henderikus J. Stam And H. Lorraine Radtke

Chapter 5: The 'Then' and 'Now': Physical Education to Kinesiology at the University of Calgary
Patricia K. Doyle-Baker and Diana Mansell

Chapter 6: Environmental Design: Creating Healthy Spaces and Places
Barbara Dupuis, David Monteye, and Brian Sinclair 

Chapter 7: The University of Calgary Faculty of Veterinary Medicine: At the Interface of Animal and Human Health
Alastair Cribb

Discussion
Paula Larsson and Diana Mansell

Index