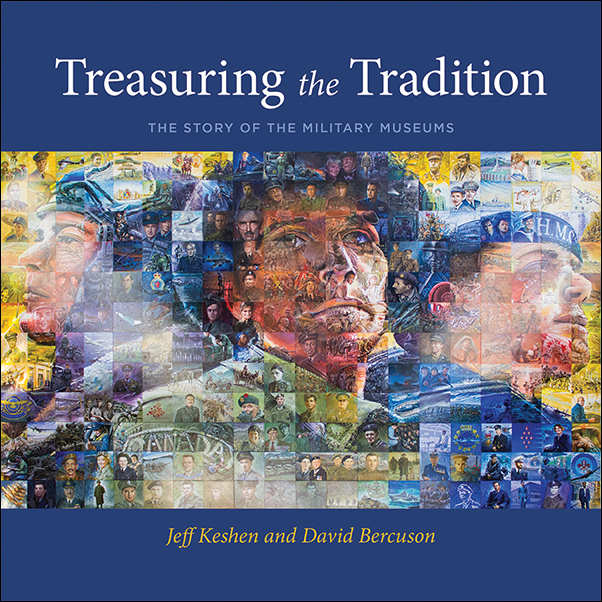 Treasuring the Tradition: The Story of the Military Museums
---
By David Bercuson and Jeff Keshen
$29.99 CAD / $29.99 USD
138 pages
978-1-77385-058-0 (Paperback)
978-1-77385-060-3 (Institutional PDF)
978-1-77385-061-0 (ePub)
978-1-77385-062-7 (Mobi)
February 2020
About the Book
The definitive story of Calgary's Military Museums past, present and future.
The Military Museums in Calgary, Alberta is Western Canada's only tri-service museum and military education centre. Containing the regimental museums of the Princess Patricia's Canadian Light Infantry (PPCLI), Lord Strathcona's Horse (Royal Canadians), The King's Own Calgary Regiment, and the Calgary Highlanders along with the Naval, Army, and Air Force Museums of Alberta, The Military Museums welcome over 10 000 visitors each year.
This is the story of how The Military Museums came to be. From the unprecedented coming together of individual regimental museums to form the Museum of the Regiments to the extraordinary work of veterans and citizens to create and maintain one of Calgary's principal cultural, educational, and tourist sites, it is a story of perseverance, cooperation, and community.
With the mantra "Remember, Preserve, and Educate," The Military Museums, Founders Gallery, and Military Museums Libraries and Archives are dedicated to preserving the memories and traditions of the countless Canadians who proudly served their country through war and conflict.
About the Authors
David Bercuson is a professor in the Department of History at the University of Calgary. He is the author of Long Night of the Tankers and The Patricias: A Century of Service.
Jeff Keshen is vice-president of Memorial University, Grenfell Campus. He is an historian specializing in War and Society.
Treasuring the Tradition is a Special Presentation of the University of Calgary Press and The Military Museums.
Table of Contents

Introduction

Chapter 1: A Military Community

Chapter 2: A Museum for the Regiments

Chapter 3: The Naval Museum—Beginnings

Chapter 4: Operating the Museum of the Regiments

Chapter 5: Coming Together

Chapter 6: Canada's Military History on Display

Chapter 7: Remember, Preserve, Educate