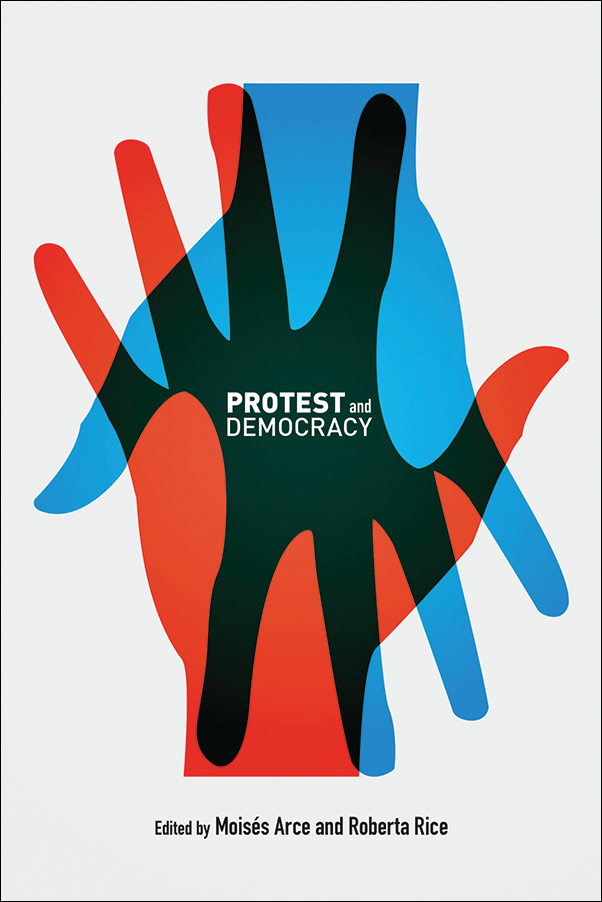 Protest and Democracy
---
Edited by Moisés Arce and Roberta Rice
$34.99 CAD / $34.99 USD
336 pages
3 tables, 3 figures
978-1-77385-045-0 (Paperback)
978-1-77385-047-4 (Institutional PDF)
978-1-77385-048-1 (ePub)
978-1-77385-049-8 (mobi)
June 2019
About the Book
What impacts do global protest cycles have on politics and policy? Are protests part of a democratic society, or are they a sign of political breakdown? What causes mass protests, and how do protests around the world influence each other?
In 2011, political protests sprang up across the world. In the Middle East, Europe, Latin America, the United States unlikely people sparked or led massive protest campaigns from the Arab Spring to Occupy Wall Street. These protests were made up of educated and precariously employed young people who challenged the legitimacy of their political leaders, exposed a failure of representation, and expressed their dissatisfaction with their place in the aftermath of financial and economic crisis.
This book interrogates what impacts—if any—this global protest cycle had on politics and policy and shows the sometimes unintended ways it continues to influence contemporary political dynamics throughout the world. Proposing a new framework of analysis that calls attention to the content and claims of protests, their global connections, and the responsiveness of political institutions to protest demands, this is one of the few books that not only asks how protest movements are formed but also provides an in-depth examination of what protest movements can accomplish.
With contributions examining the political consequences of protest, the roles of social media and the internet in protest organization, left- and right-wing movements in the United States, Chile's student movements, the Arab Uprisings, and much more this collection is essential reading for all those interested in the power of protest to shape our world.
About the Editors
Moisés Arce is professor and Frederic A. Middlebush Chair in Political science at the University of Missouri. He is the author of Market Reform in Society and Resource Extraction and Protest in Peru.
Roberta Rice is associate professor in the Department of Political Science at the University of Calgary. She is the author of The New Politics of Protest: Indigenous Mobilization in Latin America's Neoliberal Era, which was nominated for the CPSA Prize in Comparative Politics.
With Contributions By: Moisés Arce, Jeffrey Ayres, Carew E. Boulding, Sofia Donoso, Ted Goertzel, Paul Kingston, Jennifer M. Larson, Laura Macdonald, Roberta Rice, Eduardo Silva, Erica S. Simmons, and Nicolás Somma
Priase for Protest and Democracy:
Essential reading for its original theoretical insights, its cross-regional comparative perspective, and its impressive scope.
—Kenneth M. Roberts, Director, Latin American Studies, Cornell University
Protest and Democracy in the Media
The Best of the University Press: Reccomendations for Smarter Reading, LitHub
Six Books to Help You Understand Key Election Issues Rabble.ca
Table of Contents

Table of Contents:

The Political Consequences of Protest

Moisés Arce and Roberta Rice

How Do We Explain Protest? Social Science, Grievances, and the Puzzle of Collective Action

Erica S. Simmons

Transnational Protest: 'Going Global' in the Current Protest Cycle Against Economic Globalization

Jeffrey Ayres and Laura Macdonald

Collective Action in the Information Age: How Social Media Shapes the Character and Success of Protests

Jennifer M. Larson

Schools for Democracy? The Role of NGOs in Protests in Democracies in the Global South

Carew E. Boulding

The Ebbing and Flowing of Political Opportunity Structures: Revolution, Counter-Revolution, and Arab Uprisings

Paul Kinston

"You Taught Us to Give an Opinion, Now Learn How to Listen": The Manifold Political Consequences of Chile's Student Movement

Sofia Donoso and Nicolás Somma

Protest Cycles in the United States: From the Tea Party and Occupy Wall Street to Sanders and Trump

Ted Goertzel

Re-Thinking Protest Impacts

Moisés Arce, Roberta Rice, and Eduardo Silva
Awards
SHORTLISTED, Alberta Publishing Award for Book Cover Design | 2020