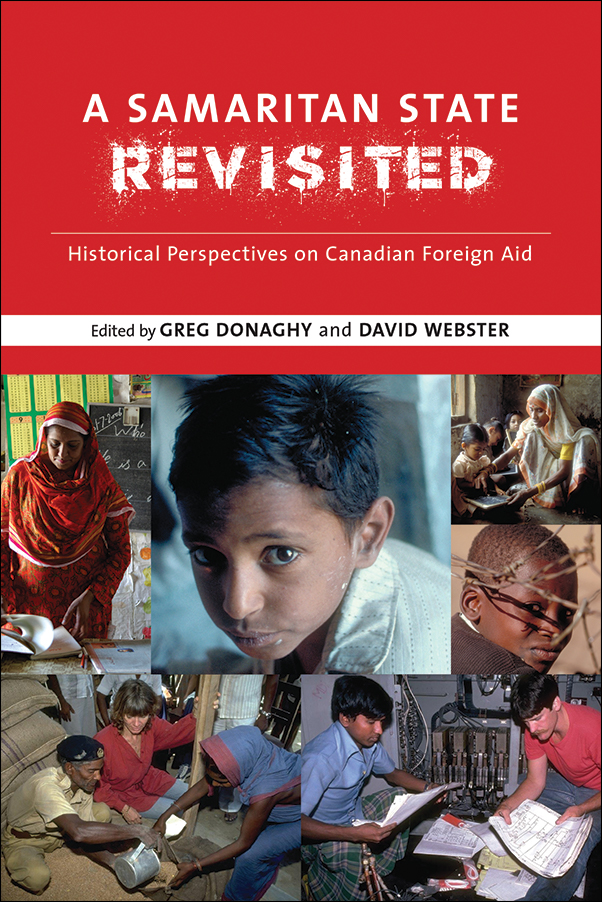 A Samaritan State Revisited: Historical Perspectives on Canadian Foreign Aid
---
Edited by Greg Donaghy and David Webster
$39.99 CAD / $39.99 USD (S)
377 pages, 39 illustrations
6 x 9 Inches
978-1-77385-040-5 (Paperback)
978-1-77385-042-9 (Institutional PDF)
978-1-77385-043-6 (ePub)
978-1-77385-044-3 (mobi)
August 2019
About the Book
Canada's foreign aid programs are an area of ongoing interest, yet there is little knowledge of Canada's 70-year aid history, the historic forces that have shaped Canadian aid policy, and the many complex factors that affect Canada's future foreign aid policy.
A Samaritan State Revisited brings together a refreshing group of emerging and leading scholars to reflect on the history of Canada's overseas development aid. Addressing the broad ideological and institutional origins of Canada's official development assistance in the 1950s and specific themes in its evolution and professionalization since the 1960s, this collection is the first to explore Canada's history with foreign aid with this level of interrogative detail.
Extending from the 1950s to the present and covering Canadian aid to all regions of the Global South, from South and Southeast Asia to Latin America and Africa, these essays embrace a variety of approaches and methodologies ranging from traditional, archival-based research to textual and image analysis, oral history, and administrative studies. A Samaritan State Revisited weaves together a unique synthesis of governmental and non-governmental perspectives, providing a clear and readily accessible explanation of the forces that have shaped Canadian foreign aid policy
Greg Donaghy is head of the Historical Section, Global Affairs Canada. He is co-Editor of From Kinshasa to Kandahar: Canada and Fragile States in Historical Perspective.
David Webster is an associate professor of History at Bishop's University. He is author of Flowers in the Wall: Truth and Reconciliation in Timor-Leste, Indonesia, and Melanesia
With Contributions By: David Black, Stephen Brown, Kevin Brushett, Jill Campbell-Miller, Ted Cogan, Sonya de Laat, Greg Donaghy, Laura Macdonald, Dominique Marshall, Asa McKercher, Nassisse Solomon, Stefano Tijerina, Ryan Touhey, and David Webster
Praise for A Samaritan State Revisited:
A Samaritan State Revisited will both act as a signpost, marking what has been accomplished (historiographically) so far, and serve as a valuable reference point as the task of developing the history of Canadian aid—in all its manifestations and complexity—continues.
—David Meren, International Journal
A Samaritan State Revisited offers a fascinating window into one aspect of Canadian political history, while simultaneously opening up broader lines of inquiry in contemporary international relations.
—Suzanne Hindmarch, Canadian Historical Review
Canada's international assistance has constituted a significant, yet underappreciated, facet of Canada's role and impact on the world stage. This book provides an illuminating account of how the aid relationship was initiated and evolved over the past seven decades, in Asia, Latin America and Africa. It is a welcome, and overdue, contribution to the historiography of Canada's foreign relations.
—Roy Culpeper, Senior Fellow, School of International Development and Global Studies, University of Ottawa
A Samaratain State Revisited in the Media
Neither Hero nor Villain: Canada Stuck in the Middle of the Pack on International Aid, The Conversation
Table of Contents

List of Abbreviations
Acknowledgements

Introduction
David Webster and Greg Donaghy

Part 1: Entering the Aid World, 1950–1960

Chapter 1. Encounter and Apprenticeship: The Colombo Plan and Canadian Aid in India, 1950–1960
Jill Campbell–Miller

Chapter 2. "Reasonably Well Organized": A History of Early Aid Administration
Greg Donaghy

Chapter 3. Developing the World in Canada's Image: Hugh Keenleyside and Technical Assistance
David Webster

Part 2: Development, Diplomacy, and Trade, 1953–1991

Chapter 4. "A One Way Street": The Limits of Canada's Aid Relations with Pakistan, 1958–1972
Ryan Touhey

Chapter 5. One Size Fits All?: Canadian Development Assistance to Colombia, 1953–1972
Stefano Tijerina

Chapter 6.Samaritanos canadiensis?:Canadian Development Assistance in Latin America During the Trudeau Years
Asa McKercher

Chapter 7. "Trotsky in Pinstripes": Lewis Peribam, CIDA, and the Non–Governmental Organizations Program, 1968–1991
Kevin Brushett

Part 3: Imagery and Symbolism

Chapter 8. Building a Base: The Growth of Public Engagement with Canadian Foreign Aid Policy, 1950–1980
Ted Cogan

Chapter 9. Pictures in Development: The Canadian International Development Agency's Photo Library
Sonya de Laat

Chapter 10. "Tears are Not Enough": Canadian Political and Social Mobilization for Famine Relief in Ethiopia, 1984–1988
Naississe Solomon

Part 4: The Political Economy of Canadian Aid, 1980–2018

Chapter 11. Canadian Development Assistance to Latin America
Laura Macdonald

Chapter 12. CIDA and Aid to Africa in the 1990s: A Crisis of Confidence
David Black

Chapter. 13. A Samaritan State?, Canadian Foreign Aid, and the Challenges of Policy Coherence for Development
Stephen Brown

Conclusion

Chapter 14. Concluding Reflections: Beyond Aid
Dominique Marshall

Bibliography
Contributors

Index