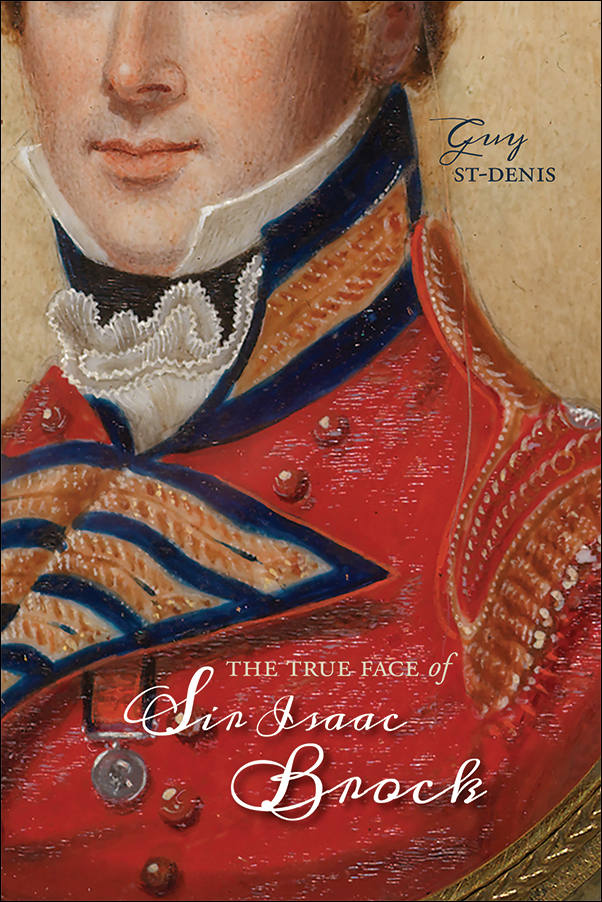 The True Face of Sir Isaac Brock
---
Guy St-Denis
$34.99 CAD / $34.99 USD
338 pages, 70 Illustrations
6 x 9 inches
978-1-77385-020-7 (Paperback)
978-1-77385-022-1 (Institutional PDF)
978-1-77385-023-8 (ePub)
978-1-77385-024-5 (Mobi)
November 2018
About the Book
Major General Sir Isaac Brock is remembered as the Hero of Upper Canada for his defence of what is now Ontario during the War of 1812, and also for his noble death at the Battle of Queenston Heights. In the more than two centuries since then, Brock's likeness has been lost in a confusing array of portraits—most of which are misidentified or conceptual.
The 1824 monument constructed to honour Brock's sacrifice was destroyed in 1840 by Benjamin Lett, a disgruntled disciple of William Lyon Mackenzie and critic of the Upper Canadian elite. The replacement and subsequent commemorations emphasized a patriotic desire to visualize the hero's appearance. But despite uncovering an authentic portrait painted only a few years before Brock's death, a series of false faces were promoted to serve competing claims and agendas. St-Denis situates Brock's portraits within an emerging English Canadian imperial nationalism that sought a heroic past which reflected their own aspirations and ambitions.
A work of detailed scholarship and a fascinating detective story, The True Face of Sir Isaac Brock details the sometimes petty world of self-proclaimed guardians of the past, the complex process of identification and misidentification that often occurs even at esteemed Canadian institutions, and St-Denis' own meticulous work as he separates fact from fiction to finally reveal Brock's true face.
Guy St-Denis is a historian living in London, Ontario. He has received the Fred Landon Prize in Canadian History, the Huron College Prize in Amerindian History, and is the author of Tecumseh's Bones, for which he received the Ontario Historical Society Talman Award.
Praise for The True Face of Sir Isaac Brock:
The True Face of Sir Isaac Brock is a powerful example of the nexus between professional scholarship and heroic iconography. Impeccably researched and presented, it advances our understanding of the life of Brock and the artistic world with which he sometimes came into contact in early nineteenth-century Canada.
—Craig Leslie Mantle, Canadian Military History
Perhaps St-Denis' single most important contribution to the Brock record is the definitive debunking of one of the most commonly misidentified portraits of the fabled defender of British North America . . . St-Denis' exploration of the trail of Brock's Portraiture reveals a vast amount of fascinating information about his family, his descendants, and his admirers, as well as their efforts to uncover, to authenticate, and to preserve his likeness.
—Peter Black, Canada's History Magazine
An extraordinary well researched and seminal study of simply outstanding scholarship.
—John Borroughs, Midwest Book Review
[Guy St-Denis] is an assiduous investigator, meticulous and perceptive in his scrutiny of sources and evidence.
—Wesley Turner, Fife and Drum
Guy St. Denis has a gift for putting neglected corners of History under a microscope, and revealing their forgotten but remarkable stories and casts of characters. Few stones are left unturned in this new fascinating blend of military and art history. The research is impeccable, the judgments balanced and the writing fluent and accessible. This is a master-class to be enjoyed by scholars and general readers alike.
—John Sugden, author Tecumseh: A Life and Nelson: The Sword of Albion
Guy St-Denis has given us an offbeat and engaging study on the often confusing subject of Sir Isaac Brock's portraits. There is more here than one might expect, and St-Denis' fine research and astute detective work serve the topic well. The result is a fascinating—and definitive—treatment of the subject.
—Don Hickey, author of The War of 1812: A Forgotten Conflict and Don't Give Up the Ship: Myths of the War of 1812
In his search for the true face of Isaac Brock, Guy St-Denis has unraveled a mystery spanning two centuries as to which portrait accurately depicts the 'Hero of Upper Canada,' making this the most original study about Brock to appear in decades.
—Tanya J. Grodzinski, Department of History, The Royal Military College of Canada
Table of Contents

Preface
Plates
Introduction
Chapter 1: The Viceregal Legacy
Chapter 2: By Way of a Discovery
Chapter 3: All to Prove a Point
Chapter 4: Of Uniforms and Portraits
Chapter 5: An Evolving History
Chapter 6: For Want of a True Face
Chapter 7: A Very Close Call
Chapter 8: In Coming Forward
Conclusion
Provenance
List of Figures and Plates
Acknowledgements
Notes
Bibliography
Index
The True Face of Sir Isaac Brock in the Media

Reviewed at Canada's History Magazine The True Face of Sir Isaac Brock on Rabid Reader's Reviews
Awards
BRONZE MEDAL, PubWest Book Design Awards - Small Format Jacket & Cover | 2019
LONGLISTED, British Art Journal William MB Berger Prize | 2019