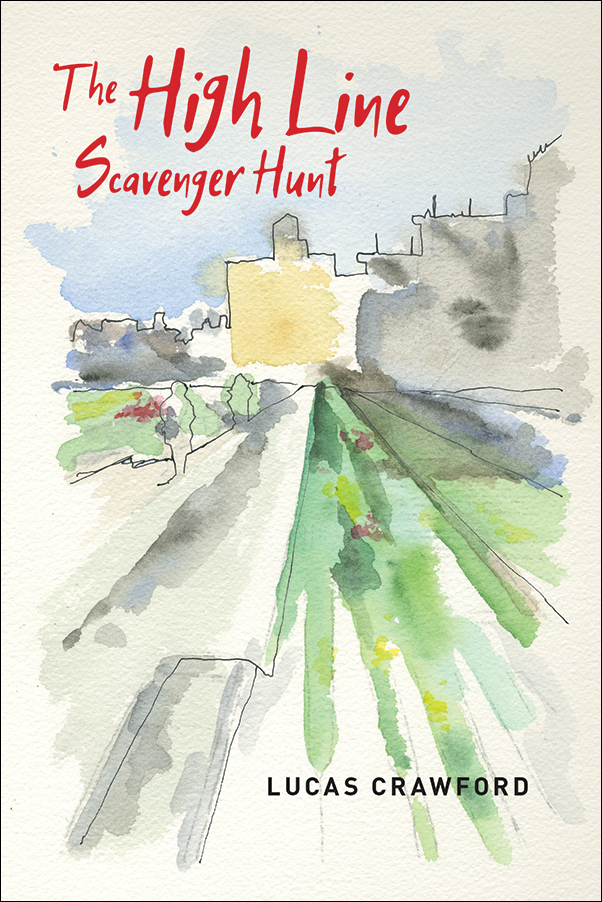 The High Line Scavenger Hunt
---
Lucas Crawford
$18.99 CAD / $18.99 USD (T)
144 pages
6 x 9 inches
978-1-77385-000-9 (Paperback)
978-1-77385-001-6 (Institutional PDF)
978-1-77385-002-3 (ePub)
978-1-77385-003-0 (mobi)
September 2018
About the Book
Braiding transgender history and autobiographical reflection, Lucas Crawford brings his full power as a poet and a cultural historian to the search for the voices lost to gentrification.

Imagine: a public park that floats above the city, slicing the urban grey with its narrow green body. It winds its way through Manhattan, from the Meatpacking District to Chelsea to the Rail Yards. It is the beneficiary of millionaires, politicians, and citizens, who rescued it from demolition. Every tour book points here. Cities around the world clamor to reclaim their own abandoned train tracks as parks, inspired by this success. This is High Line Park.
Imagine: the Meatpacking District, 1989. Affordable apartments in Chelsea. Queer and racialized youth vogue, using piers as their runways. A transsexual community bands together. The fight for AIDS awareness takes hold. After sunsink, punks and urban adventurers hoist themselves onto the abandoned train tracks, where seeds dropped from loose locomotive doors have bloomed into an elsewhere-landscape, commemorating dead commerce. This was the High Line.
The High Line Scavenger Hunt is a poetic search for the ruins and relics of this fraught space that straddles violent gentrification and erased histories. This is a scavenger hunt, but the list of items is written in invisible ink. Lucas Crawford leans in to the tensions between the revitalized High Line Park and the queer histories of the High Line neighborhood, braiding transgender history, autobiographical reflection, and architectural speculation into a commentary on the histories now lost to gentrification.
About the Author
Lucas Crawford is a poet and an associate professor of English Literature at the University of New Brunswick. He is the author of Sideshow Concessions, winner of the Robert Kroetsch Award for innovative poetry, and of Transgender Architectonics, which helped spark ongoing interest in the High Line park, its designers, and its histories.
Praise for The High Line Scavenger Hunt
This is a special book of poems with fascinating notes and resources on which to follow up, and deserves more attention from me and you both!
—Jami Maccarty, The Maynard
Crawford uses his poems to salvage erased history . . . [He} remakes the architectural landscape of the park, as well as the architectural landscape of the trans body, through his poetry, reclaiming the dead and alive alike.
—Sanchari Sur, Arc Poetry Magazine
It is in making . . . histories visible, through poetic documentation and story, where Crawford's poetry truly shines.
—Emilia Nielsen, Plenitude Magazine
The best architecture tends to exude its own poetry. Crawford's delightfully ironic and sublimely perverse work pushes this tendency away from liberal obsessions with form. Crawford's poems weave form and content like DS+R's blending of the smooth new pathway with restored rails
—Darren Patrick, The Avery Review
Lucas Crawford writes about dislocation, scarring, and exclusion. His poetry-as-urban history is intimate and powerful at once, both defiant and formally beautiful. Starting from a questioning of New York's Highline—a new icon whose publicness is built not just on an elevated abandoned railway track, but on the exclusion of unwanted sentiments, bodies, and desires. The poems scavenge freely from the poet's experiences of the city, juxtaposing architecture schools, public washrooms, gay bars, Paris-and-Edmonton, queer plants, artless food, childhood memories, and body image.
—Annmarie Adams, architectural historian, McGill University
These poems re-visit, re-imagine and re-story a neighbourhood once home to drag kings and queens, AIDS activists, kink and leather clubs. The High Line Scavenger Hunt retraces urbanization and unwritten queer histories through modes of autobiography, metaphor and architecture. A must read for any urban misfit, intellectual outlier, and every queered heart.
—Shannon Webb-Campbell, poet and author of Still No Word
Transgender embodiment, like the practice of architecture, is a transformative activity that physically manifests a vision in space. In this series of poetic reflections on the transformations wrought by the High Line Park on the social fabric and built environment of one small corner of Manhattan, poet and transgender cultural theorist Lucas Crawford excavates the ghosts of a displaced sex-work zone where trans women once plied their trade, and meditates on what it's like for him to be there as afterward as a trans man studying architecture. Architecture, at its best, transforms utilitarian function into beauty; so, too, do trans lives that exceed the traditional functional uses of the biological body. Crawford senses the poetic potentials of both practices, and herein ably turns them into words.
—Susan Stryker, Founding Co-Editor, TSQ: Transgender Studies Quarterly
The High Line Scavenger Hunt In the Media
Audio Reflection for the High Line, a reading by Lucas Crawford, The High Line
The Chat with Lucas Crawford, 49th Shelf
Excited About Everything: Lucas Crawford, Room Magazine