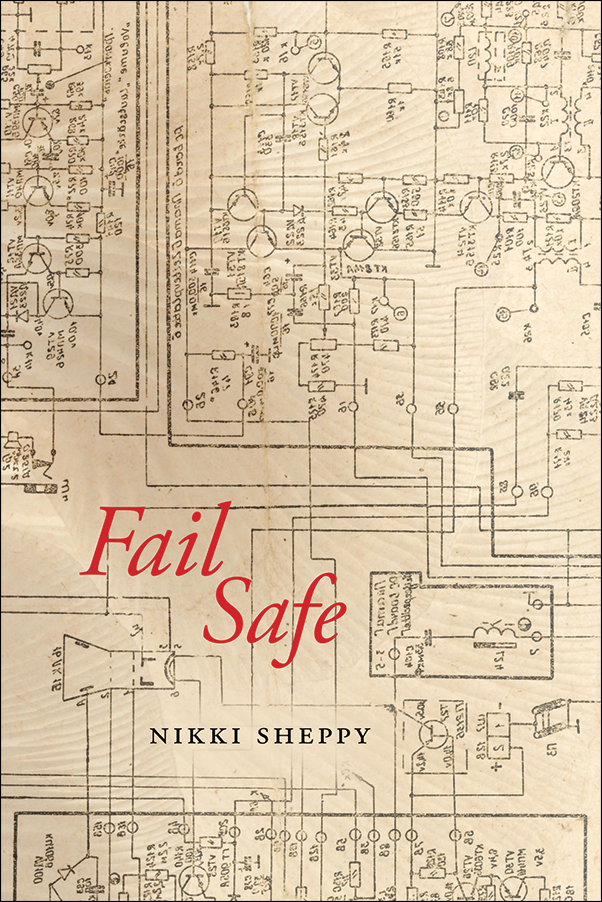 Fail Safe
---
Nikki Sheppy
$18.95 CAD / $18.95.USD (T)
120 pages, 9 illustrations
6 x 9 inches
978-1-55238-963-8 (Paperback)
978-1-55238-964-5 (Institutional PDF)
978-1-55238-965-2 (ePub)
978-1-55238-966-9 (mobi)
November 2017
About the Book
Winner of the Robert Kroetsch Award for Poetry, Fail Safe is a sensory grenade without a safety pin.
Sense and sensuality. Body and embodiment. Fail Safe links human senses to the fecund world, examining plant and human bodies on the inside and the outside. Linguistically flourishing, sonically dense, this language is tactile. Dynamic and lush, these poems are inviting in their linguistic play.
Using an impressive range of styles and poetic approaches, Nikki Sheppy presents strong, energetic, intelligent work. Each poem stands alone, yet speaks to the poems around it. Each poem is felt and tasted with acute attention to language and the body. Fail Safe is a masterful debut and Nikki Sheppy a writer to watch.
About the Author
Nikki Sheppy is a poet, educator, scholar, and arts journalist.
Praise for Fail Safe:
A confident debut which takes chances, is linguistically inventive, and possessing a great sonic quality. This title received possibly the greatest compliment a poetry book can have: " I Dog-eared many pages"
—BPAA Robert Kroetsch Award for Poetry Judges Remarks
Nikki Sheppy's debut book of poetry is a sensory grenade without a safety pin. In the "touch-field we fuel & furl into ur-thinkingly," lip-service paid to today's precariat wears many hats and source codes, selling poverty to the lowest bidder. Sheppy's disinclination to be pigeonholed by anyone registry, polemic, slant, or tell, tosses cackles at communication: it can't be trusted.
—Weyman Chan, author of Human Tissue – a primer for Not Knowing 
In Nikki Sheppy's vibrant and intricate Fail Safe, a fertile language of semaphores, charts, anatomical diagrams, and scripted symbols gestate on the page. These poems blossom inside a luxuriant, saturated topography, all the while taking earthy pleasure of – rooting through – sometimes thorny tribulations of the contemporary, powered world.
—Nicole Markotić, author of Whelmed 
The poems in Fail Safe engage with structures as well as the failures and traps of same, and the recognition that one shouldn't be distracted away from what is actually going on. [The] poems are incredibly muscular, dense and visceral, able to move with the speed of light. There is an element of the catch-all to Sheppy's collection, deliberately constructing a book in which anything and everything might belong, fitting each piece up against the next both neatly and in a perfect jumble.
—rob mclennan, poet
Awards
SELECTION, AUPresses Book, Jacket, and Journal Show - Poetry and Literature | 2018
SILVER MEDAL, PubWest Design Award - Short Stories / Poetry / Anthology | 2018
WINNER, BPAA Robert Kroetsch Poetry Book of the Year | 2018
SHORTLISTED, BPAA Alberta Book Publishing Award for Book Design | 2018