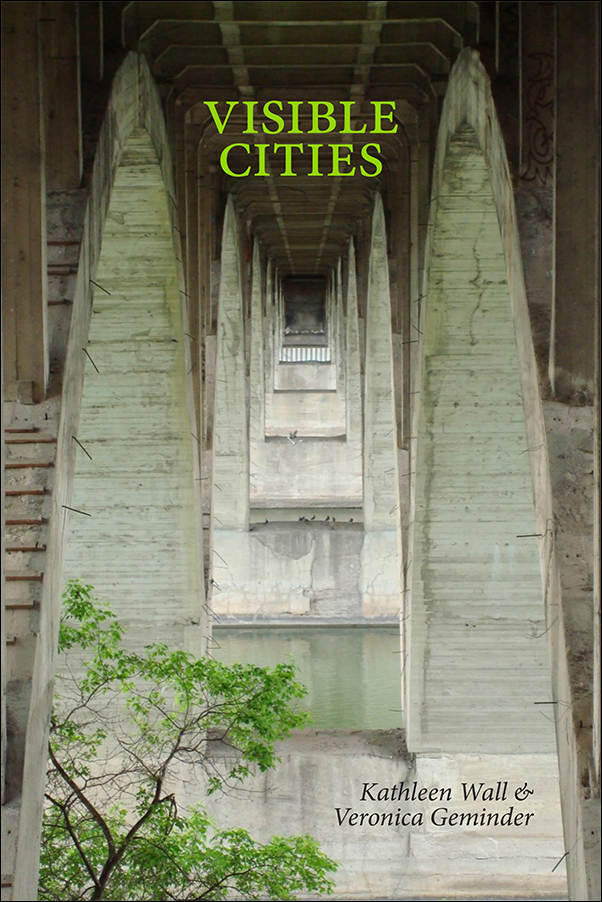 Visible Cities
---
Poems by Kathleen Wall, Photographs by Veronica Geminder
$22.99 CAD / $22.99 USD (T)
160 pages, 36 illustrations
6 x 9 inches
978-1-55238-959-1 (Paperback)
978-1-55238-960-7 (Institutional PDF)
978-1-55238-961-4 (ePub)
978-1-55238-962-1 (mobi)
February 2018
About the Book
Poetry and photography intertwine in this collection from mother and daughter team Kathleen Wall and Veronica Germinder that explores the unexpected beauty of the urban environment across the world.
Visible Cities captures moments of joy and sadness that occur each day on city streets, exploring the humble triumphs and mundane tragedies of urban life. Photographs taken in locales from Regina to Venice, from Ottawa to Paris, inspire poems that reveal the unexpected beauty of the everyday experiences shaped by the cities we inhabit.
Veronica Geminder's photographs peer into back lanes, admire people absorbed in public art, and consider those ruminating on their own reflections in the glass expanses of office buildings. Kathleen Wall's poems delve for the story behind the photograph, nurturing the moments that would otherwise quickly pass us by.
Lose yourself in Visible Cities and uncover the vitality and complexity of urban life.
About the Authors
Kathleen Wall is the author of Without Benefits of Words, Time's Body, and Blue Duets which was shortlisted for the Saskatchewan Book Award for fiction.
Veronica Geminder holds an Honours B.A. in the History of Art and Architecture from McGill University and a Masters in Philosophy in the History and Philosophy of Architecture from Cambridge University.
Praise for Visible Cities
An utterly compelling collaborative exploration of the richness of being in cities . . . by a mother-daughter team who capture the singularities of urban experience with originality and a depth of sensibility alternately lyrical, wry, and refreshingly candid.
—Christine Wisenthal, AlbertaViews
Geminder has a true talent for finding the rich abstract in what could hardly be more concrete. Out of these three-dimensional alleys and gardens and pedestrians and towers and streets and public sculptures and objects for sale, she creates flatted rectangles of shade and structure, rendering architecture into composition and revealing the inherent variety of ways of seeing that materialize when stasis is brought to bear on a moving world, or when our own movement through the city-space is arrested by a moment of attention.
—Andrew Dubois, University of Toronto Quarterly
Kathleen Wall conjures up a scintillating architecture of poetry that adds fourth and fifth dimensions (intellectual and emotional) to the horizontal and vertical planes of Veronica Geminder's arresting photography. Together they make a visual and literary treat that leaps off the page.
—Dave Margoshes, poet and editor of Wilf Perreault, In the Alley.