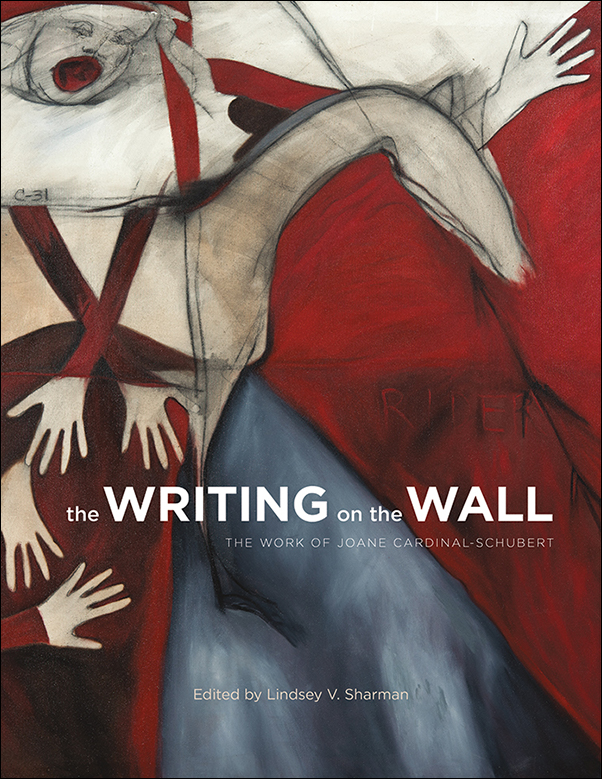 The Writing on the Wall: The Work of Joane Cardinal-Schubert
---
Edited by Lindsey Sharman
$42.95 CAD / $42.95 USD
192 pages, 65 illustrations
978-1-55238-949-2 (Paperback)
978-1-55238-951-5 (Institutional PDF)
978-1-55238-952-2 (ePub)
978-1-55238-953-9 (mobi)
September 2017
About the Book
A richly illustrated, beautifully designed exploration of the work of artist Joane Cardinal-Schubert, blending remembrance, story, and art history in a celebration of the life and work of a phenomenal talent.
Artist. Activist. Curator. Joane Cardinal-Schubert was a phenomenal talent. Her work recognizes the social and political ramifications of lived Indigenous experience, exposing truths about history, culture, and the contemporary world. She was a teacher and mentor, supporting those who struggle against the legacies of colonial history. She was an activist for Indigenous sovereignty, advocating for voices that go unheard.
Despite significant personal and professional successes and monumental contributions to the Calgary artistic community, Cardinal-Shubert remains under-recognized by a broad audience. This richly illustrated, intensely personal book celebrates her story with intimacy and insight
Combining personal recollection with art history, academic reading with anecdote and story, The Writing on the Wall is a crucial contribution to Indigenous and Canadian art history. Cardinal-Shubert's work leads the conversation, embracing the places where the personal, the political, and the artistic meet.
About the Editor
Lindsey Sharman is Curator at the Founders' Gallery, Military Museums, in Calgary.
With Contributions By: Mike Schubert, Monique Westra, David Garneau, Alisdair MacRae, and Tanya Harnett
Praise for The Writing on the Wall:
The reader feels as if they are sitting by a fire and not in an art history seminar. Intimate anecdotes interweave with eye-opening insights into the artist's spiritual, political and artistic views . . . I finished this book with an eerie sense that I truly met, almost conversed with, a woman whose legacy deserves a place of honour in the annals of Canadian history. The Writing on the Wall is a fitting tribute to an artist whose contribution, like the vibrant colours in her paintings, will not fade.
—Agnieszka Matejka, AlbertaViews
Table of Contents

Introduction
Lindsey V. Sharman

"I am out of the Woods Now" — Joane Cardinal-Schubert
Mike Schubert

Remembering Joane Cardinal-Schubert
Monique Westra

"Terribly Beautiful": Joane Cardinal-Schubert's "Intervention of Passion"
David Garneau

Still Seeing Red
Alisdar MacRae

Recollections
Tanya Hartnett

(Still) Responding to Everyday Life
Joane Cardinal-Schubert and Gerald McMaster

Image List

Awards
WINNER, ARLIS Melva J. Dwyer Award | 2019
FINALIST, High Plains Book Award for Art & Photography | 2018
BRONZE MEDAL, PubWest Design Awards - Jacket/Cover, Large | 2018