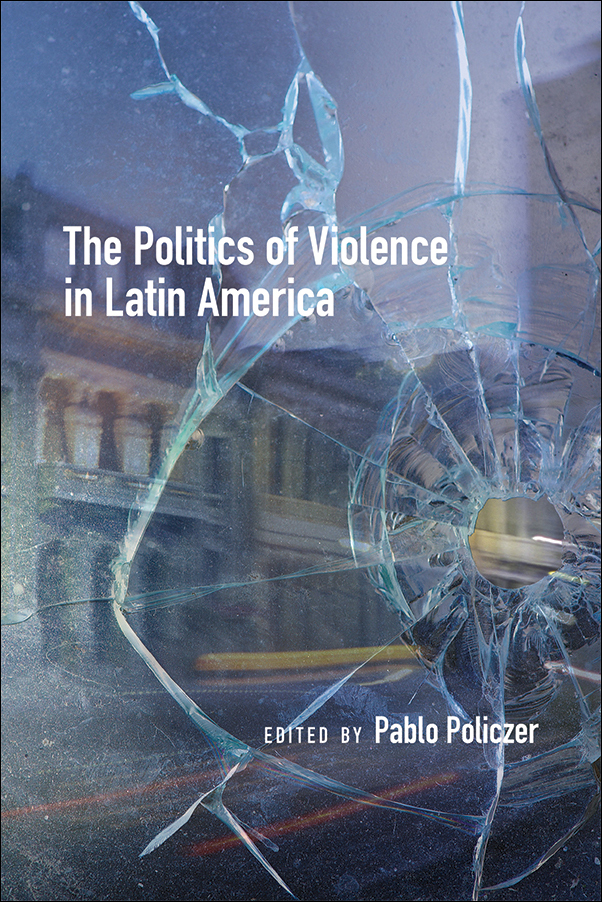 The Politics of Violence in Latin America
---
Edited by Pablo Policzer
$39.99 CAD / $39.99 USD
311 pages, 6 illustrations
6 x 9 inches
978-1-55238-906-5 (Paperback)
978-1-55238-908-9 (Institutional PDF)
978-1-55238-909-6 (ePub)
978-1-55238-910-2 (Mobi)
July 2019
About the Book
A reexamination of the causes of violence in Latin America and a challenge to preconceptions of the possibility of change.
Latin America is one of the most violent regions in the world. It has suffered waves of repressive authoritarian rule, organized armed insurgency and civil war, violent protest, and ballooning rates of criminal violence. But is violence hard-wired into Latin America?
This is a critical reassessment of the ways in which violence in Latin America is addressed and understood. Previous approaches have relied on structural perspectives, attributing the problem of violence to Latin America's colonial past or its conflictual contemporary politics. Bringing together scholars and practitioners, this volume argues that violence is often rooted more in contingent outcomes than in deeply embedded structures.
Addressing topics ranging from the root sources of violence in Haiti to kidnapping in Colombia, from the role of property rights in patterns of violence to the challenges of peacebuilding, The Politics of Violence in Latin America is an essential step towards understanding the causes and contexts of violence—and changing the mechanisms that produce it.
About the Author
Pablo Policzer is an associate professor of Political Science and Director of the Latin American Research Centre at the University of Calgary. He is the author of The Rise and Fall of Repression in Chile, a CHOICE Outstanding Academic Title and winner of the CPSA Award for Best Book in Canadian Comparative politics.
With Contributions By: Michelle Bonner, Andreas E. Feldmann, Francisco Gutiérrez Sanín, J. Patrice McSherry, Anthony W. Pereira, Pablo Piccato, Pablo Policzer, and Jennifer Schirmer
Praise for The Politics of Violence in Latin America
Masterfully edited. In interrogating the causes and consequences of violence, the volume offers a rebuke to fatalism and predeterminism. Instead, by critically examining the emergent properties of violence, the volume shines a light on the remarkable possibilities of human agency, resistance and resilience.
—Robert Muggah, Co-Founder and Research Director, Igarapé Institute
This important collection of studies by leading Latin Americanist researchers calls attention to the contingent nature of much of the violence that has plagued Latin America, and thus signals the plausibility in some settings of a more peaceful future. Blending theoretical insights with case studies of both political and societal violence, encompassing cases from South America, Mexico and Haiti, Policzer and his colleagues have produced a book that will inform analysts and advocates.
—Eric Hershberg, Director, Centre for Latin American and Latino Studies, American University
The Politics of Violence in Latin America challenges dominant structural perspectives on the causes of violence in the region by examining the role that human agency plays in a wide range of cases. Abandoning the excessive determinism of structuralist perspectives, it offers what Policzer calls the "optimism of possibility" as a starting point for devising new approaches to an age-old regional problem. The result is a theoretically and empirically important volume that will be of interest to both researchers and policymakers.
—Philip Oxhorn, Political Science, McGill University
Table of Contents

Table of Contents

Introduction

Structural Vs. Contingent Violence in Latin America

Pablo Policzer

Part I

Making Sense of Haiti's State Fragility and Violence

Combining Structure and Contingency?

Andreas E. Feldmann

Operation Condor as International System of State Violence and Terror

A Historical Structural Analysis

J. Patrice McSherry

Part II

Written on Black and Red

Murder as a Communicative Act in Mexico

Pablo Piccato

Protest and Police "Excess" in Chile

The Limits of Social Accountability

Michelle Bonner

The Police Ombudsman in Brazil as a Potential Mechanism to Reduce Violence

Anthony W. Pereira

Democracy, Threat, and Repression

Kidnapping and Repressive Dynamics during the Colombian Conflict

Francisco Gutiérrez Sanín

To End the War in Colombia

Conversatorios Among Security Forces, Ex-Guerrillas, and Political Elites, and Ceasefire Seminars for the Technical Sub-Commission

Jennifer Schirmer