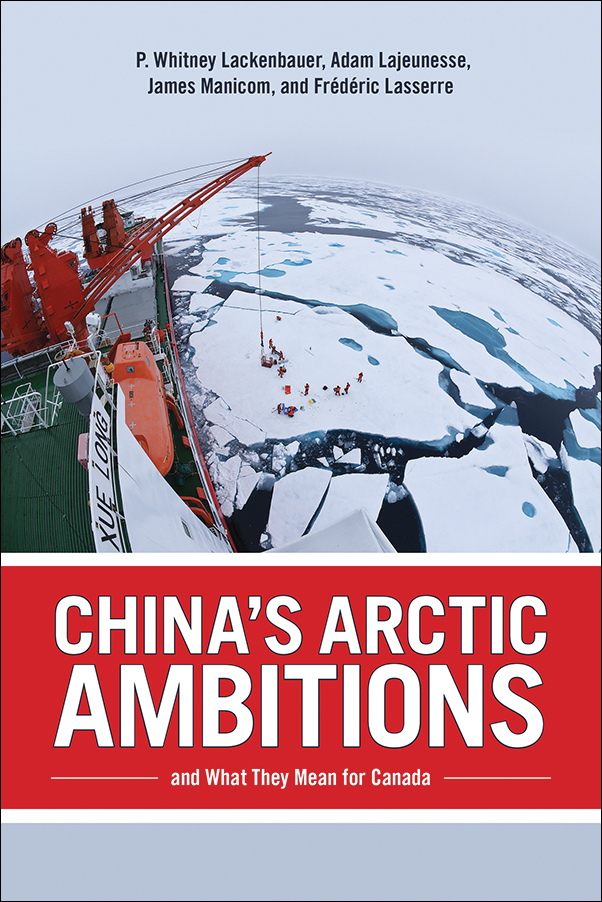 China's Arctic Ambitions and What They Mean for Canada
---
P. Whitney Lackenbauer, Adam Lajeunesse, James Manicom, and Frédéric Lasserre
$34.99 CAD / $34.99 USD
274 pages, 18 illustrations
6 x 9 inches
978-1-55238-901-0 (Paperback)
978-1-55238-903-4 (Institutional PDF)
978-1-55238-904-1 (ePub)
978-1-55238-905-8 (mobi)
January 2018
About the Book
A holistic approach to understanding China's increasing interest in the circumpolar arctic, drawing on extensive Chinese government documentation in a timely analysis from Canadian perspectives.
China's Arctic Ambitions and What They Mean for Canada is one of the first in-depth studies of China's increasing interest in the Arctic. It offers a holistic approach to understanding Chinese motivations and the potential impacts of greater Chinese presence in the circumpolar region, exploring resource development, shipping, scientific research, governance, and security.
Drawing on extensive research in Chinese government documentation, business and media reports, and current academic literature, this timely volume eschews the traditional assumption that Chinese actions are unified and monolithic in their approach to Arctic affairs. Instead, it offers a careful analysis of the different, and often competing, interests and priorities of Chinese government and industry.
Analyzing Chinese interests and activities from a Canadian perspective, the book provides an unparalleled point of reference to discuss the implications for the Canadian and broader circumpolar North.
About the Authors:
P. Whitney Lackenbauer is a professor of History at St. Jerome's University, University of Waterloo. He is the editor of the award-winning A Historical and Legal Study of Sovereignty in the Canadian North.
Adam Lajeunesse is the Irving Shipbuilding Chair in Arctic Marine Security Policy at St. Francis Xavier University, a research associate at the Centre for Military, Strategic, and Security Studies at the Arctic Institute of North America, University of Calgary, and a fellow with the Centre on Foreign Policy and Federalism at the University of Waterloo.
James Manicom is a Research Fellow at the Centre for International Governance Innovation. He is the author of Bridging Troubled Waters: China, Japan and Maritime Order in the East China Sea.
Frédéric Lasserre is a professor of Geography at Laval University, Directeur du Centre Québécois d'Études géopolitiques and a research associate at Groupe d'études et de recherche sur l'Asie contemporaine.
Praise for China's Arctic Ambitions and What They Mean for Canada:
China's Arctic Ambitions should be a core textbook in any class which addresses Canada and the Arctic, including regional North American and North Pacific topics . . . well worth reading more than once, especially in light of current Canadian-Chinese relations.
—Ambjörn L. Adomeit,  The Northern Mariner/Le marin du nord
A nuanced examination of the threats, and even potential benefits, that China's Arctic interests could offer Canada . . . China's Arctic Ambitions is able to elegantly strike a balance between being both highly informative and also enjoyable to read.
—Dean Coslovi, CDA Institute
Lackenbauer et al. effectively counter the most overheated rhetoric about China's Arctic interests . . . a solidly researched and thought-provoking volume.
—John McCannon, Pacific Affairs
This book captures the multifaceted nature of the Arctic as scientific and security frontier and recognizes the complex dilemmas this region faces with sovereignty, security, and stewardship.
—Ellen A. Ahlness, American Review of Canadian Studies
Table of Contents

Illustrations
Abbreviations
Acknowledgements
Introduction

1. Situating the Arctic in China's Strategy
2. The Snow Dragon: China, Polar Science, and the Environment
3. Sovereignty and Shipping
4. Arctic Resources and China's Rising Demand
5. China and Arctic Governance: Uncertainty and Potential Friction
6. The Way Ahead

Notes
Bibliography
Index
Biographies