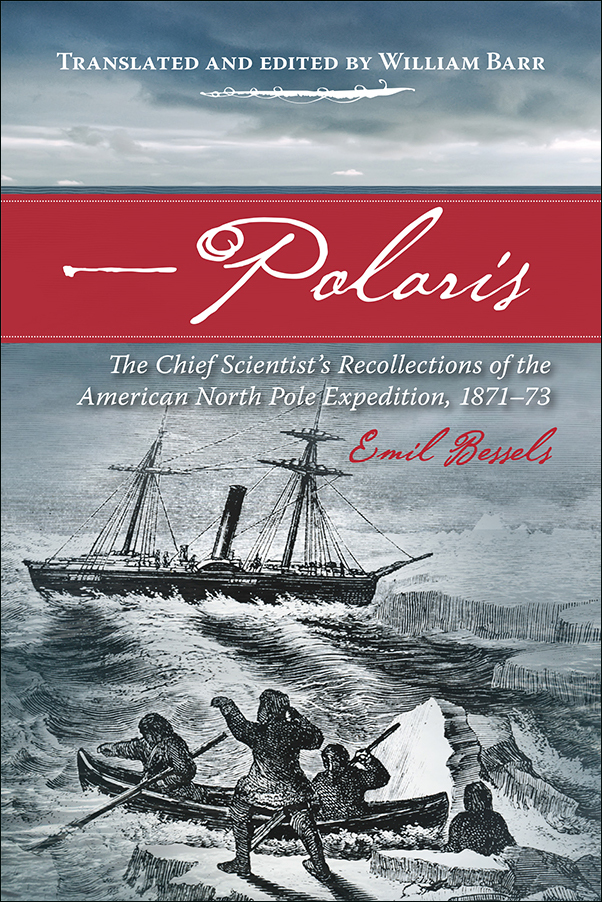 Polaris: The Chief Scientist's Recollections of the American North Pole Expedition, 1871-73
---
Emil Bessels, Edited and Translated by William Barr
$44.95 CAD / $44.95 US
672 pages, notes, appendices, bibliography, index
46 engravings, 4 maps
978-1-55238-875-4 (Paperback)
978-1-55238-877-8 (Institutional PDF)
978-1-55238-878-5 (ePub)
978-1-55238-879-2 (mobi)
November 2016
About the Book
Translated from the German in its entirety for the first time and containing considerable detail that does not appear elsewhere, this is Emil Bessel's fascinating first-hand account of the doomed American North Pole Expedition of 1871 complete with context and commentary from Arctic Expert William Barr.
Emil Bessels was chief scientist and medical officer on George Francis Hall's ill-fated American North Pole Expedition of 1871-73 on board the ship Polaris. Bessels' book, translated from the German in its entirety for the first time, is one of only two first-hand accounts of the voyage, and it is the only first-hand account of the experiences of the group which stayed with the ship after it ran afoul of arctic ice, leaving some of its crew stranded on an ice floe.
Bessels and the others spent a second winter on shore in Northwest Greenland, where the drifting, disabled ship ran aground. Hall died suspiciously during the first winter. Bessels is widely suspected to have poisoned him . . . and William Bar has uncovered new evidence of a possible motive.
Polaris includes considerable detail which does not appear elsewhere. It is the only account of the expedition which includes rich scientific information about anthropology, geology, flora and fauna. It provides much more information than other accounts on the Greenland settlements the Polaris visited on her way north.
Bessels' is the only published first-hand account of the second wintering of part of the ship's complement on shore at Polaris House, near Littleton Island, and of that party's attempt at travelling south by boat until picked up by the Scottish whaler Ravenscraig. The same applies to the cruise aboard the whaler, Arctic, after Bessels and his companions transferred to that ship. Essential reading for researchers and students of arctic exploration history, this book is also a compelling read for the interested general reader.
About the Editor
William Barr is a research fellow at the Arctic Institute of North America. A glacial geomorphologist by training, his major research focus is the history of exploration in the Arctic. He is a recipient of a lifetime achievement award from the Canadian Historical Association for his contributions to the historiography of the Canadian North.
Praise for Polaris
Of great value to anyone interested in the history of polar science and exploration and should be included in any library devoted to these topics.
—Martin P.M. Weiss, Isis
A beautifully produced volume, with an excellent map at the fore . . . This finely edited translation will become a standard.
—P.J. Capelotti, Polar Research
William Bar has performed an important service to scholarship with his translation . . . For those who want to know more about these harrowing adventures, Polaris will certainly have considerable appeal.
—Janice Cavell, Canadian Journal of History
A welcome addition to Arctic literature and the history of the expedition . . . Barr's translation of Bessel's account serves to provide additional information and a point of view previously unavailable
—Douglas W. Wamsley, Arctic
Table of Contents

List of Figures
Expedition Members
Acknowledgments
Foreword

The American North Pole Expedition by Emil Bessels Dedication
Preface
Chapter 1. Origin of the Expedition and its Outfitting
Chapter 2. From New York to Newfoundland
Chapter 3. From Newfoundland to Greenland
Chapter 4. From Holsteinborg to the northernmost Settlement on Earth
Chapter 5. Historical review
Chapter 6. Into unknown territory
Chapter 7. The first days in Polaris Bay
Chapter 8. The first sledge journey
Chapter 9. Hall's sledge trip
Chapter 10. In the realm of darkness
Chapter 11. The New Year
Chapter 12. Through darkness to the light
Chapter 13. The southern sledge trip
Chapter 14. Early summer
Chapter 15. The boat voyage north
Chapter 16. The summer
Chapter 17. Southward
Chapter 18. On terra firma
Chapter 19. An ethnographic sketch
Chapter 20. Further progress
Chapter 21. The start of the ice flow drift
Chapter 22. Between hopelessness and optimism
Chapter 23. Spring on the floe
Chapter 24. The seals
Chapter 25. Salvation
Chapter 26. The boat voyage in arctic waters
Chapter 27. Whaling
Chapter 28. The Search
Chapter 29. Homeward bound
Epilogue: Motive for Murder

Appendix 1: Scientific Appendix (Outline)
Appendix 2: Hall's Instructions
Appendix 3: The Board of Inquiry
Appendix 4: Biographical Sketches
Notes
Bibliography
Index
Awards
HONOURABLE MENTION, NASOH John Lyman Award for Naval and Maritime Science and Technology | 2016